When I started out to write this article a few days ago, it was going to be mostly a primer about unmasking and FISA Section 702 queries.
My, how antique that sounds now.
In the intervening days, several things have cropped up.  We'll get back to the unmasking (and the 702 queries).  But we have to get there by way of other things, as fresh information becomes an avalanche.
The starting point here is a point only tangentially related to peeling back the mysteries of comms intelligence.  It was brought to our attention with the declassification and unredaction of Susan Rice's "Note to File," emailed to herself on 20 January 2017 to memorialize the 5 January 2017 meeting with Obama.
This starting point is a thing that, as it turns out, may or may not have even happened.  It isn't clear, because two versions of the event differ on a material feature of it.
A two-version meeting
Susan Rice's memo for the record says that after the intelligence briefing on Russian meddling in the 2016 election, delivered to Obama on 5 January 2017 by the top national intelligence officials, those officials left.  By Rice's account, the following officials were then present for the subsequent discussion of Michael Flynn: Obama, Biden, Rice, Comey, and Sally Yates of the Justice Department.
The discrepancy arises with Sally Yates's version of the event.  She was interviewed by the special counsel on this in August 2017, and her interview was appended to a recent court filing by the Justice Department in the Michael Flynn case.  It was the source of the little flurry of public comment on the apparent fact that Obama had been kept directly in the loop on the monitoring of LTG Flynn.
In Yates's version of the 5 January meeting with Obama (p. 44 at link), she confirmed that the intel officials departed, and a smaller group was left with the president at Obama's request.  But interestingly, the record of her interview lists only Obama, Comey, and Yates as being party to that conversation.  There's no mention of Biden or Rice.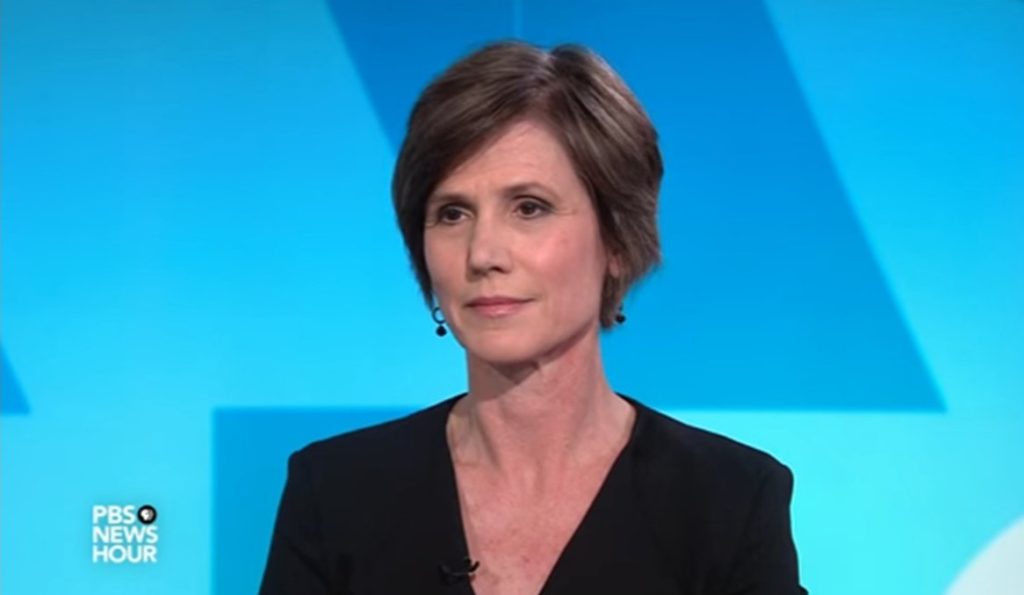 This may not mean anything, really, except that the special counsel's interviewers didn't make an effort to clarify the complete tally of those present.  It could be nothing more than that.
They had no reason for expectations at that point as to who was in the meeting.  James Comey had never spoken of it.  Neither had Biden.  (Biden acknowledged the 5 January 2017 briefing on the Russian meddling intelligence to CNN back in January of 2017, but he didn't mention a separate, follow-on meeting.)
And Susan Rice's memo wasn't known to the special counsel at the time of Yates's interview – August 2017 – as far as we know.  Back in May of 2017, Senators Grassley and Graham had asked the National Archives to find documentation on any of Comey's meetings with Obama, and the Archives unearthed Rice's memo in response to that tasker.  The senators received it in June 2017.  But they didn't make it public until February 2018.
If the special counsel had also dug the Rice memo out of the Archives by the time of the Yates interview, there's no public record of it.  So it could well have not occurred to an interviewer to confirm with Yates whether Biden and Rice were also present in the follow-on meeting on 5 January 2017.
But we don't know that for sure.  We do know the two versions differ.  And if Yates's version was comprehensive and correct, then – as pointed out by Larry C. Johnson at Gateway Pundit – Rice wasn't there, and had no basis for writing her 20 January memo.
Many observers have found her memo suspect from the day it debuted to the public in February 2018.  Certainly Grassley and Graham did.  They sent her a long list of probing questions about it.  People want to know why she waited until Inauguration Day, apparently just at the point the administrations changed hands, to write the memo.
In retrospect, that seems to be a better and better question every time the memo comes up.
But for now, let's remember two things about it as we proceed.  One, it commemorates something that may not have happened; i.e., Rice's (and Biden's) participation in the 5 January meeting about Flynn.
And two, the memo seems to be about drawing an arrow that points at James Comey, as regards having suspicion about Flynn, monitoring him, and treating him during the presidential transition as if he couldn't be trusted.  The purpose seems to be diverting attention from Obama.
Unmaskings that weren't
The next curve we hit is what was revealed in the list of Flynn unmaskings declassified and released by Acting DNI Ric Grenell last week.
We got a load of a very active unmasking environment in the period November 2016 to January 2017.  But two unmaskings were missing.  And they were the exact two unmaskings we had had a prior expectation of finding.
One was the unmasking of Flynn in the phone calls with Sergey Kislyak on 29 December 2016.  It has been so well established that this happened, just about everyone was expecting to see an unmasking request on those calls from someone in that list.
There isn't one.  There are five unmasking requests subsequent to the 29 December phone calls.  But none of them occurred on or before 3 January 2017, which is the day Andrew McCabe was aware of the contents of those phone calls, according to the special counsel interview with Mary McCord (DOJ) in July 2017.  (McCord's interview is also an exhibit in the Flynn case filing linked above; see page 32.)
The second instance of an unmasking that didn't bark involves our zealous archivist, Susan Rice.  In testimony to the House in September 2017, she said that she unmasked a group of U.S. persons that reportedly included Flynn, right around the time of a meeting the Trump transition team held with the Crown Prince of the UAE, Sheikh Mohammed bin Zayed al-Nahyan.  That meeting was on 15 December 2016.
But although there was a huge slew of unmaskings by seemingly every agency in the Obama administration during a three-day period from 14 to 16 December, none of them was requested by Susan Rice.  In fact, Rice's name doesn't appear in the Flynn list at all.
That last point makes you go Hmmmm, in another, related respect.  It was for Susan Rice that the spreadsheets of unmasked U.S. person information (USPI) were reportedly prepared at the National Security Council.  Knowing that she had long been cited as one of the chief unmasking authorities, it had to be a surprise that her name was missing entirely from the Flynn list for the presidential transition period.
Creative "unmasking"
On the Kislyak-Flynn phone calls, there's been a pat answer in the last day.  Most observers are probably inclined to accept it, and I can't say I blame them.  It sounds plausible and seems to raise the fewest questions. The Washington Post rushed out to report, based on information from former officials, that Flynn's name was never masked to begin with, because "It was the FBI, not the NSA, that wiretapped Kislyak's calls and created the summary and transcript."
We'll get back to that.
Meanwhile, the Susan Rice spreadsheet "unmaskings" are probably the simplest to account for.  The information to populate the spreadsheets probably came from improper FISA Section 702 queries.  My assumption since 2017 has been that the 702 queries that served Susan Rice were run not at the FBI or the CIA, but at the NSC staff (although they may have been run by users with FBI or CIA accounts on the intelligence IT system).
But what about Rice's unmasking of Trump associates in mid-December 2016 – the one she explicitly copped to in her 2017 House testimony?
There's no record of her unmasking Flynn at all between Election Day 2016 and Inauguration Day 2017.
It's possible that she unmasked one of the other two U.S. persons, of course. What she said is that she requested unmasking related to the Crown Prince's visit.  It seems to be CNN that helpfully reconstructed for her story who the U.S. participants were in the 15 December meeting.  Michael Flynn was one of them, along with Jared Kushner and Steve Bannon.
The CNN report isn't detailed enough to verify that Rice described the actual process of "unmasking."  Genuine, formal "unmasking" goes with monitoring foreign comms, receiving an NSA report on them, and needing to have the identity of a U.S. person who is party to those comms revealed to you.  Here's Admiral Rogers explaining it in 2017:
We can read that into what CNN summarizes.  But it isn't there in black and white.  There is a single reference to a "report" in this brief passage: "she [Rice] requested the names of the Americans mentioned in the classified report be revealed internally."  But other than that, we are left to conclude from elliptical impressions that there was an intelligence report, that it was made by NSA in accordance with national security priorities, and that Rice became aware of it in the course of her duties and then sought the identities of the U.S. persons mentioned in it.
That doesn't help us with the problem at hand.  There's an unmistakable emphasis on Flynn in the CNN article.  But there's no record of Rice requesting an unmasking that returned Flynn's name.  Was CNN leaving a misleading impression about her testimony behind closed doors?
The NSA, in any case, doesn't lose such records.  If Rice actually made that request, the request the CNN report wants us to infer, her name would be in the Flynn list.
I will say this.  The whole character of what CNN reports sounds like it's designed to meet the structured expectations of people who have experience with national security intelligence.  CNN and the other MSM outlets that cited CNN concluded triumphantly at the time that congressmembers from both parties found Rice's explanation satisfactory.
That was interesting in itself.  Rice described one unmasking to the House, but in April 2017, Ezra Klein reported that she had been responsible for dozens of unmaskings.  As David Harsanyi noted, blowing off that discrepancy was purely political on the part of House members – not a matter of Rice demonstrating persuasive bona fides as regards proper unmasking protocol.  Harsanyi reminded readers that Rice claimed early on to have known nothing about the unmasking going on – but then was later shown to have been untruthful about that.  He went on to point out what her testimony made clear: that in the one instance she gave information on, she unmasked Trump associates not for national security but for political purposes.
Listening with my ears, and not with the filter of structured expectations, I hear a single event recounted by Rice in vague terms.  I hear a narrative being flogged by CNN.  And I see with my eyes that there is still no documentation to back up the combined impression these components leave.
That brings us to the 29 December 2016 Kislyak-Flynn phone calls.
Even more-creative "unmasking"
As reported in the Daily Caller News Foundation article LU carried on Wednesday, Andrew McCarthy picked up on the absence of a Flynn unmasking corresponding to the appropriate period (which would have been between 29 December 2016 and 3 January 2017).
McCarthy speculated that the information about the Kislyak-Flynn phone calls may have come from a very compartmented CIA program (which could have been used because there was a foreign party to the call).  It was possible for such an event to be reported without Flynn's name masked by standard NSA protocol.  That's something I wouldn't dispute, although I don't consider it likely.
To former FBI agent Mark Wauck, on the other hand, it seemed most probable that the FBI was simply monitoring Kislyak, and that any reporting available within the FBI – and briefed to McCabe by 3 January – was done by the FBI.  It wasn't done by the NSA or CIA.  And if the FBI was engaged in counterintelligence monitoring, Flynn's name wouldn't have been redacted in the first place.
That seems to comport with the WaPo report on Wednesday.
But I suggest, again, that we may be listening through a filter of expectations, and not listening with our ears.  There has been a good amount of prior reporting on this, and it has been surprisingly consistent.  The odd thing about it is that the original reporting did not indicate that the FBI was Johnny-on-the-spot with efficiently monitored phone calls.  Both Comey and the FBI leakers who fed WaPo information in January and February of 2017 said rather that the FBI had to be prompted to go look for phone calls and find them.
Here is Comey, in testimony to the House on 2 March 2017 (also appended to the recent Flynn defense filing):
Here is WaPo citing unnamed sources a few weeks earlier:
Let's listen with our ears again.  We are to believe that the FBI routinely monitored Russian Ambassador Kislyak's phone calls; that the Obama administration was in a lather about how Russia would react to increased sanctions; and that the administration already had concerns about the Trump team's contacts with Russians, and Flynn's in particular.  And yet starting on 29 December 2016, the day the new sanctions were imposed, the FBI had to search for "something" to explain the lack of Russian reaction, and then later "turn up" Kislyak's communications.
This account doesn't parse.  Either the FBI counterintelligence folks are monitoring Kislyak, or they aren't.  If they are, then the FBI chain of command – alerted to the national priority of watching for Russia's reaction to sanctions – would know within an hour or two, at most, about each one of Kislyak's phone calls with Flynn that day.
You don't have national monitoring priorities and then have to go search for comms that got overlooked in the shuffle.  You have people dedicated to monitoring what it's your priority to monitor.  There are automated ways to alert analysts to new events.  If Flynn and Kislyak had five phone calls on a freighted sanctions day like 29 December 2016, and the FBI chain of command didn't know about it quickly, it would be because there were a couple of dead bodies at the monitoring position.
With that in mind, a little more listening with our ears.  Here is the DCNF summary of Andrew McCabe's account of how the Kislyak-Flynn phone calls were "turned up" (emphasis added):
McCabe also described in his book, "The Threat," how the FBI obtained information about Flynn's call with Kislyak.

He wrote that government officials who create the presidential daily brief issued a request to the intelligence community for any information regarding why the Russian government did not retaliate against the United States for the sanctions.

"In response to that request, the FBI queried out own holdings. We came across information indicated [sic] that General Mike Flynn, the president-elect's nominee for the post of national security adviser, had held several conversations with the Russian ambassador to the U.S., Sergey Kislyak, in which the sanctions were discussed."

McCabe said that he and officials in the FBI's counterintelligence division had not been aware of the intelligence until an analyst provided it to him.
Very consistent with Comey's testimony and the narrative of the FBI leakers.
But: the FBI's counterintelligence division, which "routinely monitored" Kislyak and had an open, four-month-long investigation on Flynn, had to be prompted via the PDB to go paw through the FBI's "holdings" to find phone calls between Kislyak and Flynn?  (An excellent question here: "holdings" of what?  Recorded but unexploited audio from these priority targets' phone calls?)
And those phone calls occurred on the great day of high anxiety for sanctions-imposers in the Obama administration – but somehow hadn't come to any cognizant officials' attention?
I am constitutionally unable to believe that.  That's not how any of this works.
But this mental exercise should help clarify why I find too pat the explanation WaPo provided with such reassuring conclusiveness on Wednesday 20 May.  To make that explanation credible, the Post had to dispense with the frills of the Comey/McCabe story and the leakers who fed it to WaPo in early 2017.
In 2020, we're supposed to forget the narrative that over the 2017 New Year's weekend, the FBI had to go root around in the unsorted files for buried treasure because it had omitted to actually monitor its priority targets.  We're now to be satisfied that of course the FBI was reporting Flynn unmasked, because they were monitoring Kislyak.  Whoever those turkeys were putting the PDB together, they must not have been paying attention.
As with so much of Spygate/Obamagate, we are left with serious questions as the hard data points start to come out.  The story as we thought we knew it doesn't add up.
It's not actually good enough to not be sure if Susan Rice was or wasn't at the 5 January 2017 meeting she wrote a CYA memo for.
It's not good enough to have to wonder why there's no record of Susan Rice making the one unmasking request she testified to the House on in 2017.
And it's not good enough to observe that the narrative woven from the beginning around the FBI's surveillance of Flynn doesn't survive the hard edge of fact as it appears to emerge.  I could buy that the FBI was performing primary monitoring of Kislyak's phone calls, and that's how it picked up Flynn.  But the details and context have to make sense.  Right now they don't (and not just because of the narrative problem, part of which is due to the silliness of the proposition that a lack of reaction from the Russians was a reason for going to Red Alert.  It's also a matter of what the collection method was, and whether the signs of activity in this case are consistent with it).
There are ways to cross-check all these things.  Larry C. Johnson, writing at Gateway Pundit, said forcefully that we need to hear from these people under oath, in a witness seat, answering tough questions themselves.  He's right.  The time for trying to reconstruct the truth from a narrative conveyed largely through ellipsis and impression in media reporting is long past.
It is extremely informative, at least, that as actual information is unveiled for us, as it has been over the last couple of weeks, it has served mainly to highlight how many holes there are in the stories we've been getting from the Obamagate principals all along.