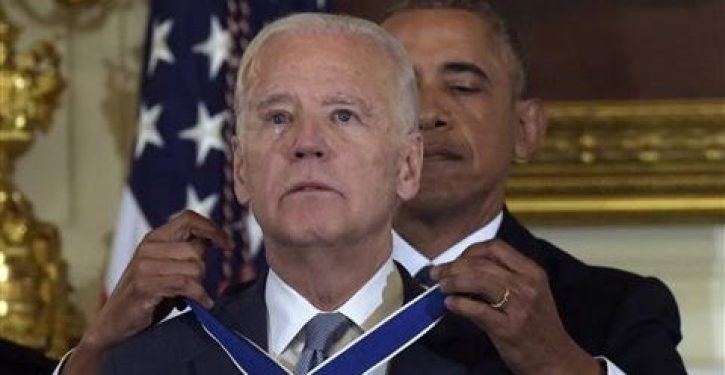 In conjunction with today's critical Florida primary, I could not resist doing a little "dumpster diving" in the mailroom of our Florida condo building. Piled high in the large trash bin where residents toss their junk mail were colorful, glossy 8-by-11-inch "Florida for Biden" flyers.
The headline of the trashed mailers caught my political eye: "Defend Barack Obama's Legacy. Vote Biden" – accompanied by a dominant 5-by-5-inch photo of the former president and vice president in a slow-dance embrace. In smaller print, the paragraph under the headline read:
This election is too important to miss. Help nominate Joe Biden – the Democrat who will protect Obamacare and build on the progress we made under President Obama.
Under the photo of the affectionate duo was a subhead which  read "Show up for the future of our children and our community. VOTE BIDEN."
All the messages were predictable and uninspiring. On the flip side was a 4-by-3-inch photo of Obama's hand approvingly grasping Biden's shoulder. Without Obama adorning the flyer, I predict even more would have been tossed.
In the trash bin, I spotted about 20 flyers without even "diving." (It is anyone's guess how many were beneath the top layer of trash in a 300-unit condo.) I couldn't help but think back to Obama's "legacy," now in need of "defending," when after his eight years in office, Democrats suffered a net loss of 1,042 state and federal posts, including congressional and state legislative seats, governorships, and the presidency.
I also couldn't help but wonder why the star of the flyer has yet to officially endorse the man he is pictorially shown twice embracing.
Consider how four days before Super Tuesday's March 3 South Carolina primary, Rep. Jim Clyburn's endorsement of Biden resuscitated his failing campaign in what was the former vice president's must-win "firewall" state.
Therefore today, imagine the Florida voter impact if Obama had endorsed Biden last week. The Sunshine State is the lead primary prize, with 219 delegates at stake. However, Obama's endorsement could also have enhanced Biden's prospects of securing overwhelming numbers of delegates in the other three scheduled primary states — Illinois (155), now-postponed Ohio (136), and Arizona (67) — potentially forcing Bernie Sanders to drop his fight for the nomination.
Even without the official blessing of his former boss, Biden is forecast to have a successful election night. And since perception is reality, a quick glance into the trash bin gives one the impression that Obama has already endorsed.
Is there any doubt that the 44th president will play a significant role in the 2020 general election? Surely, Obama will aggressively campaign for the "third term" he claims he could have won had the Constitution allowed it, since the 2016 election did not turn out as expected, and 2020 offers an enticing do-over.
Thus, is Obama holding his fire for maximum impact? Of the four remaining members of the exclusive former president's club, he is the only one who has the potential to excite the base in a rock-star kind of way. Jimmy Carter is too old and forgotten while Bill Clinton is past his "sell-date" in the #MeToo era. On the Republican side, it is highly unlikely that George W. Bush will be campaigning for Trump.
But among the former first ladies, Hillary Clinton and especially Michelle Obama could generate huge crowds for Biden, especially after he picks a female running mate.
My theory on why Obama has yet to endorse Biden is connected to his presidential memoir that supposedly will be published later this year. The highly anticipated book has the potential to equal or surpass his wife's book tour that generated record sales and sold-out arenas.
But most importantly, in concert with Obama's massive publicity tour (and for the sake of Biden's election prospects, assume that Obama has written favorably about his vice president), can we expect a team Obama/Biden book/campaign tour that could rival Trump's rallies? (Of course, that assumes the coronavirus is no longer a factor.) Then, add to Obama's stage tour either Sen. Kamala Harris or Sen. Amy Klobuchar — both thought to be leading Biden's veep-stakes — and the 2020 general election campaign could become the Battle of Rallies.
Stay tuned. As 2020 progresses, my mailroom trash bin in a large, pivotal South Florida county might provide insight and clues into the forthcoming epic Trump vs. Biden fight to win Florida's 29 electoral votes during a national crisis.
Cross posted at RealClear Politics