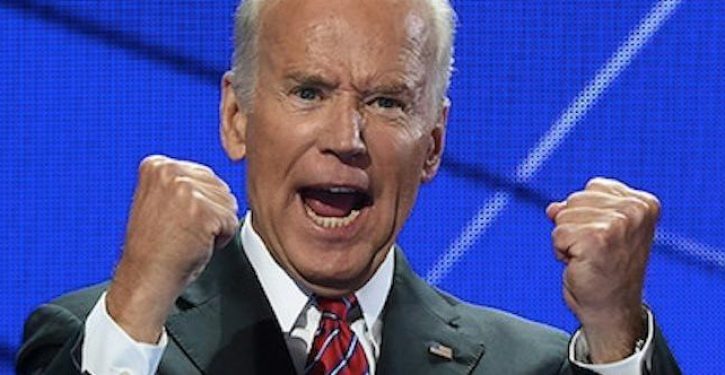 Desperate to resuscitate his dying candidacy, former Vice Pres. Joe Biden appeared on ABC's "The View," where he once again denied that anyone had claimed his son Hunter had "done anything wrong." Obviously that isn't true since, as Biden has famously recounted on the campaign trail, as vice president he threatened to withhold funds earmarked for Ukraine unless the prosecutor investigating his son was fired. Why would that nation or any other investigate Hunter Biden unless they suspected him of wrongdoing?
But this time the elder Biden didn't just stop at claiming his son's innocence. He went on to add, "This is a guy who has done nothing but good things his whole life, my son."
Joe Biden on The View on his son Hunter:

"And look, nobody has said he's done anything wrong. This is a guy who has done nothing but good things his whole life, my son, and ran the food program USA, a whole range of things."pic.twitter.com/yU1dy628t0

— Daily Caller (@DailyCaller) February 13, 2020
So-o-o, knocking up a stripper at a club her regularly frequented was a "good thing." Or cheating on his wife while he carried on with other women.
But I digress. The discussion of Biden's son turned a little unpleasant when the ladies (if that is the correct word) of "The View" mentioned Donald Trump, who has repeatedly questioned at rallies and on Twitter the younger Biden's whereabouts.
WHERE'S HUNTER?

— Donald J. Trump (@realDonaldTrump) October 12, 2019
At the dropping of Trump's name, Biden turned bellicose. "I would like to be able to be back in high school and just have he and I in a room," he uttered.
This is not the first time Biden has revealed his "tough guy" side. In 2018, he lashed out at Trump saying, "If we were in high school, I'd take him behind the gym and beat the hell out of him." He made a similar threat in 2019, telling CNN's Chris Cuomo in an interview:
The idea that I'd be intimidated by Donald Trump! He's the bully that I knew my whole life. He's the bully that I've always stood up to. He's the bully that used to make fun when I was a kid that I stutter, and I'd smack him in the mouth.
It makes you wonder why the Left, which invented the ludicrous notion of toxic masculinity has never taken Biden to task for his many public offenses. Maybe if his target was someone other than the president, they'd feel differently.
(h/t Rusty Weiss, Political Insider)