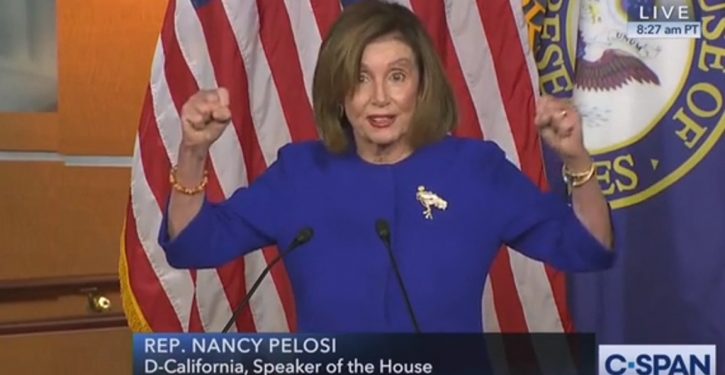 House Speaker Nancy Pelosi isn't always immediately available for consultation during national security crises.  Sometimes the Vice President calls her to let her know Americans are under missile attack, and she says she'll call him back.
Sometimes, within 45 minutes of finally connecting with the Vice President on the matter of Americans being under attack, she shows up at the opening celebration for a new restaurant in Washington, D.C.
But at least, where attending a football game is concerned, Pelosi has a clear idea of her priorities.  In her weekly press briefing on Thursday, which focused on impeachment and the war powers resolution passed by the House today, she was asked by one reporter if she would be going to the San Francisco 49ers playoff game with Minnesota on Saturday.
The segment in question starts about the 1:00:20 mark, with a preliminary riff by Pelosi on football.
Trending: Biden bans travel from safe countries, permits travel from high-risk nations
After she concludes her remarks, the reporter asks his question about the Niners game.
"Would be my intention to go," she responded. "[Unintelligible]… uh, went to one game in San Francisco.  We watched all together, uh, the second game in Seattle.  I have, unfortunately, uh, responsibility to save our country. [Unclear; makes face] … weekend. I … on my, uh, Democratic, uh, that hat of, uh, political leader … this weekend, uh, so, my family will enjoy our season tickets at the 49er game.  And next wee–  well, get one game at a time.  And we'll see [unintelligible] …"
After a question about the Baltimore Ravens (also in a playoff game on Saturday, with Baltimore being Pelosi's original home town), Pelosi continued, "Uh, had the Baltimore and San Francisco Super Bowl." (Presumably a reference to Super Bowl XLVII in 2013.)  "And that was hard because I had been rooting for both teams all along, right?  And again, going to the 49er games and watching the Baltimore games on TV right there at the stadium … um, so, what happens? [We? They?] both win … Nobody was in a more difficult situation than I, than, uh, the mother of the coaches.  Brothers coaching the teams."
There's more reminiscing in that vein.  While San Francisco and Baltimore both remain alive in the playoffs this year, there's a possibility of another Super Bowl featuring the two teams.
Pelosi concludes by hoping for another 49ers-Ravens Super Bowl: "This time, I hope we'll get a similar result, that we have both teams in the … I already am … shall we say, because of my responsibilities in the House with the Democrats and hopefully the Electoral College for the American people, I was scheduled to be in Florida that weekend.  So I'm all set."
It isn't clear what the "Electoral College" reference relates to, but Pelosi seems to be indicating that she'll be in Florida the first weekend of February, when Super Bowl LIV will be played in the Dolphins' Hard Rock Stadium in Miami Gardens.
Her first priority, however, is her responsibility to save the country.
(H/t: Weasel Zippers)