This one's a little hard to follow, but according to Quentin James, founder of The Collective PAC, Kamala Harris dropped out of the presidential race not because she ran a bad campaign. It was not even because her support among blacks had dwindled to 1%. Actually, her low polling numbers among blacks was a factor, but only indirectly. See, I told you this would be hard to follow.
James, who was a guest last night on Fox News Channel's "Tucker Carlson Tonight," attempted to make the case that historically black voters take their cue at the polls from white voters, who are by nature racist. Or something. Here is James in his own words:
It is the fact that black voters would rather put the question mark of 'What will white voters do? Will white voters be OK with the black candidate? Maybe not. Maybe it's only safe to vote for the white guy.' And that is the country we live in. And that is why Kamala Harris was forced out of this campaign, because of institutional racism.
Huh? Carlson asked James to provide evidence for his theory, but James returned to the same circular argument, which seems to insult blacks, implying that they are mindless pawns who vote according to what "white voters do." But that demeaning scenario is belied by the fact that 93% of black voters supported Barack Obama in 2012, while just 39% of white voters supported a second term for the incumbent.
Trending: While nation waits breathlessly for Biden's VP choice, Pelosi says it's no big deal
Here is the interview: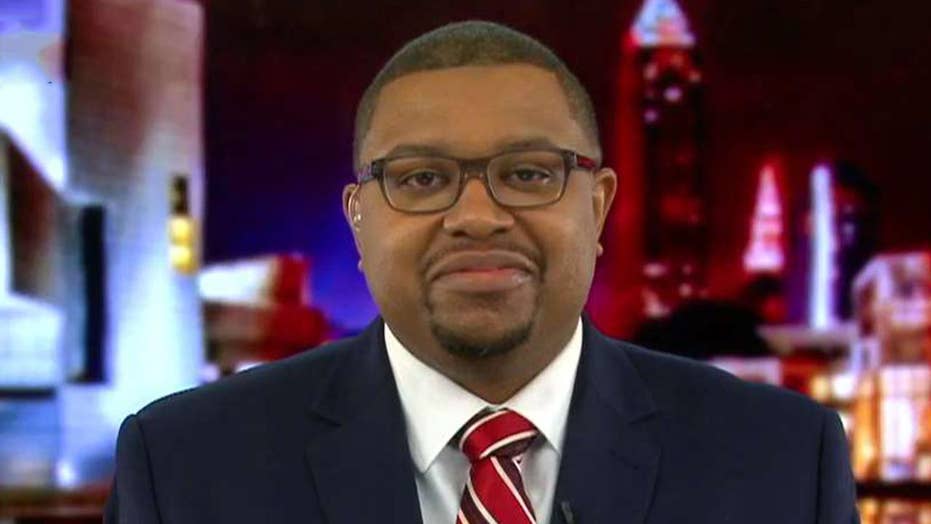 James was not the only representative of the Left to declare racism to be the coup de grâce to Harris's campaign. Over on MSNBC, a panel discussion featuring hosts Nicole Wallace, Al Sharpton, and others lamented that Harris's departure left a field of candidates comprised solely of old white men. Cory Booker, Pete Buttigieg, and Elizabeth Warren might have something to say about that.
MSNBC panel: @KamalaHarris faced a "double edged sword" of being a black woman.

Wallace: "There is a gender piece here that we still suck at talking about."

Sharpton: "Women are held to a different standard and black women especially." pic.twitter.com/SfAb2oaDzS

— Tom Elliott (@tomselliott) December 3, 2019