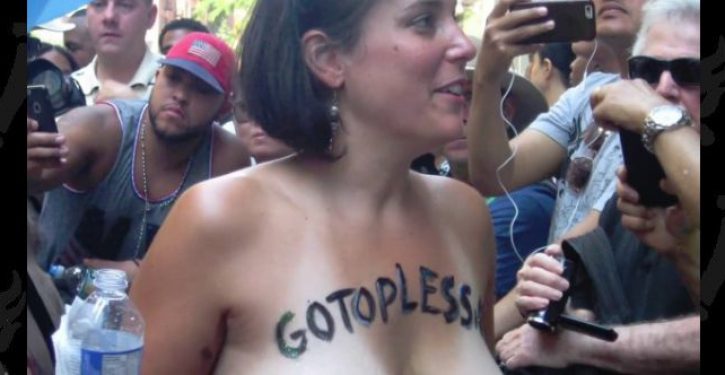 If you haven't kept current on all aspects of the campaign for equality between (among?) the sexes, then you may have missed out on National Topless Day. It's an annual event worldwide, with the biggest turnout here in New York City, where hundreds of women and some men parade through the streets each year chanting "Free the nipple." (RELATED: 'Free the Nipple' is so yesterday; meet campaign advocating female bottomlessness)
While there has been some pushback from neanderthals who believe that prudish laws forbidding public nudity should remain on the books, crusaders have been making inroads in communities across the country. Their latest victory, in Fort Collins, Colo., includes a first. The city becomes the first to permit "women" as young as eleven to go topless in public.
In February, when it was cold enough that few would want to go topless in the community north of Denver, the Tenth Circuit Court of Appeals upheld a federal judge's conclusion that the law amounted to unconstitutional discrimination. It was based on "negative stereotypes depicting women's breasts, but not men's breasts, as sex objects," the court concluded.
Wait: The court upholds the contention that seeing women's breasts and men's breasts differently amounts to discrimination? Can we expect mandatory classes in "sensitivity training" to disabuse men of the opinion that the female breast is sexually arousing?
The ruling rejected the city's concern that striking down the ordinance would lead to women "parading in front of elementary schools or swimming topless in the public pool." The nearby communities of Boulder and Denver allow female toplessness, but there was no evidence of "any harmful fallout" in those cities, the court said.

Fort Collins decided this month not to appeal the decision, having spent more than $300,000 defending the law. And now the city has formally removed the law from its public nudity statutes. The prohibition on public exposure of breasts by women and girls over 10 years old is now gone from the city code as of this week.
Trending: People want to know who's delivering pallets of bricks to protest sites across the U.S.
Just think of the savings to school districts, which will now need to purchase only bottoms when procuring bathing suits for swimming class.
The article notes that a challenge to a local topless ban in New Hampshire is now pending before the U.S. Supreme Court, which won't decide till later this year whether it will hear the case.