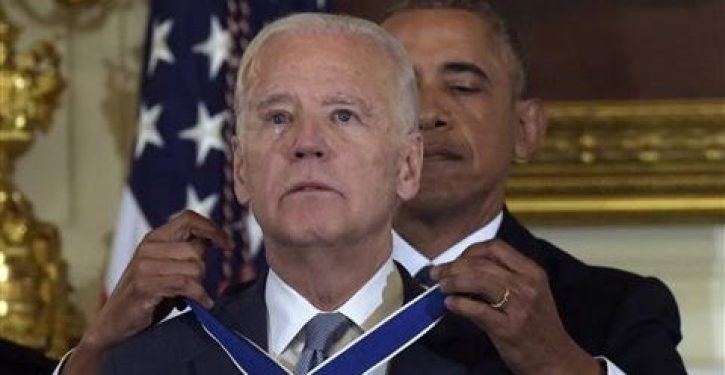 Former Vice Pres. Joe Biden has said some outrageous things in his latest campaign for the Democratic nomination for president. In a mix of Bidenesque bravado and his professed keen understanding of the black experience, he claimed in September that, while working as a lifeguard at a predominantly black pool, he talked his way out of a fight with three hoods armed with straight razors by reasoning with them (despite having prepared for combat by "wrapping a metal chain around his arm").
On Monday, he claimed "I got started out" [sic] at a historically black university, despite his résumé plainly showing that he graduated from the University of Delaware, which had only become desegregated under court order in 1950.
But the one black man he is unable to claim is in his court is the one he served under for eight years. Since he threw his hat in the ring for this, his third run for the gold ring, Biden has maintained that Barack Obama hasn't endorsed him because he asked the former president not to. His reason? Because he "wants to earn this on his own," referring to the party's nomination.
Here he is shortly after he announced his candidacy.
Trending: Cartoon of the Day: Not Reality TV
And here is again on last Sunday's "60 Minutes," making substantially the same ridiculous claim. This time, however, Biden is asked, "Did he offer to endorse you?" to which the battle-wearied 77-year-old responds, "No. We didn't even get there. I asked him not to. He said 'OK.'"
Obama remains one of the most popular presidents of modern time. His endorsement, apart from being logical — after all, this is the man he picked to be second in command — would undoubtedly help cinch the nomination for Obama, yet Biden would rather go it on his own.
How dumb does he think Americans are?