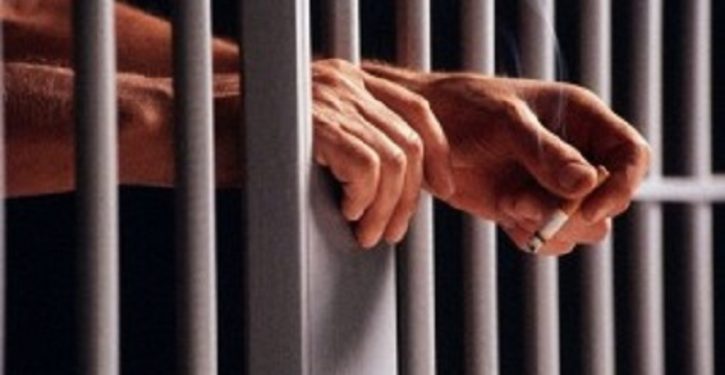 We often hear the buzzword "mass incarceration." But when it comes to violent crime, our society actually has "an under-incarceration problem," says attorney Ted Frank. He points to a case where Maryland refused to imprison a violent criminal, so she went on "to maim an innocent man in Oregon. And she'll be out in only 7 years after that attempted murder."
The Oregonian reported on that awful crime:
A Taco Bell customer in Sandy received a seven-year prison sentence for slashing the throat of a stranger who objected to her invective-laced rant about the restaurant's service – all of which transpired as her two young children and boyfriend waited in their car, authorities said. Caley Mason, 22, of Maryland pleaded guilty in Clackamas County last month to second-degree assault in the brutal knife attack that left Jason Luczkow, 48, with an 8-inch gash from ear to Adam's apple.

The beef began after Luczkow, a Sandy resident, said he asked her to stop berating the Taco Bell employees. "She missed my jugular, missed my carotid artery by millimeters," he told The Oregonian/OregonLive on Thursday. "It's gruesome. It looks like I'm dead."

Trending: Cartoon of the Day: Biden Burnout

Luzckow said his wound required more than 100 stitches. He recently grew facial hair to mask the scar, he said. … According to prosecutors, Mason was on state supervision for an armed robbery conviction in Maryland after sticking up a pizza deliveryman at her home.
It is not unusual for offenders to commit violent crimes or even murders after the criminal justice system fails to put them in prison for prior criminal convictions. In 2016, the Washington Post provided examples in the news story "How a violent offender slipped through D.C. justice system: Lenient sentencing and law enforcement can give many chances despite repeated criminal behavior." The City Council of the District of Columbia is now moving to reduce sentences for violent criminals even further, in pending legislation called the "Second Look Act." That legislation would make more than 500 violent criminals (including many rapists and murderers) eligible for early release.
People who want to cut sentences for violent criminals cite rising U.S. incarceration rates since the 1960s, which they call "mass incarceration." But rising imprisonment rates for violence were necessary due to the huge increase in the violent crime rate between 1960 and 1990, and the fact that penalties for murder were laughably short in the 1960s and early 1970s (murderers spent only about four years in prison, which was a mockery of justice). As Professor Barry Latzer noted in the Wall Street Journal, "[M]urderers released in 1960 had served a median 4.3 years, which wasn't long to begin with. By 1970 that figure had dropped to 3.5 years." "Between 1960 and 1990, the rate of violent crime in the U.S. surged by over 350%, according to FBI data, the biggest sustained buildup in the country's history."
As a Manhattan Institute researcher noted in The Wall Street Journal,
Contrary to the advocates' claim that the U.S. criminal-justice system is mindlessly draconian, most crime goes unpunished, certainly by a prison term. For every 31 people convicted of a violent felony, another 69 people arrested for violence are released back to the streets, according to a 2007 analysis of state courts by the Bureau of Justice Statistics. That low arrest-to-conviction rate reflects, among other things, prosecutors' decisions not to go forward with a case for lack of cooperative witnesses or technical errors in police paperwork. The JFA Institute estimated in 2007 that in only 3% of violent victimizations and property crimes does the offender end up in prison.

Far from being prison-happy, the criminal-justice system tries to divert as many people as possible from long-term confinement. "Most cases are triaged with deferred judgments, deferred sentences, probation, workender jail sentences, weekender jail sentences," writes Iowa State University sociologist Matt DeLisi in a forthcoming issue of the Journal of Criminal Justice.

Offenders given community alternatives "are afforded multiple opportunities to violate these sanctions only to receive additional conditions, additional months on their sentence, or often, no additional punishments at all," Mr. DeLisi adds. In 2009, 27% of convicted felons in the 75 largest counties received a community sentence of probation or treatment, and 37% were sentenced not to prison but to jail, where sentences top out at one year but are usually completed in a few weeks or months. Only 36% of convicted felons in 2009 got a prison term.