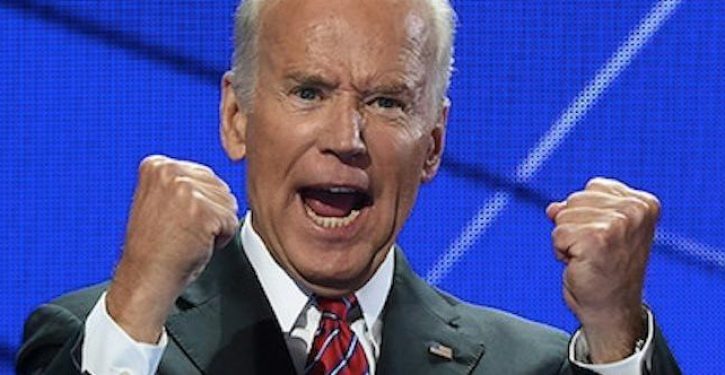 No matter how the media spin the story of Joe Biden's involvement in Ukrainegate, the former vice president is sure to come out on the losing end. Look at the facts: Biden's son Hunter being given a high-paying job with a Ukrainian gas company at the time his father was vice president so reeks of nepotism that even far-left "comedian" Bill Maher felt compelled to observe on air that Rachel Maddow et al. would be freaking out if Donald Trump, Jr. had received the position.
Now a new problem with the story emerges that reminds us of another reason Biden is unfit to serve as president: his mental acuity. As Sen. Mike Lee's Communications Director Conn Carroll notes in a tweet, Biden's tale about going to Kiev in March 2016 to coerce then-Pres. Petro Poroshenko into firing a prosecutor who was investigating his son is at least partly fictional. Biden never went to Ukraine in March 2016. Instead Poroshenko came to the White House.
Carroll points followers to the White House archives for March 31, 2016 which reads:
In the morning, as part of the Nuclear Security Summit, the Vice President will hold a bilateral meeting with President Recep Tayyip Erdogan of Turkey. There will be a pool spray at the top of this meeting at the St. Regis Hotel.

Trending: Cartoon of the Day: Biden Burnout

Later in the morning, the President will hold a trilateral meeting with President Park Geun-Hye of the Republic of Korea and Prime Minister Shinzo Abe of Japan. The Vice President will also attend. There will be a pool spray at the bottom of this meeting at the Walter E. Washington Convention Center.

Afterward, the Vice President will hold a working lunch with President Petro Poroshenko of Ukraine. There will be a pool spray at the top of this lunch at the Walter E. Washington Convention Center. [Emphasis added]
Biden's version of events, which apart from being colorful as all hell, reinforce his much-prized tough guy persona still paint him in a highly unflattering, if not criminal, light.
#QuidProJoe pic.twitter.com/m01XPbLByw

— Donald Trump Jr. (@DonaldJTrumpJr) September 28, 2019
This all certainly smacks of a conflict of interests.