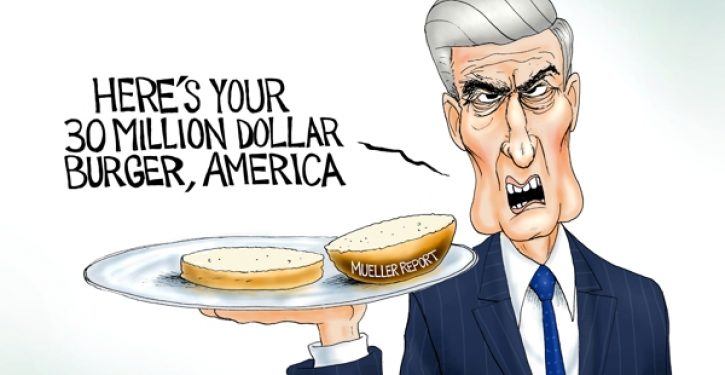 Like the Japanese infrantryman separated from his unit and surviving for decades on a small Pacific island unaware that the war had ended, there are several pathetic lone Democrats this morning who are still valiantly, if fruitlessly, fighting Russiagate, oblivious to the fact their side lost yesterday around 5 o'clock when a scarred and bloodied Jerrold Nadler raised the white flag.
Meanwhile most Democrats, from former Obama senior adviser David Axelrod to anti-Trump Harvard Law professor Laurence Tribe, acknowledge that the hearing was an unmitigated disaster. Writing on Twitter, Tribe conceded, "Far from breathing life into his damning report, the tired Robert Mueller sucked the life out of it."
Even the mainstream media are sadder but wiser, with NBC News providing as close as you can get in this case to a body count:
How many times did Robert Mueller deflect, decline or defer a question during the hearings? The final count is 198. https://t.co/B4VcWGhGC0 pic.twitter.com/RGkEkH78tA

— NBC News Graphics (@NBCNewsGraphics) July 24, 2019
The network is still not above rationalizing, claiming that Mueller had "his reasons" for failing to answer: "He didn't want to speculate, couldn't get into internal deliberations, had answered the question in his report, or was under orders not to answer a particular question."
That doesn't explain his other failings, among them his lack of familiarity with Fusion GPS, the firm behind the Steele dossier, or his generally appearing confused, doddering, and needing to have questions repeated for him.
Mueller's biggest fumble of the day, according to BizPacReview, was the word collusion, which turned "him into a bumbling, incoherent mess." The embarrassing display began when Rep. Peter Welch (D-Vt.) asked Mueller, whether he found "there was no collusion between the Trump campaign and Russia."
"Well, we don't use the word collusion," Mueller told Welch. … We decided not to use the word collusion in as much as it has no relevance to the criminal law arena."

Welch responded by basically finishing Mueller's thought for him and saying, "The term is conspiracy that you prefer to use?"

Mueller confirmed this and said, "exactly right."

The two then shared an awkward laugh after Welch said conspiracy suggested more of a "help me/help you" crime to which Mueller said, "thank you."

The problem with what Mueller said to Welch is that he did use the word collusion in his own report:
Mueller stumbles badly on whether "collusion" is a synonym for "conspiracy" in Russian election interference. He says no, only to have his report quoted back to him saying the words are synonymous. He then says he'll go with what the report says.

— Brit Hume (@brithume) July 24, 2019
This prompted GOP Chairman Ronna McDaniel to quip:
After today, I'm not even sure Mueller read the Mueller Report.

— Ronna McDaniel (@GOPChairwoman) July 24, 2019
Related Articles