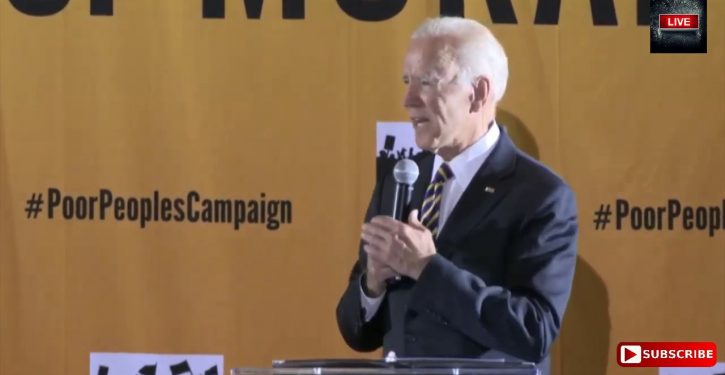 Every candidate for high office strives to some degree to be all things to all people. Granted, this is a a task of Herculean proportions in today's socialist-leaning Democratic Party. For former Vice President Joe Biden, who has occupied a spot left of center on the ideological continuum for the entirety of his decades-long career in politics, finding his niche among the far-left zealots running for president is proving to be the impossible dream.
Consider his most recent policy statements. Yesterday he came out against the decriminalization of illegal immigration — kind of. Asked by CNN's Chris Cuomo if crossing the U.S. border illegally should no longer be a criminal offense, Biden replied, "I think people should have to get in line." He quickly added, as if to appease an angry liberal god, "But if people are coming because they're actually seeking asylum, they should have a chance to make their case."
He also seemingly broke with his fellow presidential aspirants by saying he is opposed to expanding the Supreme Court. In an interview with Iowa Starting Line, Biden said, "No, I'm not prepared to go on and try to pack the court, because we'll live to rue that day."
Now Sleepy Joe has come out with his latest mixed message. In an interview with CNBC, Biden said that, if elected, he would "bring back the individual mandate," adding the penalty would be popular now, "compared to what's being offered," presumably referring to Medicare for All.
It is an interesting position to take since, according to the Henry J. Kaiser Family Foundation, the individual mandate was one of the least popular features of Obamacare:
As with virtually every position Biden articulates, this one was "nuanced." Said Biden:
I think undocumented people need to have a means by which they can be covered when they're sick. In an emergency, they should have health care.