It is a staple of current news coverage: the claim that migrants flooding the U.S. border illegally are fleeing violence and persecution.  They can't live in safety and build secure lives at home, so they set out on perilous journeys to the United States, many with nothing but the clothes on their backs.
They may also be wearing designer footwear and carrying expensive backpacks and smartphones for which they manage to maintain service all the way through Central America and Mexico.  Quite a few seem to abandon high-end, multi-function baby strollers at the border when they make their break to cross illegally.  Images of the encampments they leave behind in Mexico, piled with discarded belongings, make viewers wonder what Mexico is doing with all of it after they're gone.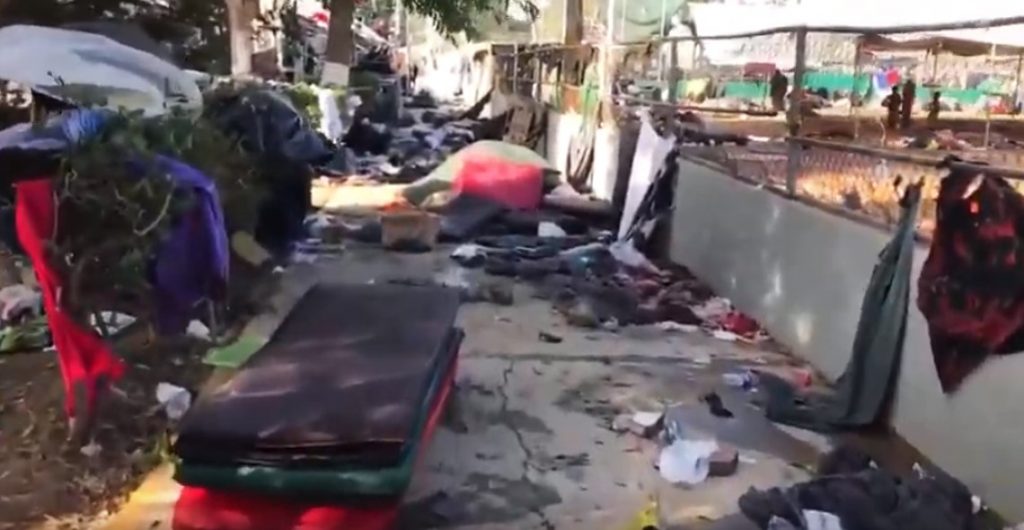 But surely at least some of them are fleeing violence out of desperation.  Others, however, apparently have huge bank account balances they are able to draw on as soon as they are released into the streets of America.
Last week, the Washington Examiner's Anna Giaritelli reported on what she found in San Antonio, Texas, where thousands of migrants have been sent because there's no place to put them while they supposedly await the processing of their asylum requests.  (Recent statistics suggest that only about 10% of them will show up later for their immigration court dates.)
The extent of the migrants' cash access isn't demonstrated so much by their ability to withdraw cash as by their ability to clean out cash-service hubs like Western Union and chain supermarkets every day – in San Antonio, Texas, a major city with a population of nearly 1.5 million.
According to people Giaritelli quotes:
"Western Union has run out for the past two-and-a-half months," said Khalid Chini, a local resident and volunteer at the migrant resource center downtown. "All the surrounding area, the Western Unions, they run out of money."
Many of the migrants in recent weeks have been from Africa, arriving after very long journeys across the Atlantic and through Central America.
Since early June, stores that offer Western Union services are running out of money at faster rates because more migrants, spurred by a surge of people from Angola and the Democratic Republic of the Congo, are attempting to make withdrawals as they pass through the city on the way to their final destinations.
Whatever dent their travel expenses have put in their wallets, it doesn't seem to have affected their ability to access thousands of dollars in cash.
Chini said some of the people he has escorted wanted to withdraw a lot more money than the cost of a plane ticket.

"They're getting money like you would not believe," he said. "I went with a guy — he wants to withdraw $25,000." …

The Walgreens on Houston Street told the Washington Examiner one evening this week it was out of money and that it was now a regular occurrence but did not specify when it began. …

The two Walgreens locations allow withdrawals of up to $1,000. HEB's limits fluctuate, but this location confirmed it can accommodate requests of up to $7,500 each, so long as it still has enough cash to fulfill them that day.
Giaritelli's article implies, while not emphasizing, that many migrants are probably drawing on funds provided by relatives in the U.S.  She states clearly that most of the migrants know which destinations they are headed for once they've been released – as they come in expecting to be.
The conclusion seems to be that current U.S. border policy – with the inability to enforce U.S. laws, imposed by federal court rulings and congressional spending priorities – is facilitating an illegal entry racket for foreigners who just want to come to America without going through the legal process.
Some may be poor and desperate.  But on Friday, the American Mirror highlighted video of a group of migrants strolling into the U.S. toting clean, neatly stuffed pieces of luggage, very much like airline passengers arriving at an airport.
#USBP Del Rio Sector Border Patrol agents apprehended 2 large groups of over 100 in 2 days. Total of 3 large groups this fiscal year. More info: https://t.co/sojY5Xy8NN pic.twitter.com/eYGo1sKUO9

— CBP South Texas (@CBPSouthTexas) June 27, 2019
It's a good bet these migrants didn't walk with their luggage all the way from Guatemala.  Presumably, they got out of buses just on the other side of the border to cross the Rio Grande and walk into the United States.