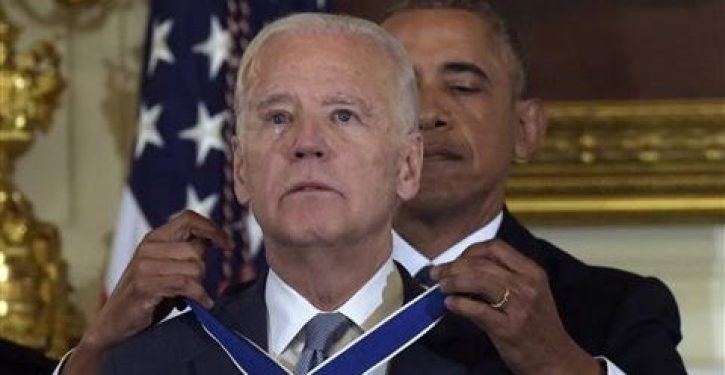 By Evie Fordham
Democrats trying to bring down 2020 frontrunner Joe Biden are divided on how to criticize his vice presidential record without alienating voters still in the thrall of former President Barack Obama.
Biden has faced criticism from all sides over his work on harsh drug legislation from the 1980s and 1990s and his recent flip on the Hyde Amendment.
Some on the Left want to go scorched earth and attack him for his work under Obama. Others warn that approach could alienate many Democrats and especially African-American voters. Black voters most enthusiastically support Biden, according to a June survey.
"It's going to be challenging for progressives to attack that legacy," Yvette Simpson of progressive political action committee Democracy for America told Politico. "Because Obama not only is and was so popular, but people are very nostalgic for that time, particularly after a few years of Trump."
"Biden's early advantage among African-Americans has more to do with Obama than Biden. And if you attack that, you start to alienate those voters," Simpson continued according to Politico.
With such a wide field of Democratic candidates, strategists predict the path to the party nomination will be through coalition-building, and nostalgia for Obama can be found in nearly every coalition. For example, FiveThirtyEight predicts the party nominee will need to unite voters from at least three of five groups: party loyalists, leftists, millennials, black voters and other minority groups.
Some on the far Left are ready to go after Biden's record without leaving an eight-year gap.
"It's no secret that he spent his time in the Obama White House furthering policies that redistributed wealth upwards," Maria Svart, national director of the Democratic Socialists of America, told Politico. "Bernie Sanders should absolutely critique him because voters want straight talk and they know when they have been screwed by the wealthy few."
FiveThirtyEight predicts most voters in the "party loyalist" profile will vote for Biden. Others, like millennials, likely to support environmentalist candidates, are more likely to vote for candidates like Beto O'Rourke or Cory Booker.
"It's perfectly consistent to say that President Obama righted the ship and aimed it in a better direction, but now we have an opportunity to move the ship much further and much faster toward progress," Adam Green of the Progressive Change Campaign Committee, which endorsed Democratic Massachusetts Sen. Elizabeth Warren, told Politico. "The person to do that is clearly not Joe Biden, as he moves backwards on issues ranging from the Hyde Amendment to NAFTA to a 'middle ground' on the existential climate crisis."
Meanwhile, Biden continues to have control in the polls and campaign on his proximity to Obama, despite not securing the ex-president's endorsement. Biden claimed he did not want Obama's endorsement when he jumped into the race in April.
"The vice president actually asked the president not to endorse," Biden's deputy campaign manager Kate Bedingfield said. "He wanted to make the case. He is running in this race because he believes we need to restore the soul of this nation, we need to rebuild the backbone of America, and that we need to unify and come together."
Content created by The Daily Caller News Foundation is available without charge to any eligible news publisher that can provide a large audience. For licensing opportunities of our original content, please contact licensing@dailycallernewsfoundation.org.