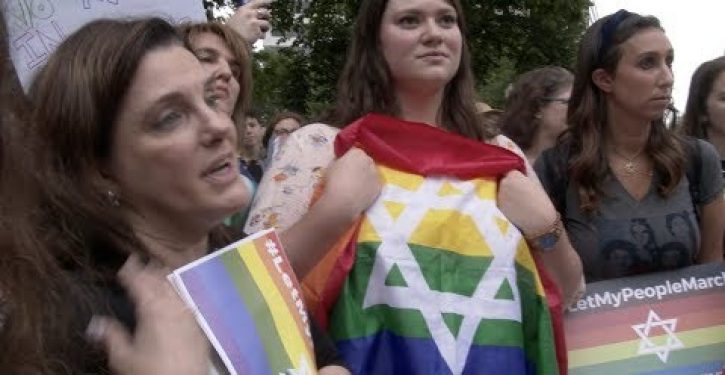 On Saturday, LU's editors prefaced a third-party post on a proposed "Straight Pride Parade" by asking, "If LGBTs truly believe in inclusiveness and diversity, as they insist, why not add an S for "straight?"
It's a fair question, and it seems appropriate to ask it again in light of an article appearing at the LGBT advocacy website Forward that notes that the DC Dyke March, a gay prides parade that was held on the eve of the larger Capitol Pride parade, banned American and Israeli flags while allowing banners expressing solidarity with the Palestinian people.
Yael Horowitz, an organizer of the march, explained that the decision had been made to exclude "nationalist symbols," including flags that represent "nations that have specific oppressive tendencies," from the event.
"This includes Israeli flags, as well as flags that resemble Israeli flags, such as a pride flag with a Star of David in the middle," march organizer Rae Gaines — who is herself Jewish and a member of the left-wing Jewish group IfNotNow — wrote via Facebook Messenger to would-be participant A.J. Campbell, the former director of the lesbian Jewish group Nice Jewish Girls.

"The issue [with the Jewish Pride flag] is where the Star of David is positioned in a way that looks like an Israeli flag, it creates an unsafe space," she said. "It really is a shame that Israel took this symbol of Judaism and turned it into this nationalist symbol. … I understand the Jewish pride flag is a symbol that a lot of Jews have come to embrace, but there are so many other Jewish symbols that we can use to express our Judaism, like a Star of David [on a necklace], like a yarmulke, a tallit."
But the view that Israel is an "oppressor" while the Palestinians are innocent victims is only an opinion — and one that is not supported by the facts. Over the years, pro-Palestinian terrorists have had no compunction about blowing up Israeli schools and even hospitals. These are hardly "innocent" acts, regardless of whether liberals believe aggression against Israel is justified. A report from 2017 found that Palestinians had paid terrorists $1 billion over a four-year period.