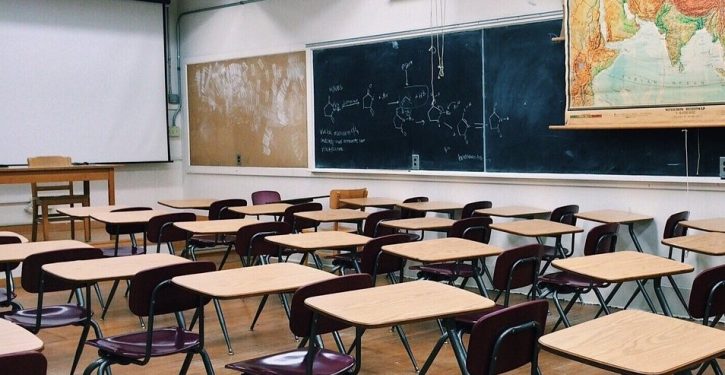 Incidents of teachers having sex with students have become so commonplace that they are newsworthy only when there is some particularly disturbing aspect to the act, such as the tender age of the student or some other mitigating factor. In 2016, for example, the parents of a special needs child in Alaska sued the Anchorage School District, claiming a teacher's aide had sexually abused their son and accusing the school board of conspiring to cover up the crime.
Teens in one Florida community became so weary of teachers seducing their students that they wrote a bill would increase the penalties for such sex offenses. The state senate passed it.
You might think that classroom rape, for lack of a better term, would finally be an issue that Left and Right in our heavily polarized nation could agree on. You'd be wrong.
According to the Providence (R.I.) Journal, Rhode Island's two teachers' unions and the American Civil Liberties Union (ACLU) are opposing a bill that would make sex between school employees and students a crime if the students are younger than 18 years old.
The bill, sponsored by Rep. Alex Marszalkowski, D-Cumberland, says that any school employee — including bus drivers, vendors and school volunteers with supervisory authority — would be guilty of third-degree sexual assault if they have sex with a student between the ages of 14 and 18. (Under existing law, a person is guilty of first-degree child molestation sexual assault if he or she engages in sex with a person younger than 14.)
So what constitutes the unions' grounds for objecting to the initiative? That it singles out "teachers and other school employees while ignoring the myriad other jobs in which adults supervise youth between the ages of 14 and 18," in the words of James Parisi, a lobbyist for the Rhode Island Federation of Teachers
Parisi's point is a valid one, though it seems to play down the seriousness and scope of the school sex abuse problem. While it is true that young people might be prey to "store managers, athletic coaches, clergy and volunteers in community organizations," as Parisi points out, it is a fact that children spend far more time in the presence of school employees, especially teachers, than any other adult outside the home.
The Washington Post reports that "in 2014 alone, there were 781 reported cases of teachers and other school employees accused or convicted of sexual relationships with students," adding:
In Texas, home to the largest number of teacher sexual misconduct cases in the country, investigations into alleged inappropriate teacher-student relationships has grown 27 percent over the past three years, to 179. Kentucky schools reported more than 45 sexual relationships between teachers and students in 2011, up from 25 just a year earlier. And a surge has been reported in Alabama, where the state investigated 31 cases during the year ending July 2013, nearly triple the number it had investigated just four years earlier.