The information now tumbling out about the activities of U.S. federal agencies spying on Trump campaign in 2016 is turning into an avalanche.  It will take time to sort through the pile-up, but of the recent disclosures, probably the most significant is the tacit acknowledgment – through a strategic "leak" to the New York Times – that federal agencies were running an operation against the Trump campaign by September 2016.
September 2016 was when Stefan Halper made contact with George Papadopoulos to set up a meeting in London, ostensibly about Papadopoulos writing a paper for Halper on energy prospects in the Eastern Mediterranean.  (There is a great deal more to say about that and related issues, but it will have to wait for a forthcoming article.  There's too much material to pack it all into one at this point.)
The significance of the NYT article this past week is this.  We are no longer disputing whether Halper's outreach to Papadopoulos was related to Russiagate/Spygate.  The anti-Trump camp is done with pooh-poohing that idea.  The NYT article concedes that Halper's contact with Papadopoulos was about gaining information on the Trump campaign.
It's a major and game-changing concession.  Reader's choice as to whether the objective of that contact was a defensive one (as framed in the NYT article), or represented aggressive, unjustified spying on Trump.
The game-change
Either way, the September 2016 gambit with Papadopoulos was a designed plan, meaning its features weren't dictated by circumstance.  They were chosen at the discretion of the planners.  Putting it another way, the plan wasn't just about following leads.  It was about devising scenarios and narratives – including sending people with fake names and credentials to make contact with targeted individuals – in order to gain access to Trump campaign information.  The nature of what the NYT wrote up tells us that.
So it was, indeed, an operation to provoke events and outcomes, and not just an investigation looking by forensic methods for existing, passively-available clues.
Nominally, the agency in charge was the FBI, according to the narrative still coming out through "leaks" to the media.  In recent interviews, on the other hand – notably with Dan Bongino last week – Papadopoulos has said that the woman posing as Halper's assistant, who used the name "Azra Turk," was not an FBI employee, and that he thought she was CIA, or perhaps connected with Turkish intelligence.  She said she was Turkish, and apparently that came off as a credible claim to Papadopoulos.
I agree with everything in this superb article except "Azra Turk" clearly was not FBI. She was CIA and affiliated with Turkish intel. She could hardly speak English and was tasked to meet me about my work in the energy sector offshore Israel/Cyprus which Turkey was competing with https://t.co/wbyBnvb6io

— George Papadopoulos (@GeorgePapa19) May 2, 2019
Again, we must defer further discussion of this to a future article.  The important point for the purpose of this one is that the door has been opened to viewing the U.S. agency probe of the Trump campaign as an operation, in which the agents sought to gain intelligence by inducing behavior in campaign staffers, and not just an investigation.
With that in mind, we are justified in asking whether it is really true that no such operational approach was envisioned prior to late July 2016, when Operation Crossfire Hurricane was reportedly initiated.
The Mifsud angle
And an obvious problem-set to pose that question about is the advances to Papadopoulos by Joseph Mifsud in March and April 2016.  Rep. Devin Nunes (R-CA), now the ranking member on the House Intelligence Committee, sent a letter last week to the heads of relevant agencies (the FBI, NSA, CIA, and State Department) on exactly that topic.  Nunes finds serious discrepancies in the account up to now of who Mifsud's relevant connections really are, and why he was positioned to make contact with Papadopoulos in March 2016, just as Papadopoulos was leaving his short-lived job in London for the Trump campaign.
With these two factors in mind – the likelihood of an operation against Trump, and the questions about Mifsud – we can ponder a disclosure from Papadopoulos himself in a recent interview.
I would emphasize that I haven't found a way to verify this information.  Perhaps someone in Italy can.  (Or, indeed, someone who was in Philadelphia for the Democratic National Convention in 2016.)
But the gist of it is that, according to Papadopoulos's Italian wife, Simona Mangiante, Joseph Mifsud reportedly had dinner with Hillary Clinton in 2016, apparently as part of the European Union delegation that came to observe the DNC in Philadelphia from 25 to 28 July of that year.
See the video below of Papadopoulos in an interview from a couple of weeks ago (in April 2019) with YouTube personality Austen Fletcher, who posts videos at the user account Fleccas Talks.  The whole video is worthwhile, but the relevant portion starts just after the 12:00 mark. (H/t: Gateway Pundit)
We have known for some time that a friend of Mifsud's, Italian politician Gianni Pittella, was at the convention, cheering for Hillary.  Pittella, a Social Democrat (i.e., progressive socialist), is a member of the European Parliament (MEP), and the leader of the "Socialist group" bloc.
Pittella has also been affiliated with the London Academy of Diplomacy, run by Mifsud until the blast of notoriety from Russiagate drove him into hiding.  (See here for Lee Smith's canonical treatment of Mifsud for Real Clear Investigations in May 2018.)
Another familiar element of the story is that Pittella introduced Simona Mangiante to Mifsud in 2012, and that she subsequently worked at the LCILP in London for a period of time in 2016 (after Papadopoulos's brief stint there).  She knows both men professionally.
With her background and connections in at least some circles of Italian and EU politics, a statement from her about Mifsud attending a dinner, apparently in company with Pittella, is not to be dismissed out of hand.  There isn't a way to verify it remotely (i.e., using web searches).  But it is certainly possible, and even likely, given the Clintons' connections with political Europe through the vehicles of foundations, think tanks, and councils.
Pittella has several Facebook posts on his participation in events at the convention.  As part of the EU delegation, he was there under the auspices of the International Leaders Forum (ILF), a local group working with the U.S. State Department, for which the DNC schedule is still viewable here.  (The State Department, through another local organization, Global Partners in International Diplomacy, also ran a schedule for foreign observers at the RNC in Cleveland, something I wrote about in relation to the allegations about Jeff Sessions and Russian Ambassador Sergey Kislyak.)
Pittella's photo with Madeleine Albright appears to be from the opening morning session on 26 July 2016, for example, the day Pittella posted it to Facebook.  He also got photos with Bill Clinton and Hillary adviser Alec Ross, among others.
Time magazine gave a small bit of detail in a 2016 report on Pittella's attendance at the convention, indicating that he had evening events with Philadelphians active in Italian-American associations.
And although there is no extant schedule I can find that has such an event, it would not be unusual for the Clintons to appear at a dinner for select members of the foreign delegations.  Such a dinner probably wasn't an intimate one.  But the point of interest would be more that Mifsud was present at it, if he attended with Pittella and probably some others from the European Union group.
A dinner of that kind wouldn't be a place for doing back-closet business.  But if Simona Mangiante is right, and Mifsud was there with Pittella, it's a reminder that the circles Mifsud ran in were weighted heavily toward those of European, progressive internationalism – plugged in with the high-profile Western elite, and organizations like the Soros-backed European Council on Foreign Relations (ECFR), of which so many of the Russiagate/Spygate players are or have been members.  The scent on Mifsud is not a Russian one.
As we sort through the avalanche in the coming days, these factors will assume increasing relevance.  It has been evident for some time that the "why?" of Spygate doesn't start with the FBI.  A few more data points about Mifsud and Pittella help to shape things up for us.
One is what Pittella posted about Turkey's Recep Tayyip Erdogan and Donald Trump just before the Democratic Convention in July 2016.  In its disparaging character and attempt to compare Trump to one of the worst dictators, it mirrors very exactly the messaging refrain about Trump that came from all corners of the progressive universe; i.e., journalists, academics, employees of international organizations, politicians.  It's the song the mainstream media have been singing to us about Trump for the last three years – posted by an Italian Socialist politician in perfect lockstep.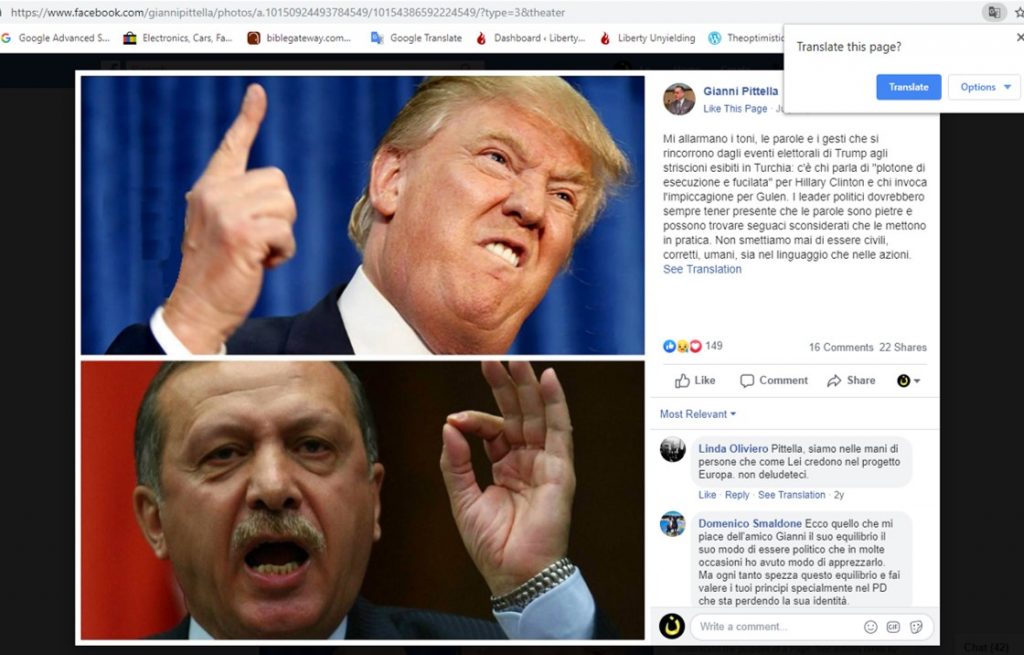 Another is the interesting point that Joseph Mifsud was listed as a member of Soros's ECFR in 2017, apparently still cycling through the typical activities of that world for at least part of the year.
And a third is Mifsud's appearance with Pittella in June 2017 at an event sponsored by the Democratic (Socialist) Youth organization in Italy.  Mifsud had already been interviewed by the FBI at that point, and if there were alarms in Western intelligence agencies about his loyalties and links to Russia, it's curious – as Devin Nunes says – that he continued to run tame among the same politicians and government officials as before.
And it's increasingly clear that that circle, from the British Commonwealth to the ranks of EU and ECFR Europe and the revolving-door officials of the "permanent establishment" in Washington, D.C., is where the principal actors and the motives of Spygate came from.