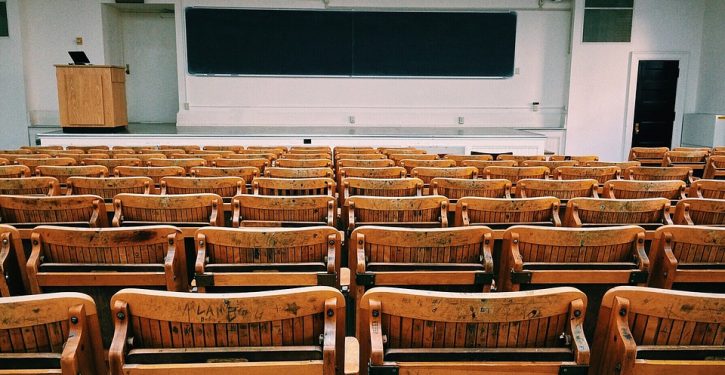 If newspaper editors and college administrators praise the motivations of those who commit campus violence, and disparage the victims, that will make campus violence more likely in the future. At Minding the Campus, George Leef describes the shameful response to a campus attack on a conservative at the University of Missouri-Kansas city (UMKC), which will encourage more such attacks in the future.
As Leef notes, conservative "Daily Wire writer Michael Knowles was on campus to give a talk, and his conservative views were known to a group of hecklers who did everything they could" to keep him from speaking, including spraying him with what initially appeared to be bleach, but ultimately "turned out to be a non-toxic substance." UMKC officials responded poorly. At the American Thinker, Jack Cashill noted:
The missive UMKC chancellor Mauli Agrawal sent to the 'campus community' after the event reads like a hostage letter. To describe Knowles' views, Agrawal used the words 'controversial,' 'unpopular,' and 'extreme.' Agrawal concluded his plea for civility by asking students 'to stay true to our values in the face of provocation and to respond to bias and intolerance with reason and courage.'
As Leef notes, "UMKC might just as well have said, 'Way to go, hecklers!' The hecklers have the green light to shout down anyone they regard as 'biased.'" UMKC was calling commonplace conservative speech a "provocation," and labeling the motive for attacking the speaker as the laudable goal of fighting "extreme" "bias and intolerance."
Trending: What is Hillary Clinton doing with this 'Russian asset' theme about Tulsi Gabbard?
As bad as UMKC's response was, the reaction of the Kansas City Star was worse. It mocked and blamed the victim, and minimized the attack, in an editorial titled "At UMKC, a D-List conservative was sad to be squirted with the makings of a bubble bath." According to the Star, Knowles came to UMKC for no greater purpose than "to claim victimhood." It accused Missouri Gov. Mike Parson, who objected to the attack, of engaging in "outrage kabuki" for being troubled by the assault. The Star also labeled the "debate over free speech on campus" as "trollery."