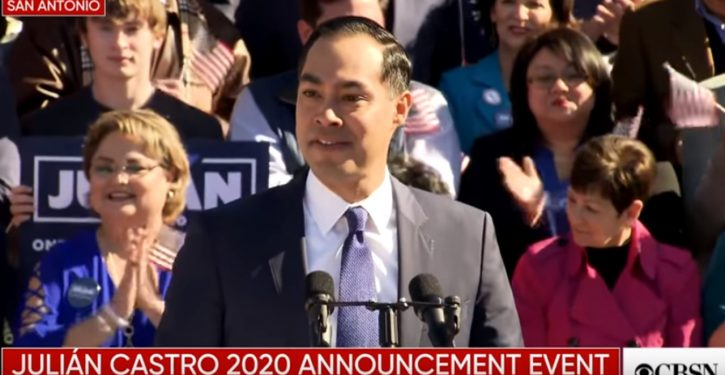 Let me preface what is to come by positing that the idea of releasing migrants detained at the border anywhere in the U.S. and for whatever reason — as the Trump administration is now being reported to have considered doing — would amount to a classic instance of cutting off one's nose to spite one's face. Once set free, detainees, regardless of whether they are asylum seekers or illegal border crossers, would potentially become "invisible" to authorities and swell the ranks of the estimated 13 million illegal aliens already living in the country.
Having so stipulated, I find it perplexing that former Obama HUD secretary and presidential hopeful Julián Castro believes such a proposal would exemplify "cruelty," rather than capitulation, on the part of the administration.
A question about the strange proposal was asked of Castro at a CNN town hall. In framing it, moderator Don Lemon curiously referred to sanctuary cities as "so-called," when in fact it is a label that cities like San Francisco and Portland, Ore., wear with enormous pride. Here is Lemon:
The Trump administration pressured the Department of Homeland Security to release immigrants [sic] detained at the border into so-called sanctuary cities in part to retaliate against Democrats who oppose Trump's plan for a border wall.
"The cruelty of this administration never seems to end." – Julián Castro on Trump officials pressuring DHS to release immigrants detained at the border into "sanctuary cities" in part as retaliation against Democrats, according to a source. #CastroTownHall https://t.co/PpLQsnHq86 pic.twitter.com/5Tp9c4uwin

Trending: Judge denied visitation rights to unvaccinated parent who already had COVID

— CNN (@CNN) April 12, 2019
The claim that the Trump administration had proposed transporting detainees to sanctuary cities as a punitive measure against Democrats was first reported on Thursday by The Washington Post, which professes to have seen emails to that effect.
According to the Post:
House Speaker Nancy Pelosi's district in San Francisco was among those the White House wanted to target, according to DHS officials. The administration also considered releasing detainees in other Democratic strongholds.
The article includes a quote by Pelosi spokeswoman Ashley Etienne, which sounds like it may have inspired Castro's reaction:
The extent of this administration's cynicism and cruelty cannot be overstated. Using human beings — including little children — as pawns in their warped game to perpetuate fear and demonize immigrants is despicable.
Understanding how exactly placing migrants in "small- and mid-sized sanctuary cities" would demonize them, rather than play into the Democrats' hands, is apparently above my pay grade.