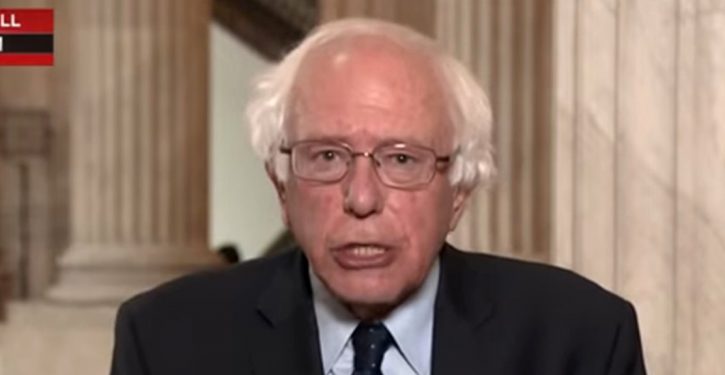 Bernie Sanders recently pandered to race-baiter Al Sharpton by blaming Democratic losses in the 2018 election on racism. As Tom Elliott observes, in his speech to Al Sharpton's National Action Network on Friday, Sanders said that black candidates Stacey Abrams, Andrew Gillum, and Ben Jealous lost their races for governor in 2018 solely because of "institutional racism." It is disturbing that Sanders and other leading progressives are courting Al Sharpton, who has a record of "inciting murderous riots; slandering Jews, Mormons, and homosexuals; and libeling a state prosecutor in the course of championing Tawana Brawley's fabrication of a racial 'hate crime.'"
Sanders's claim was as stupid as it was vile. Ben Jealous lost his race for governor by a margin of over 13% because he was politically extreme — so radical that a senior Democratic legislator, State Senator Bobby Zirkin, endorsed his opponent, moderate Republican Governor Larry Hogan. Hogan was also endorsed by The Washington Post, a paper so liberal that it has not endorsed a Republican for President since 1952. The Post routinely endorses black candidates for state and federal office, so plainly, racism was not the reason it opposed Ben Jealous. It opposed him because he was too radical.
Jealous did not lose because of racism. Black candidates have easily carried Maryland before. Barack Obama carried the state of Maryland twice, by a nearly 2-to-1 margin, in his successful runs for the presidency. Blacks have repeatedly been elected to statewide office by Maryland voters.
The other candidates whose loss Sanders blamed on racism — Stacey Abrams and Andrew Gillum — have ungraciously refused to concede their losses, despite losing by thousands and thousands of votes. Abrams's loss has been inaccurately blamed by Democrats on "voter suppression," even though she lost by a wide enough margin — 55,000 votes — that the election outcome was not affected by voter ID laws or voter- registration rules. There was no sign of suppressed turnout: Voter turnout in Georgia was at record levels in 2018 for a non-presidential election: 55% in 2018, compared to 38.6% in 2014, 40.6% in 2014, and 35.1% in 2006. A recent comprehensive study determined that voter ID "laws have no negative effect on registration or turnout," either overall, or based on race. Gillum and Abrams lost because they took politically extreme positions, and substantial numbers of non-white voters in Florida cast ballots for Gillum's opponent as a result.
Sanders should not have had anything to do with Al Sharpon and his National Action Network. Even the Washington Post's Dana Milbank, an apologist for Sharpton, admits that Sharpton "burst onto the national scene as the mouthpiece for Tawana Brawley," "who falsely claimed that she had been raped by white men." Sharpton was found guilty of defamation for making false, racially inflammatory claims about the Tawana Brawley case that included sexually smearing an innocent prosecutor in ways that I cannot describe here due to its vileness. "His image worsened a few years later when Jewish leaders in Crown Heights, Brooklyn, accused him of inflaming anti-Semitism. Then came the 1995 Harlem protest at which he called a Jewish landlord a 'white interloper' — followed by an attack on the landlord's store that left eight people dead." Sharpton led protests against Freddy's Fashion Mart, a Jewish-owned store in Harlem. One of the protesters later shot four employees and set the store on fire, killing additional employees.
In his speech to the National Action Network, Sanders also said "that if elected president he would sign legislation creating a commission to study the issue of granting reparations to African-Americans." The New York Times says reparations could "cost several trillion dollars." Reparations policies harmed the economies of countries that adopted them, such as Zimbabwe.