Iran's Fars News reported Thursday that Brigadier General Amir Ali Hajizadeh, commander of the Islamic Revolutionary Guards Corps Aerospace Force, claimed Iran had been able to hack into a "U.S. Army command center" and seize control of drones being operated in Iraq and Syria.  Adam Kredo followed up on this with a report at the Washington Free Beacon.
You can read the claims of Gen. Hajizadeh at the original (English version) Fars News article.  Russia Today's RT America broadcast with Rick Sanchez has a dramatically narrated sequence showing the drone camera videos supplied by the Iranians as evidence.
Sanchez states in his segment that Pentagon officials acknowledged Iran had been able to perform this feat, although he didn't have anyone on record on the matter.  Adam Kredo indicated that U.S. military officials didn't respond to requests for comment.  Kredo quotes defense expert Michael Rubin:
Michael Rubin, a former Pentagon adviser who closely tracks regional terror groups, told the Free Beacon that there is merit to Iran's claims.

Trending: Obama-appointed judge: Illegal who used fake document to get driver's license didn't break law

"Iran knows it can't compete with the United States head on and so for decades it has embraced asymmetric warfare," Rubin said. "Terrorism is the major component of this, but increasingly cyber-espionage and hacking are pillars of Iranian strategy, While the Iranian media regularly exaggerates, there may be some truth to this story."
I'm dubious that Iran can actually do what is being claimed here, assuming the U.S. forces are using encrypted command links for the drones.  There will be a lot of discussion, I'm sure, but the value-added I will provide in this post is a snapshot of the scope of activity we're really talking about.
The video clips show geo-locations denominated in the Military Grid Reference System (MGRS), with the top number group on the right representing the aircraft.  What I've done is plot the location indicated in the bottom right number group to show in general what the target area of interest/activity was in the clips.  (This website has a handy converter for MGRS to lat/long.)
As you can see, they are almost all grouped in a single area on the northeast side of Haditha Dam Lake in Anbar Province, Iraq, north of Haditha.  That tells me that if Iran indeed hacked into a drone's (or multiple drones') command link(s), the scope of this capability was very limited in both location and time.  All the activity was in the same place, so it is unlikely that this claimed Iranian hack-attack went on for very long.
There is one clip – the one purportedly depicting Iranian control causing a drone to crash-land – that has the drone further to the south.  It starts at 2:25 in the RT video.  The blue star shows where the video indicated the aircraft was in the final second of that video clip.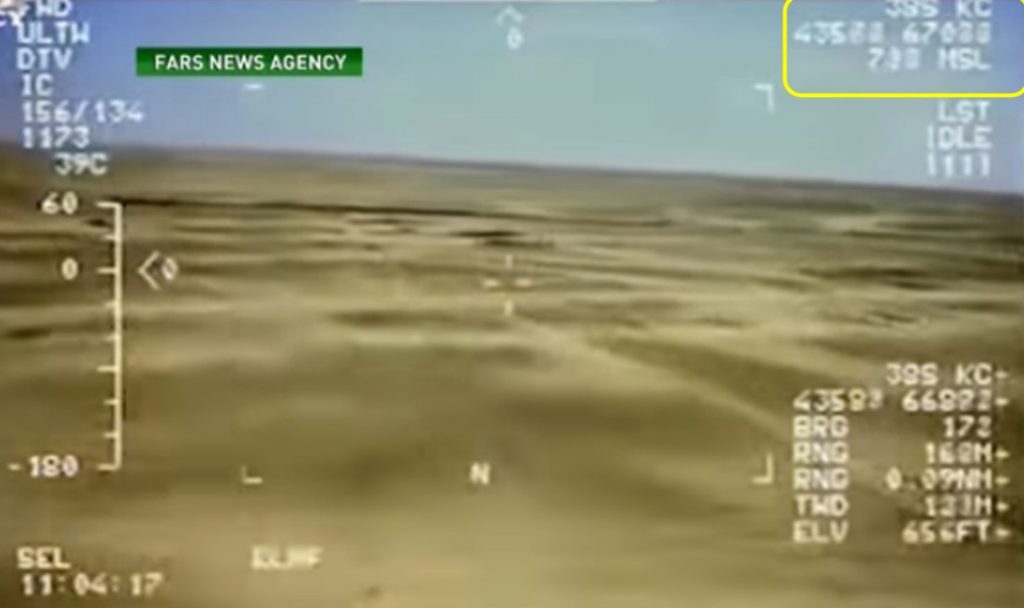 The story about the crashing drone is that the Iranians caused it to crash, and then a U.S. strike-fighter swooped in and bombed it.  We are to understand that we can see that happening because Iran had a drone overhead getting video of the whole thing.
There isn't enough information on the "Iranian drone video" display (which starts at 2:24 in the RT video) to verify the location of what it's looking at, however.
From Fars:
The footage below shows IRGC's penetration into US Army's Command Center, one of the many proofs in support of General Hajizadeh's remarks.

The footage shows a US flying drone starts malfunctioning and makes a rough landing in a desert area 10 kilometers away from its base. …

The footage that displays the IRGC's penetration into the US spy drone's intel has been recorded by an IRGC drone flying above the scene.
Moreover, Iran claims, weirdly, that U.S. troops walked around in the vicinity of the downed drone and didn't want to approach it:
The US troops avoid approaching the malfunctioning drone as they are not sure who is controling the aircraft, and hence send a manned aircraft to bomb the drone.
The nearby base, by the way, is Al Asad Air Base, southwest of Al-Baghdadi, where we have had a growing contingent of joint U.S. and coalition units since late 2014.  President Trump visited Al Asad after Christmas in 2018.
I'm skeptical that this actually happened as Iran has depicted the event.  The Iranians have been splicing video footage together for quite a while to create often-hilarious effects.
If it did happen, however, it probably happened before mid-2017, when ISIS was still a major presence in the area (i.e., around Haditha Dam Lake, over which ISIS sought to maintain control because of its infrastructure significance).  By late August of 2017, ISIS had been largely pushed west up the Euphrates toward the Syrian border and the crossing at Al Qaim-Al Bukamal.  Over the next couple of months, the battle that raged was between the border crossing and Deir-ez-Zor in eastern Syria.  (It may be possible to find old CENTCOM daily updates that give an idea when the air support was focused most intently on the area north of Haditha, but I don't have time to do that tonight.)
In any case, happy sleuthing.  We'll see if the Pentagon comes out and makes any comment on this.
For your convenience, you may leave commments below using either the Spot.IM commenting system or the Facebook commenting system. If Spot.IM is not appearing for you, please disable AdBlock to leave a comment.