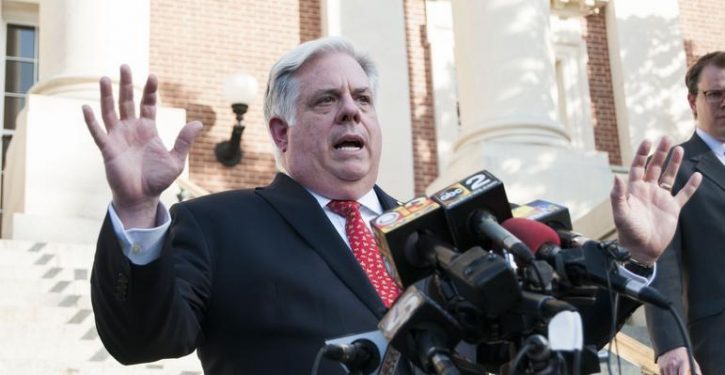 Maryland's popular Republican Governor, Larry Hogan, told CBS that President Trump has a low chance of winning reelection in 2020 — and that means the next president could be a "very far-left" Democrat. Hogan's assessment is based on poll after poll showing voters hostile to Trump:
"The issue I'm concerned about is he has a very low re-elect number, I think in the 30s, high 30s, low 40s," Hogan said in the interview. "So the chance of him losing a general election are pretty good. I'm not saying he couldn't win, but he's pretty weak in the general election. …

"At some point, if he weakens further, Republicans would say we're concerned about whether or not he's going to win if we're going to face a very far-left Democratic nominee, and is he going to take the rest of us down with him, if you're an elected official," Hogan told CBS.
The economy is good, wages are rising, and unemployment is low. So one might expect Trump's job approval rating to be high. But it's not. As CNN notes, Trump's approval rating is only 44%, while over half of those polled disapprove of his job performance. In an economy this good, incumbent presidents usually have robust job approval ratings, but Trump doesn't. In two recent polls, a majority of Americans said they would "definitely not" vote to reelect him.
Trending: College students required to detail sexual history before registering for classes
On policy, most conservatives have been fairly happy with Trump. That includes even some conservatives who didn't vote for Trump in 2016. The conservative commentator Erick Erickson, who once said "Never Trump," recently said he would support Trump in 2020. He cited Trump's conservative record on judges, regulatory reform, and other major issues.
But Trump remains terribly unpopular with swing voters, and many suburban voters who used to vote Republican. In the 2018 election, the GOP lost Congressional races in many areas of the Sunbelt it used to carry easily. Even in once strongly Republican Texas, the GOP managed to lose control of the four state appeals courts in Dallas, Houston, Austin, and San Antonio, where Democrats swept to victory. Farmers in swing states like Iowa are angry about the misguided protectionist trade policies pursued by the White House. In Virginia, polls show Democrats favored to win control of the state legislature in 2019, by a 13% margin, despite scandals affecting the Democratic governor and Lieutenant Governor (the Lieutenant Governor is accused by two women of sexual assault). Virginia voters are angrier at Trump than at the scandal-plagued Democrats.
By contrast, Hogan is popular: He was easily reelected in 2018 as governor of Maryland, even though it is a heavily-Democratic state. If he were the Republican presidential nominee in 2020, he could easily beat most of the Democrats currently vying for the Democratic presidential nomination. Hogan's popularity has helped fuel speculation that he could challenge Trump in the GOP primary.
Hogan is right to point out that the next Democratic presidential nominee could easily be "far-left," and yet win the 2020 election, due to Trump's unpopularity. As we noted earlier, the Democrats have lurched so far to the left that Democratic elder statesmen such as former President Jimmy Carter have warned about it. But most Democrats ignore his warnings. According to a Gallup survey, 57% of Democrats have a positive view of socialism, unlike capitalism.
Virtually all of the candidates for the Democratic Presidential nomination have endorsed a radical, extremely costly, and unrealistic proposal known as the "Green New Deal." It would radically expand government welfare programs and cost trillions of dollars. It would fund pointless, wasteful construction and rail boondoggles (some of which would increase road congestion and carbon emissions). And it would shut down some vitally-needed power plants even though they emit no air pollution or greenhouse gases, and are needed for the stability of the electric grid. Yet, "Senators Cory Booker (D-N.J.), Kirsten Gillibrand (D-N.Y.), Kamala Harris (D-Calif.), and Elizabeth Warren (D-Mass.) are co-sponsors" of the Green New Deal as is Senator "Bernie Sanders," and "almost every other candidate for the Democratic Party's presidential nomination in 2020."
In taking these stances, they are catering to an increasingly radical Democratic Primary electorate. Democratic primary voters replaced several veteran legislators with avowed socialists in safe Democratic seats in 2018. The Socialist Alexandria Ocasio-Cortex unseated a senior Democratic Congressman in the Democratic Primary, and then went on to win the general election. Voters in Virginia's Prince William County elected self-professed "Democratic Socialist" Lee Carter to the state House of Delegates in 2017, ousting veteran GOP Delegate Jackson Miller.
Many Democrats now support costly measures even when they know those measures will wipe out jobs and harm the economy. That is illustrated by a recent poll of California's Democratic-leaning electorate. The liberal Los Angeles Times reports that "Californians strongly back the state's minimum wage increase to $15," even "though they believe the wage hike will hurt their pocketbooks and the state's economy," and "high percentages of those surveyed expected negative consequences, including layoffs and business relocations to states with lower minimum wages. Almost 90% of respondents believed that prices for consumers would rise because of the wage hike."
Most economists say a $15 minimum wage is a bad idea that will increase unemployment, especially among young people. An economist at Moody's calculated that up to 160,000 jobs will be lost in California's manufacturing sector alone from the state's gradual increase of its minimum wage to $15. In California's economy as a whole, job losses are likely to be closer to 700,000.