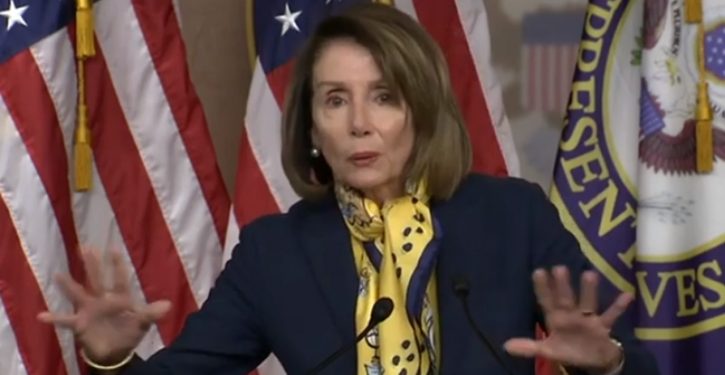 During the shutdown, Republican efforts to force a vote on a bill that would pay federal workers their first paychecks of 2019 were shot down by Democrats. Votes on this motion took place on Jan. 17, 23, and 24. Each time it was defeated rather handily by the party that postured continuously during the shutdown on behalf of the 800,000 out-of-work federal employees.
Texas Congressman Dan Crenshaw noted that the initial role call received very little fanfare and opined that the Democrats "priority is not paying workers or opening gov't … It is opposing Trump."
With each vote, however, more Democrats joined Republicans in the effort to pay government  employees. Six Democrats voted in the affirmative initially, while ten did so on the second vote, and thirteen joined in a bipartisan effort on Thursday.
???? UPDATE – For a *third* time, House Democrats have killed a GOP effort to pay federal workers during the shutdown. Given the attention lavished on R's breaking w/ POTUS, perhaps it's noteworthy that Pelosi's defections have swelled from 6 to 10 to 13: https://t.co/6rySipgiLX

— Guy Benson (@guypbenson) January 24, 2019
Media Focused on Sad Stories of Unpaid Workers
It really doesn't get more hypocritical than this. Day after day the leftist media and congressional Democrats trafficked in tales of suffering endured unpaid federal workers. But when the resistance party was offered an opportunity to correct this injustice, they … well, resisted, exploiting American workers for their own political agenda.
"I can't afford to go to the ER. I can't afford anything." Mallory is a proud federal employee. The #TrumpShutdown has forced her to ration her insulin intakes.

How can @realDonaldTrump sleep at night when Americans are held hostage by his shutdown? https://t.co/nAKDAVjUL6

— Rep. Pramila Jayapal (@RepJayapal) January 18, 2019
Trump says he supports the working class. Really? Today, as a result of his cruel government shutdown, 800,000 federal workers worry about how they will feed their kids, pay their mortgages or see a doctor. Mr. President. End the shutdown.https://t.co/QrT7uhfjXm

— Bernie Sanders (@SenSanders) January 22, 2019
"This is a political stunt to distract from the fact that Republicans are about to vote for the ninth time to keep the government shutdown," one Democratic aide told The Hill, ignoring the fact that the entire effort to avoid funding a border wall that every major player in the Democrat party has supported in the past was itself a "political stunt."
More Hypocrisy from Alexandria Ocasio-Cortez
Freshman socialist Alexandria Ocasio-Cortez was the only House Democrat to vote against a bill to reopen the government earlier this week, stating she couldn't support the bill because it allocated funds for ICE. "We didn't vote with the party because one of the spending bills included ICE funding, and our community felt strongly about not funding that," she wrote on social media.
Earlier this month, Ocasio-Cortez's actions did not match her rhetoric, and she voted to fund the organization she claims are serial abusers of innocent people.
Her incompetence when it comes to governing notwithstanding, the entire party she is currently a star in treated the shutdown as political capital for future votes, not like the serious crisis it was and threatens to become again on Feb. 15.
"I think it's time for the Democratic party to have an intervention with the Speaker and ask her to do what's right for the nation, what's right for their party, and what's right for this institution," Republican Conference Chair Liz Cheney said.
With more and more Democrats voting with Republicans to pay workers, she might be right.
Cross posted at the Mental Recession