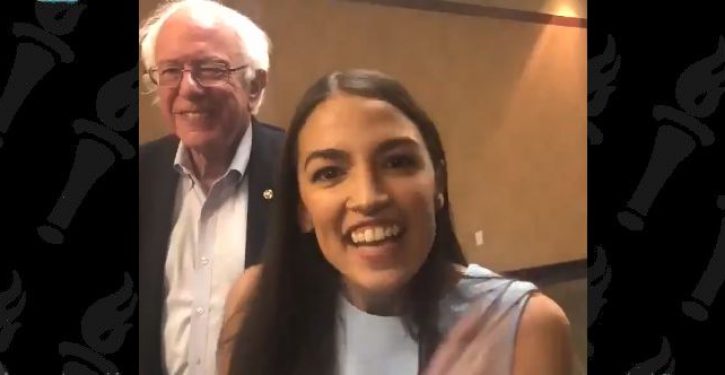 If Alexandria Ocasio-Cortez is going to continue to peddle her latest account of her personal history, which sounds like something straight out of Horatio Alger, she's going to have to persuade the New York Times and other mainstream outlets to rewrite the versions of her early life she gave them. Either that, or she's going to have to own up to the fact that her anti-capitalist persona is something she acquired in spite of her upbringing, not as a result of it.
If not, she is going to continue to be called out for writing fictional accounts of her humble past on Twitter. Consider this tweet that she recently posted containing a photo of the placard outside her new congressional office:
???? Don't be fooled by the plaques that we got, I'm still / I'm still Alex from the Bronx ???? pic.twitter.com/eO68AGxn2z

— Alexandria Ocasio-Cortez (@AOC) December 27, 2018
Trending: Another Trump 'gotcha' by the mainstream media falls on its face
When an individual on Twitter unimpressed with her attempts at humility challenged her story, she wrote back:
Yep. As everyone knows, I grew up between two worlds + experienced 1st hand how a child's zip code can shape their destiny.

It was scrubbing those households' toilets w/ my mother that I saw and breathed income inequality.

I decided to make a difference.
You decide to do this. https://t.co/kMtbGQo8o8

— Alexandria Ocasio-Cortez (@AOC) December 28, 2018
So her awareness of the more opulent of the "two worlds" she experienced as a child resulted from her having done menial labor? That's not the impression conveyed by a Times article dated June 27, 2018, which states:
Ms. Ocasio-Cortez's mother was born in Puerto Rico. Her late father, Sergio Ocasio, an architect, was born in the Bronx. The family lived in Parkchester, a planned community of mid-rise buildings, in the same apartment where Ms. Ocasio-Cortez now lives, until Alexandria was about 5, when they moved an hour north to a modest two-bedroom house on a quiet street in Yorktown Heights, a suburb in Westchester County, in search of better schools.
The Times writers did their best to play down the reality of her childhood, which fail to comport with the life of poverty that claims to have endured. Parkchester, is in the eastern Bronx, far the from the dicey South Bronx, with which Ocasio-Cortez boasts intimate familiarity. By the Times's own lights, a two-bedroom apartment there goes for $1,605 a month: hardly the "lap" of indigence. A "modest" two-bedroom house in Yorktown Heights, where the median income for a family is $137,580, runs around $200,000. That's the asking price of the two-bedroom property below, which is pretty "modest":
An member of Congress who lies is hardly a novelty. But for a Congress member to begin laying it on with a trowel before she's even been "inaugurated" is a horse of a different color.