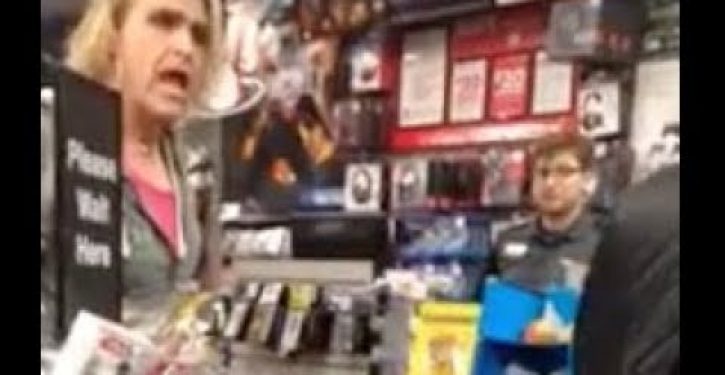 No one said that transitioning from a man to woman guaranteed a dainty end result. Or maybe the problem is that this particular individual — who looks to be about six feet tall and weigh some two hundred pounds — assumes that his eye makeup, pink sneakers, and shoulder bag are clues enough that he identifies as a woman.
In a video that has gone viral, the unidentified "woman" is shopping at a GameStop and becomes irate when a clerk addresses her and another customer familiarly as "you guys." The video, recorded on a third customer's cell phone, picks up the action in medias res. In it the trans can be heard accusing the clerk of calling her "sir." When the clerk, who appears to be a much smaller person, attempts to defend himself, the trans reverts to his masculine instincts and shouts:
Motherf*cker, take it outside. You want to call me 'sir' again, I will show you a f*cking sir.
https://youtu.be/YEghuW9bVvQ
She storms out of the store, kicking over a display, then turns around in the entranceway and barks, "I need your corporate number. Because I'm going to call them and talk about how I was misgendered in this store." The clerk apologizes repeatedly but to no avail.
The trans finally leaves but not before pausing again to shout:
You just keep f*cking disrespecting trans people in this store. Which I intend on telling the entire LGBTQ community. You're going to lose money over this.
And this sort of ugly behavior and intimidation are the sorts of acts the Left applauds and views as breakthroughs in the battle for equality.
No wonder we can't have nice things.