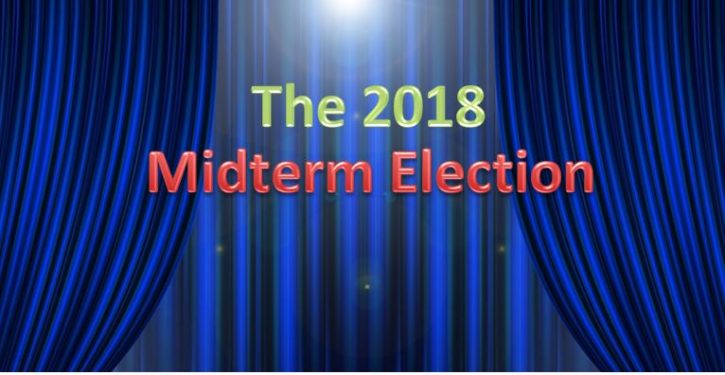 [Updates appear at the bottom. For "bizarro," scroll down. Quick! – J.E.]
Just so you know, optimism is abounding here.  All this talk of a "blue wave" and RINOs' Revenge is sound and fury, signifying nothing.  I can hear America singing, smell America cranking up the barbecue, and see America voting for constitutional principles, liberty and opportunity, national security, lower regulation and taxes, all the best things – as far as the eye can roam.
There's massive Yankee silliness roiling around alongside it, of course.  There always is.  Who knew Cory Booker would be jumping out at innocent cars today, for example.
Don't forget to vote today! https://t.co/JT8m0FH0WY #GoVote #ElectionDay pic.twitter.com/31EMysQQRE

— Cory Booker (@CoryBooker) November 6, 2018
California is voting on whether the price of dialysis can be controlled by regulation, which is certifiably imbecilic.  I have yet to hear or see a single ad explaining why we ought to vote "yes" on this demented ballot proposition, which even die-hard socialists understand would promptly make dialysis scarcer than hen's teeth.  The advice to voters has been uniformly against the measure, with all analysts calling it a punitive, revenue-gutting proposal against non-union clinics.  No sane person would be for the measure: its effect would be to punish dialysis patients.  It seems like we could have dispensed in advance with a lot of expense and hooey.
Unfortunately, in that sense, voting for Republicans for statewide office is much like this proposition.
Republicans are taking heart from the results of the Trafalgar Group poll on Florida.  The Trafalgar Group was the only one to correctly predict that Trump would win Michigan and Pennsylvania in 2016.
Final #Florida poll from the @Trafalgar_Group, the only polling firm that had Trump winning Pennsylvania and Michigan in 2016. #ElectionDay

Governor
• Ron DeSantis: 50%
• Andrew Gillum: 46.6%

Senate
• Rick Scott: 49%
• Bill Nelson: 47.3%https://t.co/D1lHoF9Pqi

— Frank Luntz (@FrankLuntz) November 6, 2018
Reuters is predicting for some reason that, win or lose, Beto O'Rourke in Texas is "set to emerge victorious."  It's not clear what this means (it doesn't sound journalistically justifiable, shall we say), but, you know, be bad, dudes.  YOLO.
Win or lose, Beto O'Rourke set to emerge victorious. Follow #Midterms2018 coverage here: https://t.co/qPjdTAYp6q pic.twitter.com/LXOxA0Kfwu

— Reuters Top News (@Reuters) November 6, 2018
James Comey has some new words of fortune-cookie-style portent for us.
James Comey: "I feel the giant stirring. The awakening is slow, but it is underway … The lying, misogyny, racism and attacks on the rule of law from our president. These things poke the giant. It takes time, but the American people are stirring." https://t.co/hoyTKGloyF

— Kyle Griffin (@kylegriffin1) November 6, 2018
While he gets on with his bad self, we note that either side of the aisle could interpret this as a sign.
15 minutes ago in the nation's capital. A sign? ???? #Midterm2018 #VotingMatters #BlueWaveComing #DC pic.twitter.com/hyIUTjf0a4

— Dianne Sherman (@dsherman2407) November 6, 2018
And as always, voting has different priority-driven meanings, depending on where you roam in our fair land.
Vote for Oklahoma commit Marcus Hicks to get a spot in the Under Armour All-American game.

⬇️⬇️⬇️

????https://t.co/UzZJL1sEhO#NewWave19 | #Sooners pic.twitter.com/DiVX2F12Ui

— Sooner Gridiron (@soonergridiron) November 3, 2018
Had a longish line at the voting spot today.  The poll workers said it was a big turnout, the biggest they've seen for a midterm.  (And two who had been there for 2010 agreed it was quite big, but this looked to be even bigger.)  The line would have been worse if everyone had been there to vote on-site.  But at least half the people arriving were there to turn in vote-by-mail ballots, which they had already marked.  That seems to be the thing now.
The first returns will start coming in less than two hours from now.  Buckle in, champs.
*UPDATE* 7 PM EST:  This is probably not the election-day liveliness most people were looking for.  A man in the Pittsburgh (PA) area was told he wasn't registered to vote at a local polling place, and informed the poll workers he was going to get a gun and shoot the place up.
It isn't hard to imagine what the deal was here, gotta give it that.
7:40 PM: The UK Independent breathlessly reports the first flip of the day from Republican to Democrat: the governor's seat in…Guam.  Pendulum swings.
8:45 PM:  Some first calls:
NBC calls Ohio U.S. Senate for incumbent Sherrod Brown (D).
Donna Shalala (D) is predicted to flip Salazar House seat in Florida, in spite of really lackluster campaign performance.
J.B. Pritzker (D) predicted to take Illinois governor from worthless-RINO Bruce Rauner.
South Carolina governor: Incumbent Henry McMaster (R) called early to defeat James Smith.
9:00 PM: Two big ones:
Marsha Blackburn (R) now projected to defeat Bredesen for Tennessee U.S. Senate.
Mike Braun (R) projected to knock off incumbent Joe Donnelly for Indiana U.S. Senate.  Yuuge.
Bizarro at 9:30 PM:
This is incredible. One of the jurors from Menendez's corruption trial is at his election night party: https://t.co/wH23fIJ15X

— Nick Corasaniti (@NYTnickc) November 7, 2018
It's conceivable that this won't be the bizarro gold-medalist of the 2018 midterms.  We still have miles to go before we sleep.
9:35 PM: Fox just called the House for a Democratic takeover.  We'll see.  Seems a little early to go with certainty on that.
9:40 PM: Everyone's calling West Virginia U.S. Senate for incumbent Joe Manchin (D) over Patrick Morrissey.
Cruz continues to lead O'Rourke in Texas, and Scott leads Nelson in Florida, for U.S. Senate.  Both races still tight and not yet called.
9:50 PM:
Oklahoma governor called for Kevin Stitt (R) over Drew Edmondson.
Wisconsin U.S. Senate called for incumbent Tammy Baldwin (D) over GOPe State Sen. Leah Vukmir.
10:00 PM:
Utah U.S. Senate called for Mitt Romney (R) over Jenny Wilson.
Greg Abbott wins reelection as expected in Texas.
And…biggie in North Dakota: Kevin Cramer (R) being called to knock off Heidi Heitkamp for U.S. Senate.
BREAKING: Democrat Alexandria Ocasio-Cortez wins election to U.S. House in New York's 14th congressional district. #APracecall at 9:44 p.m. EST. @AP election coverage: https://t.co/miEWlbTVZW #Election2018 #NYelection

— AP Politics (@AP_Politics) November 7, 2018
I know you were waiting for that one.
Ilhan Omar has won Minnesota-05 and Rashida Tlaib has won Michigan-13 as well.
10:15 PM: A whole lot of folks questioning Fox's early call that Democrats have taken control of the House.
Can someone explain why Fox has the Democrats with an 84% probability that they will take the House?

— DC McAllister (@McAllisterDen) November 7, 2018
Their skepticism is justified.
10:20 PM:
ABC, Fox both call Texas for Cruz. Still waiting on Florida for both governor and U.S. Senate.
10:35 PM:
Numbers in Florida trending positive for R in the bigs.
99% in

Rick Scott is up 62k votes.
DeSantis up 83k votes

— David Freddoso (@freddoso) November 7, 2018
Still no one willing to make a call, as far as I can discern.
10:55 PM:
Fox 13 in Tampa is calling Florida governor for Ron DeSantis:
DESANTIS WINS: FOX 13 is calling the governor's race for Ron DeSantis.

☑️ FULL RESULTS: https://t.co/tDqqpFyos3

???? WATCH LIVE: https://t.co/G0GMdHQkBO pic.twitter.com/2ziFN2xwZi

— FOX 13 Tampa Bay (@FOX13News) November 7, 2018
Fox News just called Ohio governor for Mike DeWine (R) too.
Still waiting for a call on Georgia governor, where Kemp (R) has been leading Abrams most of the night.
11:10 PM:
Fox is calling Missouri U.S. Senate for Josh Hawley (R) over incumbent Claire McCaskill.  Pretty fair-sized one there.  Conceivably 56 seats for the GOP in the Senate.
Apparently the Beto-bots in Texas are in major meltdown mode.
https://twitter.com/stillgray/status/1060014581425221632
Confession: I don't get the whole "handsome fellow/matinee idol" thing.  I guess he's just not my type, but I don't see it.
In Arizona, McSally is up by a point and change on Sinema.
11:55 PM:
Sadly, Michigan U.S. Senate has been called for incumbent Debbie Stabenow (D) over GOP challenger John James, who gave it a tremendous run but has come up short in the heavy urban areas.
Although the actual seat count doesn't reflect it yet, everyone is now calling the House for the Democrats.  I'm not looking forward to two excruciating years of the House doing everything it can to torture the federal executive and send nothing but discouragement to the American people, but apparently we'll have to go through it.  I agree with those who say there is no surer way to guarantee a Trump win in 2020.
7 Nov 12:20 AM: If you gave up early on Kim Reynolds (R) in the Iowa governor's race, take heart.  She's been called over challenger Fred Hubbell.  Looks like Steve King (R) is also keeping his House seat from Iowa.
Gov. Scott Walker (R) is in a near dead heat with Tony Evers; Walker leads by just over 300 votes with about 95% of the vote counted.
Still expecting this to keep shifting blue, but the called races have 155 Rs to 154 Ds in the House, and 52 Rs to 47 Ds in the Senate.
Bill Nelson (D) concedes and Rick Scott declares victory in Florida race for U.S. Senate.
1:15 AM:
Big races still out include Walker-Evers for Wisconsin governor and McSally-Sinema for Arizona U.S. Senate.
The House totals have finally been updated with a big jump for the Democrats to 191, Republicans 177.  As of about 20 minutes ago, most sources are agreed that — based on projections in closed races — the Democrats have picked up 25 seats so far.  They needed to pick up 23 to take the House, so that puts them over and justifies the speech Pelosi gave an hour or so ago.  Now that she has the prospect of getting the gavel back in her hand, she's lecturing us on unity.  When she, personally, wasn't in power, it was all about punching people out and making their lives miserable.  But now it's time for unity.  It's like watching a toddler spin up a tantrum just because she knows people are looking — with no adult self-awareness that the big people can also see her when she thinks they don't.
The Democrats' statehouse wins are not impressive.  There is clearly no "blue wave" here.  Tipping over the New York legislature, which was tight to begin with, is not evidence of a wave.  New Hampshire, where the Democrats now hold both houses, was also tight.  We're talking about a few seats' worth of pickups in a handful of states.  Colorado is probably the only one where it matters very much.  This is not the massive shift seen successively in 2010, 2014, and 2016 in the GOP's favor.
OK, and now we're at 204 D, 197 R in the House.  With mostly West coast seats left to come in, surprises are decreasingly likely.  (So far I've only seen one House call moved out of the "called" column and back to undecided.)
Final update at 2:20 AM:  Unexpected – Dean Heller (R) reportedly in trouble in Nevada U.S. Senate race.  It's hard to parse this one because we've only just started seeing the election returns for Nevada.  Right now Heller has a substantial lead over Jacky Rosen.  But that's with only 20% of the vote tallied, and analysts think turnout patterns are going to go much more in Rosen's favor as the count continues.  The GOP can lose a seat in the Senate and still have a comfortable margin for approving presidential appointments, but it's not what anyone anticipated.
In Georgia, the vote count for governor has Brian Kemp (R) 51-48 over Stacey Abrams with 98% of votes tallied.  Abrams is determined to fight it to the end, however, based on her address to her campaign supporters about 45 minutes ago.  There are the usual reports of suspicious-sounding batches of absentee ballots turning up.  We'll see.
McSally was up about 14,000 votes on Sinema in Arizona, last report I found.  It's looking good for McSally but no one wants to call it yet.
The sun will come out tomorrow.  God bless LU Nation and these United States.