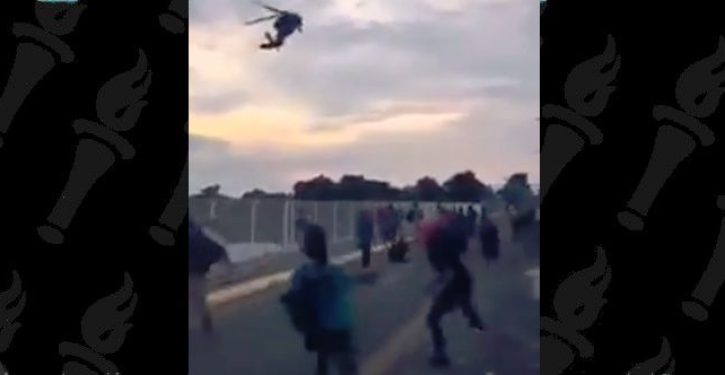 In case you missed it, a video circulating on social media this past week showed migrants from the caravan hurling rocks at a U.S. military helicopter that hovered overhead. Apart from being a curious way of warming up to a country you are about to petition for asylum, these acts could have been deadly had the aircraft descended to an altitude where it was in range of the projectiles.
The media has been reproduced below.
https://youtu.be/M_0aI9HvExA
Following the incident, President Trump issued a warning to the rock throwers, "They want to throw rocks at our military, our military fights back. I told them, consider it a rifle."
Trump eased off on his threat after he was accused of inciting deadly violence, revising his statement as follows: "I don't want these people throwing rocks. They do that with us, they're going to be arrested. There are going to be problems."
You might think that would settle the matter, but no such luck. This morning, the New York Times published this:
The Nigerian Army, part of a military criticized for rampant human rights abuses, on Friday used the words of President Trump to justify its fatal shootings of rock-throwing protesters.

Soldiers opened fire this past Monday on a march of about 1,000 Islamic Shia activists who had been blocking traffic in the capital, Abuja. Videos circulated on social media showed several protesters hurling rocks at the heavily armed soldiers who then shot fleeing protesters in the back.

The Nigerian military said three protesters were killed but the toll appears to have been much higher.
The article added:
Ibrahim Musa, a spokesman for the Shia group, said that on Monday security forces refused to let protesters, who numbered no more than 1,000, pass [sic] the checkpoint as they marched toward their destination. He said 13 other protesters were killed during two other marches this week, one before and one after Monday's deadly march.

"Rocks are not equal to bullets," he said. "The use of force is disproportionate. I don't think President Trump is a good example — even in America many are critical of him. I am surprised that the Army will use Trump as a role model."
Now look more closely at the second paragraph of the Times article. Note in particular this sentence:
Soldiers opened fire this past Monday on a march of about 1,000 Islamic Shia activists who had been blocking traffic in the capital, Abuja. [Emphasis added]
As Twitchy observed, "[I]f we're understanding this correctly, the Nigerian Army shooting rock-wielding protesters this past Monday is Donald Trump's fault because of a speech he gave … yesterday."
Folks on Twitter weren't laughing. One user wrote:
Yeah. It was fast. You didn't waste any time blaming atrocities happening in Africa (FFS!) on our President. Even if they happened 3 days before his comments. Despicable.

— Annais Bond (@AnnaisBond) November 2, 2018
It's more than just despicable. It simply shows that the so-called "mainstream media" are nothing more than the propaganda arm of the Democratic Party.
Related Articles