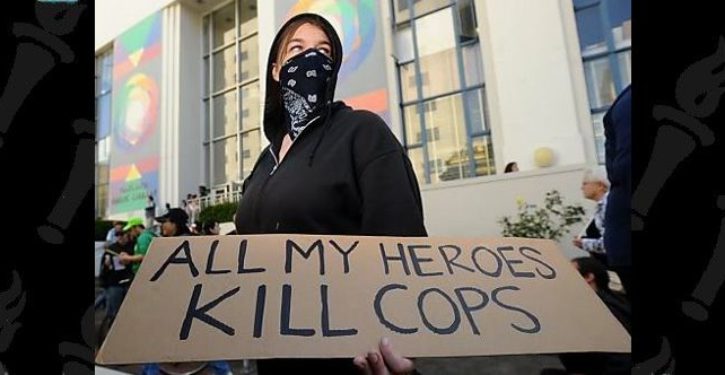 The Washington Post's sympathy for the violent left-wing group Antifa didn't keep Antifa thugs from later attacking one of the Post's own reporters. This ironic result is chronicled in the Washington Post column by Petula Dvorak, a left-liberal. She had gone to a "Unite the Right" rally, but then was attacked by Antifa counter-protesters after the "sad little band of Unite the Right demonstrators retreated," which left Antifa "still looking for a fight." Dvorak's column describes the violence of Antifa:
They knocked a cellphone out of a Washington Post reporter's hands.

They told me to go, um, "love" myself.

Masked — in black instead of KKK white — they pinballed around the empty streets of downtown D.C., randomly chanting and searching for a brawl .

"Bust some windows!" (Why?) ….

"No border! No wall! No USA at all!" (Huh?)
Dvorak seemed shocked that the Antifa members would attack a left-leaning journalist like her, rather than just far-right demonstrators. But as CNS News notes, "Antifa thugs have repeatedly beaten or threatened journalists and regular citizens on the street who dare to capture them on tape."
But the Washington Post was reaping what it helped sow. Earlier The Post had promoted Antifa as an antidote to the far Right, and defended it against those who criticized its violence and lawlessness, such as the "club-wielding protesters shown endlessly on TV." In a column by Margaret Sullivan, The Post complained that Antifa members had been wrongly stereotyped as violent thugs, by those who believe that Antifa members are "the left-wing equivalent of neo-Nazis." Instead of focusing on Antifa's violence, the press should "explain the group's ideology, tactics or goals." She argued that the media should not dwell on on violent acts committed by Antifa members, because that would play into a conservative meme about violent leftists.
Sullivan defended Dartmouth Professor Mark Bray, who said Antifa's violence is a "legitimate response" to opposing views on the Right. She lamented the fact that Bray was "publicly" criticized "by his university president" for defending its violent activities. Washington Post columnists like Sullivan are not much troubled by Antifa's violence, at least as long as it is aimed at ordinary citizens, not the media. The media yawned when an Antifa goon was given probation by a liberal judge after attacking seven people from behind. The Antifa thug hit his victims so hard with a heavy metal bike lock that one person had a piece of his "helmet broken off," and another suffered a "head laceration that required five staples to fix."
Sullivan's downplaying of violent thuggery is worrying, because she is representative of the Post and the liberal media. She is the epitome of the journalistic establishment as the Post's designated "media columnist." Before joining The Post, she was the New York Times public editor and previously the chief editor of the Buffalo News. She was a member of the Pulitzer Prize board from 2011 to 2012, and was twice elected as a director of the American Society of Newspaper Editors, where she led the First Amendment committee.
Will the media change its tune about Antifa violence now that reporters are coming under attack? One can only hope. Since 2017, much of the media have taken abnormal positions, such as sugarcoating violent protests and sometimes dropping any pretense of journalistic objectivity in dealing with an administration that they, like former President Obama, views as "not normal."
Certainly, the Post has not shown objectivity or accuracy in reporting about the allegations against Judge Kavanaugh, who was nominated to the Supreme Court. The National Review notes that there are numerous problems with the accuser's account. For example, "All four of the people named by Kavanaugh's accuser" as present at the scene have now "said either that Kavanaugh is innocent of all charges, or that they have no recollection of his doing anything — anything — wrong. Put as simply as can be, there is nothing in the testimony of any of the named witnesses that corroborates, supports, or even implies Dr. Ford's allegations. Of the five people who were supposedly at the party, only the accuser has suggested misconduct," and she "remains the only person within the saga who has not subjected herself to an oath."
The Washington Post has sought to obscure this fact from its readers. As Kim Strassel of the Wall Street Journal notes, the Washington Post misstated, for a full week, key aspects of what it itself was told by Kavanaugh's accuser, misstatements that obscured problems with the accuser's account. For example, the paper reported that that "four boys" were present at the scene of the alleged incident, when in fact, the accuser told the paper it was a woman (who has said she does not recall any such event) and three boys. The misstatement by the Post matters because the woman, despite being a friend of the accuser, has said she "does not know Mr. Kavanaugh and she has no recollection of ever being at a party or gathering where he was present."
Rather than accurately report on problems with the accuser's account, the Washington Post instead is publishing a wide array of "perspective," human-interest, and opinion pieces that imply that accused men can get away with anything or incorrectly say that sexual harassment claims are almost never false (a claim belied by the fact that juries often reject sexual harassment and assault claims in civil lawsuits, on the basis of the jury not believing that the alleged misconduct occurred). The Post's coverage did not show such a slant against accused people when Bill Clinton, a Democrat, was accused of having raped Juanita Broaddrick many years earlier or when he was accused of sexual harassment (for which he ultimately paid a settlement of $850,000).
But a slant often exists in the media if an accusation is made against a Republican or someone who is supposedly "privileged" in the eyes of the media (like a college fraternity). As I discussed earlier, the New York Times recently put on its editorial board a woman who "expressed rage after" the exposure of "a rape hoax at the University of Virginia. There, a fraternity was falsely accused of committing gang rape by a complainant who told a story that was full of inconsistencies and details that seemed physically impossible. The complainant claimed assault by a person who doesn't exist at a party that never occurred. Even after Rolling Stone retracted its defamatory story of the alleged rape," she peddled the UVa. rape hoax." She also called for the banning of a writer who exposed violations of the due process rights of college students accused of sexual assault.
The Washington Post and other publications are also filled with slanted articles complaining that Kavanaugh, like Conservative Supreme Court Justice Clarence Thomas in 1991, will supposedly get away with misconduct due to the disproportionately male nature of the Senate Judiciary Committee.
This is grossly unfair to Justice Thomas. He was accused by Anita Hill of saying sexually offensive things to her years earlier, after he was nominated to the Supreme Court in 1991. These biased articles wrongly imply or assert his guilt, despite the absence of any corroborating evidence. But the evidence overwhelmingly supported Thomas's innocence.
As lawyer Adam White notes in the Weekly Standard:
Not a single colleague of Hill's came forward to support her allegations. In stark contrast, the very last panel heard by the Senate Judiciary Committee featured eight women, seven of whom had worked with Thomas at the EEOC, the Department of Education, and in Senator John Danforth's office. …

Each was given three minutes to speak, and each of them forcefully rejected the charges. Johnson, herself the victim of sexual harassment at a previous job, offered the most powerful testimony.

In her initial meeting with FBI agents, she omitted many of the salacious details that later exploded in the Senate confirmation hearings…her [later] account was immediately disputed by both of the FBI agents who had interviewed her, Special Agents Jolene Smith Jameson and John B. Luton, who observed her Senate testimony and then filed statements detailing what they described as Hill's untruthfulness.
Many in the media are blind to this evidence, and the fact that even most members of the Democrat-controlled Senate rejected the charges against Thomas. (In polls taken around the time Thomas was confirmed, Americans believed Thomas over Hill by a two-to-one margin).
Yet, ABC News chief political analyst Matthew Dowd recently branded Justice Thomas a "sexual predator." He made this inflammatory accusation even though Thomas has served on the Supreme Court for over a quarter century, without the slightest hint of misconduct. Dowd justified treating Supreme Court nominees accused of misconduct as presumptively guilty, as a way of atoning for America's "250 years" of institutional sexism. Others in the press have echoed Dowd's shameful smear.
Journalists continue to misstate the facts about Thomas's confirmation to the Supreme Court — such as whether his accuser had a motive to make up the alleged misconduct. Senators recognized that Hill had a potential motive to lie, such as the enormous amount of money in book and movie deals that an accuser can make by cashing in on her story. Hoping to defuse this, Alabama Senator Howell Heflin (D) asked Hill, "Are you interested in writing a book?" Hill answered, falsely, that she was not. But in a recent broadcast, CNN and an Associated Press reporter falsely made it seem like Heflin was attacking Hill, rather than trying to help her dispel a supposed "myth." In reality, Tim Graham notes, "Hill did exactly what she denied she would, and accepted a million-dollar advance for two books." Hill's career benefited enormously as a result of making her accusations: She went from being at a non-prestigious institution, to being a well-paid tenured professor at a prestigious institution. And she received hundreds of thousands of dollars in speaking fees due to her allegations.