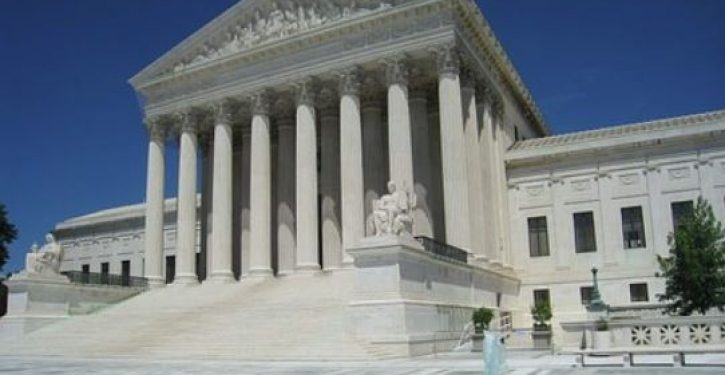 I wrote here about the array of connections between the anti-Kavanaugh opposition and the Hillary Clinton drama of 2016.  This post will address one aspect of the implications from that, previewed in the earlier article.  Rather than rehashing its contents, I refer readers to it for a refresher on the particulars.
I won't try to unpack everything here.  The priority this week is the Brett Kavanaugh nomination.  Most observers attribute the near-psychotic fury of the anti-Kavanaugh campaign to the desire to preserve the Roe v. Wade precedent.  But in sober reality, there is very little chance of a challenge to Roe v. Wade quickly overturning the decision, or the body of precedent that has come after it, in a transformative way.
Such challenges would have to be fought through the courts, by advocacy groups that have spent decades studying each other's arguments and anticipating each other's moves.  There is no guarantee that opponents of Roe v. Wade could frame a challenge to get the decision they want on a short timeline.
Moreover, Hillary Clinton's close, continuing interest in this particular issue – the Kavanaugh nomination – is striking.  Apart from the national health care initiative in Bill Clinton's first term, her political energies have always gone into cultivating power more than pushing policy agenda items.
Abortion policy is certainly a key issue for the constituency Hillary relies on.  But from Hillary to her old lieutenants to Feinstein and the activist planners working on Soros' dime, the wild-eyed full-court press really looks over the top for something that is only about abortion law.  (Consider, just as one point, that they don't have to worry about legacy Republicans on the Hill cutting off funding to Planned Parenthood.  The realistic threat to abortion on demand – however you feel about it – is exaggerated.)
The frenzy to stop Kavanaugh's confirmation seems to be about something more.  One possible clue comes from a post by Elizabeth Holtzman at Huffington Post in 2016.  (Holtzman, a Democrat, was a four-term U.S. representative from New York.)
In it, Holtzman discussed how the Supreme Court might insinuate itself into the presidential impeachment process.  The method would be a court decision that a president had violated the "take care clause" of the Constitution, which requires him to faithfully execute the laws of the United States.  Such a ruling against a sitting president could serve as a pretext for impeachment proceedings to be initiated in the House of Representatives.
When federal court rulings went against Obama's deferred-action amnesty order from 2014 (see here as well), the specter of such a sequence of events arose in the minds of Obama supporters.  Holtzman starts her treatment out with a reference to that.
The prospect of the Supreme Court taking up a question with a "take care clause" element while Obama was still in office was alarming to Democrats.  The fear was that a Republican-controlled Congress could use a ruling based on violating the "take care clause" against a Democratic president.  Holtzman noted this:
[T]he "take care clause" could create great constitutional and political mischief. This is so because the clause plays a key role in presidential impeachments. From Andrew Johnson to Richard Nixon and Bill Clinton, whenever impeachment proceedings have been brought against US presidents, lawmakers have based the case for impeachment on a claimed violation of the "take care clause." In fact, every article of impeachment against each of these presidents charged a breach of the clause.

Thus, a ruling by the Supreme Court that a president violated the "take care clause" could open up the possibility of impeachment proceedings against the president. It could be an invitation to members of the House of Representatives to initiate proceedings, since they would be relying on the highest court's determination that a ground for impeachment existed. It could create tremendous political pressure on House members to support impeachment, because it would be difficult to disagree with a Supreme Court determination that a violation had occurred.
A Democratic-controlled Congress could also, of course, use such a ruling against a Republican president.
If Democrats wanted to use it against any Republican, Donald Trump would be their obvious choice.  And the lower-court rulings we have already seen against some of Trump's executive orders, provoked by activists filing suits in friendly venues, could at some point between now and 2021 bring a "take care clause" question to the Supreme Court.
Note this next point well.  If left-wing activists want to try to deliberately set up a "take care clause" ruling against Trump, the most effective way to close that door to them is to install Brett Kavanaugh (or any of the potential nominees on Trump's short list) on the Supreme Court.
A 5-4 majority of constitutionalists would both ensure the court could rule, but also prevent the Supreme Court from ruling improperly – with political benefit for Trump opponents – on a "take care clause" issue.
On the other hand, if the court remained at 4-4 until 2021, the door to such improper (constitutionally unfounded) rulings could still be open.  No such favorable rulings would be guaranteed, because it would still take five justices to break a tie.  But with only four consistent constitutionalists, that's a better strategic prospect than having the option of a take-care takedown taken off the table entirely.  At worst, there might be a 4-4 standoff that couldn't be broken.  But a 5-4 court would shrink the matrix of possibilities — decisively.
The fevered, desperate nature of the anti-Trump "resistance" continues to be amazing.  I'm not convinced it is only about political point-making on agenda items.  The evidence is too strong that numerous political operatives from the Obama administration and the Hillary organization – including Hillary herself – as well as some elements of the Democratic Party, really do envision finding a way to undo the 2016 election.
If it isn't possible to literally remove Trump, embroiling him in a process in which he inevitably becomes ineffective would get them through the next two years.  An adverse "take care clause" ruling, even one from an appeals court that only stood because of a 4-4 standoff in the Supreme Court, would be a pretext for an impeachment proceeding in a Democrat-held House.  There would be no shortage of lawsuits brought against Trump's executive orders to provoke such a ruling; we've already seen that.
In that context, it isn't far-fetched to suppose that one reason this Supreme Court nomination is so significant to them is that it's directly related to a method of provoking impeachment that has already been written about.