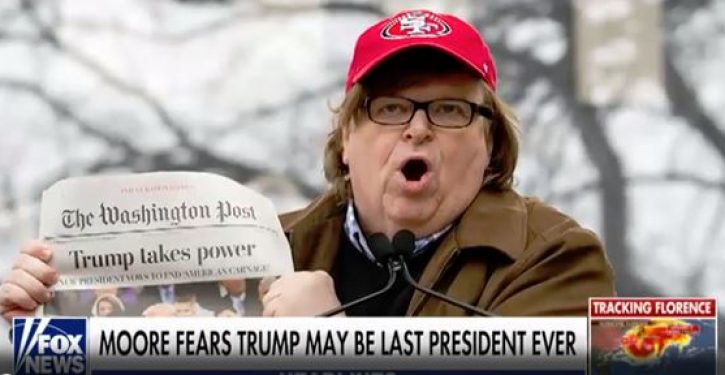 Michael Moore has been making the rounds lately, promoting his new film "Fahrenheit 11/9." In the process, he has been dropping what many in the media are treating as a bombshell. It is "absolutely possible," the portly director has grimly pronounced on ABC and elsewhere, that Donald Trump may be "America's last president."
On Thursday his publicity campaign took him to MSNBC. In the video that follows, Moore enlarges on why he believes the president is looking to seize absolute power (text follows):
I think we have someone in the White House who has no respect for the rule of law, who dislikes democracy by an incredible degree. …
If calling the president a dictator sounds familiar, it's probably because you've heard it before in connection with other presidents:
SESSIONS: Obama Now 'Emperor of the United States' http://t.co/NiBPTFamgC

Trending: Cry havoc! — and let slip the IP addresses of war

— The Weekly Standard (@weeklystandard) November 19, 2014
ABC News tries, and fails, to get the White House to explain how Obama's not an emperor http://t.co/t5W3BSctaC

— Herman Cain (@THEHermanCain) November 19, 2014
The "president who thinks he's a king" starter pack. cc:@BarackObama pic.twitter.com/yUJz5uZI2c

— Senator Rand Paul (@RandPaul) November 20, 2014
Apparently Obama forgets that this is America and he isn't the king pic.twitter.com/8ejRFr6h8P

— Ohio Republicans (@ohiogop) November 20, 2014
Is Obama King or President? https://t.co/1kP37ixwUO

— Judge Napolitano (@Judgenap) November 20, 2014
In fact, it goes much deeper than this. Here is the Washington Post on Nov. 18, 2014:
… Obama can take comfort in knowing he is not the first president to be seen as a dictator, or king, or emperor. It apparently comes with the gig. Nearly all presidents are tyrannical overlords, until they've been out of office for a few years and are only remembered as the nice old people in history books, who were so much better than the current tyrannical overlords.
The observation that Trump may be our last president is not even novel for Moore, who made the same exact claim on the far-left public television show "Democracy Now!" on Nov. 7, 2016: