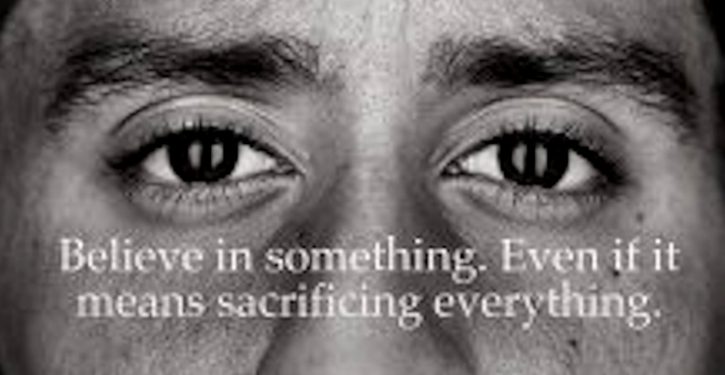 It's capitalism, plain and simple. The economic principle that the Left pretends to hate just netted Nike, which was already valued at $29.6 billion, a nice chunk of change in free media exposure since its controversial Kaepernick campaign was unveiled.
Despite its stock plummeting 9% on the day the campaign was announced, the stock has been rebounding over the past several days, if slowly.
According to TMZ, Nike embarked on the controversial campaign, which features the former NFL quarterback best known for snubbing the national anthem, with its eyes open.
Nike was fully aware there would be outrage by embracing Kaepernick's cause but, on balance, the company knew it would attract way more customers than it would lose. Although the target demos are highly protected by Nike — industry sources tell TMZ Nike's customer base is "significantly urban" and the company felt the decision would be solidly embraced.
Trending: The women of 'The View' unpack reasons for Kamala's unpopularity. Care to guess?
In addition, the company, which is the world's largest marketer of athletic footwear and apparel, sells its products in some 110 countries worldwide. Among these are countries in the Middle East with predominantly Muslim populations. This past spring, it even began marketing a performance "hijab" for Muslim women athletes. These countries, which are largely hostile to the U.S., will likely be favorably impressed by an ad campaign that is anti-American.
But the cherry on the sundae for Nike has to be the free advertising the company has been treated to in the past 24 hours. According to Apex Marketing Group, cited in an article at Money:
In less than 24 hours since Kaepernick first revealed the spot on Twitter, Nike received more than $43 million worth of media exposure, the vast majority of it neutral to positive. … That far outweighs the risk of alienating some customers, said Bob Dorfman, a sports marketing executive at Baker Street Advertising.