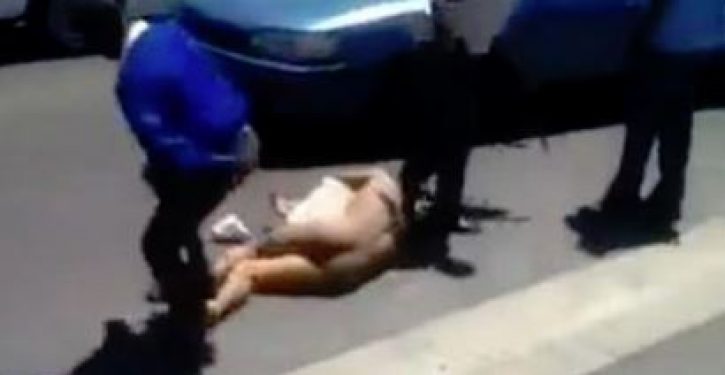 "What's behind Trump's concern for white farmers in South Africa?" asks the headline of an opinion piece at CNN that goes on to impute base motives to the president.
There is a group of people in Africa President Donald Trump is seriously concerned about.

That group of people is white farmers in South Africa.

This is the first time as President that Trump tweeted his concern about Africa … and it was to let the world know that after a Fox News report he was directing Secretary of State Mike Pompeo to study and monitor the treatment of those white farmers in South Africa.
The author, Z. Byron Wolf, doesn't limit his "subtle" playing of the race card to Trump but extends it to "US voters who still think Trump was unfairly criticized for his openness to white supremacists marching on Charlottesville, or his closure of US borders to refugees from mostly non-white countries he's referred to as shitholes?"
Trending: Trump's end-of-term: Another dead cat bounce in the operational sequence of events
Shorter Z. Byron Wolf: How dare Trump and his redneck supporters worry that white farmers' land is being systematically seized by South Africa's government for only a tenth of its market value? Who cares, for that matter, if these white are being murdered?
Wolf even sets Trump and his admirers straight on those murders:
The most glaring problem with this new tweet is his comment about "large-scale killings of farmers," which suggests there is a genocide of white farmers going on in South Africa. That does not appear to be the case, at least according to one recently released accounting which suggested the killing of white farmers in South Africa was at a 20-year low.
Twenty-year low? That's, like, nothing! (Apropos of the killings, conservative media analyst Mark Dice tweets out a video worth watching. EFF, short of Economic Freedom Fighters, is a far-left political party that, according to its Declaration, "draws inspiration from the broad Marxist–Leninist tradition and Fanonian schools of thought in their analyses of the state, imperialism, culture and class contradictions in every society.")
Newsweek and CNN say it's a white supremacist conspiracy theory that white farmers (the boers) in South Africa are being targeted…meanwhile here's the leader of the EFF dog whistling to his foot solders to kill them. pic.twitter.com/7Nb4x5HL2N

— Mark Dice (@MarkDice) August 24, 2018
This absurdly slanted opinion piece would be incomplete without a comparison of the current president to his predecessor, which Wolf accomplishes by analyzing each man's response to the Ebola outbreak in West Africa in 2015. In brief, Trump was opposed to Obama's policy of putting Americans at risk by continuing to allow flights from the heavily stricken area. The bastard!
It's ironic that Wolf chose not to mention Obama's reaction to the current situation in South Africa. He expressed his view indirectly at a speech in Johannesburg earlier this month, which he began by thanking South African President Cyril Ramaphosa for "inspiring great hope in this country." As Tucker Carlson explains (via Gateway Pundit's Jim Hoft):
… Ramaphosa recently declared that he would change the South African constitution … for the explicit purpose of persecuting a racial minority, seizing their land without compensation not because they committed a specific crime but because they are the wrong color. … Thanks to policies like this many South Africans have already been murdered in race killings and many more are fleeing the country for their lives.
Now there's the kind of policy that Trump haters like Byron Wolf can get behind!