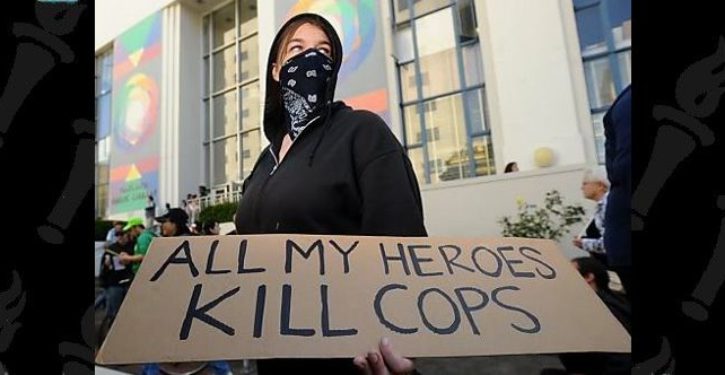 Democrats have longed claimed to be the "more cerebral" of the two major parties. They fancy themselves to be the thinkers while, in their humble estimation, the poor unwashed slobs across the aisle are sheep waiting to be herded in one direction or another.
One way in which the Left has shown its impressive mental faculties is by predicting outcomes to events based on its grasp of human behavior and understanding of the political mind.
On the night of the election in 2016, for example, far-left commentator and activist Sally Kohn demonstrated her powers of foresight by gazing into her crystal ball and then tweeting out what she saw:
My sense is that if Trump wins, Hillary supporters will be sad.
If Hillary wins, Trump supporters will be angry.
Important difference.

— Sally Kohn (@sallykohn) November 9, 2016
We all know how that prediction turned out. Each day we see new evidence of a calm and accepting Democratic base, long over the disappointment of Election Day and seeking to move forward hand-in-hand with the Republican president to make America stronger and better.
Other liberal predictions have proven to be equally prescient. Take this forecast by Princeton economist and New York Times columnist Paul Krugman, also made the night of the election:
It really does now look like President Donald J. Trump, and markets are plunging. When might we expect them to recover?

Frankly, I find it hard to care much, even though this is my specialty. The disaster for America and the world has so many aspects that the economic ramifications are way down my list of things to fear.

Still, I guess people want an answer: If the question is when markets will recover, a first-pass answer is never.
Which brings us to the latest prediction by another member of academe. Julie Novkov, who teaches women's studies at the University of Albany, recently published an essay in the journal "New Political Science" in which she wrote:
I believe that Trumpers — the core supporters Trump has bound to himself through his consistent and persistent messaging — will not accept as legitimate any means through which he departs from the presidency.
She explains that this will be the case even if Trump serves out two full terms. There's more:
The real questions remaining are how they will respond to his departure, in whatever manner it comes, and whether their response will entail violence, and if so, how much state violence will be necessary in response to maintain order.
One thing is clear. If the Right wants to riot effectively, they should start making video recordings of events like this one so that they have a model to follow.