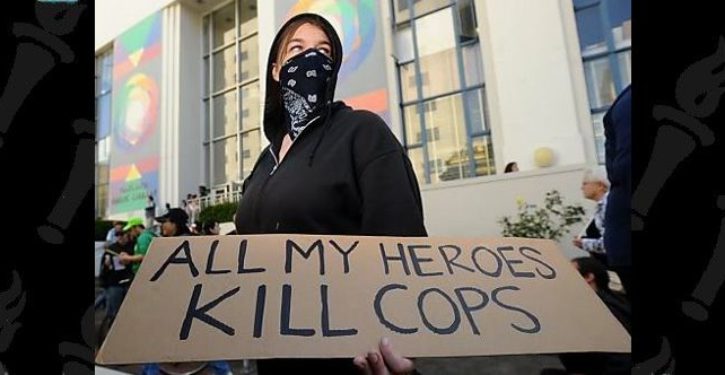 To add insult to well-deserved injury, the GOP-sponsored  "Unmasking Antifa Act of 2018" would impose the same penalties on members of this domestic terror group as on Ku Klux Klan members who engage in similar crimes.
A chief target of the bill is the silly spaghetti western-type masks worn by cowardly members of the group as they commit criminal acts.
According to The Hill:
Under the act, anyone "wearing a mask" or in disguise who "injures, oppresses, threatens, or intimidates any person … in the free exercise or enjoyment of any right or privilege" would be subject to a fine or up to 15 years in prison.

The bill was introduced in the House last month but received renewed attention on Tuesday after alt-right personality Mike Cernovich encouraged his followers to call their representatives and "let them know what you think" about the legislation.
The language of the bill is contained in this tweet:
Introducing the "Unmasking Antifa Act" from the House Judiciary Committee, an amendment to Civil Rights law that carries a potential 15-year prison sentence. https://t.co/ncMijzjMxy pic.twitter.com/Y13EbNXLS2

— Jack Smith IV (@JackSmithIV) July 10, 2018
The bill further stipulates that anyone wearing a mask or disguise while destroying property can be sentenced to two years in prison.
The measure was introduced by Rep. Dan Donovan, R-N.Y., and is co-sponsored by Reps. Pete King, R-N.Y., Paul Gosar, R-Ariz., and Ted Budd, R-N.C.
As we and others reported, Antifa activists have repeatedly engaged in violent acts against supporters of President Trump, calling them "Nazis."
Recently, Antifa terrorists attacked a Patriot Prayer event in Portland and an Antifa thug nearly murdered a Trump supporter at a New York event for freedom.
Last October, it was reported that the FBI has evidence that Antifa members may have colluded with ISIS and al Qaeda.
The New Jersey Homeland Security Department has also labeled Antifa a domestic terror organization and the federal Department of Homeland Security has classified Antifa activities as "domestic terrorist violence."
Nevertheless, some educators and media hacks have endorsed Antifa, and Never-Trump Republicans like Mitt Romney have expressed support for the group.
The bill is currently sitting in the House Judiciary Committee.
Related Articles