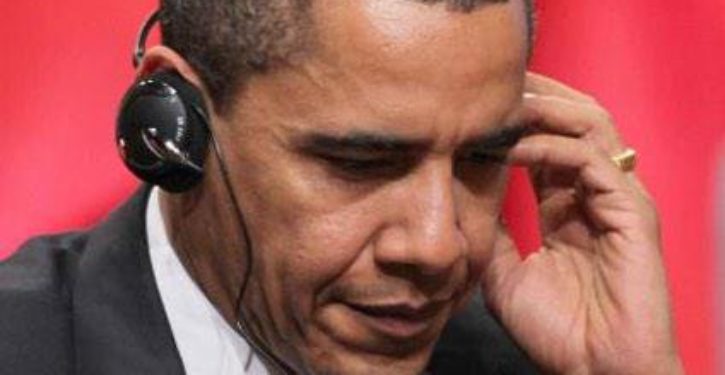 In a 6 July report at The Hill, John Solomon provides information from newly released emails and memos among FBI staffers in the period just before and after the 2016 election.  The correspondence is being reviewed on Capitol Hill, and was produced by the Justice Department and FBI in partial response to the demand for documents from the House of Representatives.
(The document release doesn't satisfy the House's requirement; it's the subject of the standoff that may lead to a contempt proceeding against Deputy Attorney General Rod Rosenstein.)
Solomon's sources describe, among other things, even more anxiety from Peter Strzok to gain adverse information on Trump.  At one point, for example, he speaks of keeping "the hurry the F up pressure on" Andrew McCabe to get the FISA application for Carter Page signed by the Justice Department.
But it's this little nugget down near the end of the article that catches attention.  I include here the lead-in to the nugget, because it's worth discussing too.  Emphasis added:
Trending: Note: Nonsensical report that 'militia' group is planning attack on U.S. Capitol … *UPDATE*: 'Proves a mirage'

The day after Trump's surprising win on Nov. 9, 2016, the FBI counterintelligence team engaged in a new mission, bluntly described in another string of emails prompted by another news leak.

"We need ALL of their names to scrub, and we should give them ours for the same purpose," Strzok emailed Page on Nov. 10, 2016, citing a Daily Beast article about some of former Trump campaign chairman Paul Manafort's allegedly unsavory ties overseas.

"Andy didn't get any others," Page wrote back, apparently indicating McCabe didn't have names to add to the "scrub."

"That's what Bill said," Strzok wrote back, apparently referring to then-FBI chief of counterintelligence William Priestap. "I suggested we need to exchange our entire lists as we each have potential derogatory CI info the other doesn't." CI is short for confidential informants.

It's an extraordinary exchange, if for no other reason than this: The very day after Trump wins the presidency, some top FBI officials are involved in the sort of gum-shoeing normally reserved for field agents, and their goal is to find derogatory information about someone who had worked for the president-elect.

As the president-elect geared up to take over, the FBI made another move that has captured investigators' attention: It named an executive with expertise in the FBI's most sensitive surveillance equipment to be a liaison to the Trump transition.

On its face, that seems odd; technical surveillance nerds aren't normally the first picks for plum political assignments. Even odder, the FBI counterintelligence team running the Russia-Trump collusion probe seemed to have an interest in the appointment.
The picture grows of a Trump team being thoroughly surveilled
It's past time to discard the mental image of U.S. government agencies being startled by "what somebody told them about Trump," and then trying to reconstruct what was going on afterward and figure it all out.
The evidence that Trump and his team were under surveillance up, down, and sideways, from at least March 2016 if not before, continues to grow.
As John Solomon notes, without explicitly drawing the obvious conclusion, it is "odd" that the FBI counterintelligence team had an interest in appointing a technical surveillance expert as Bureau liaison to the Trump transition team.
And with technical surveillance, we're not just talking about bugging the air vents and floor lamps inside Trump offices.  Technical surveillance includes all the exotic measures to turn anything, from a file folder to an access card to a ballpoint pen, a lanyard hook, or a tie-clip, into a monitoring device.
A top expert in this arcane skill is indeed an unusual choice for an agency liaison to a political transition team.  Having a liaison delegation to the transition team is normally all about building relationships, with a bit of policy opportunism thrown in.
This interesting fact about the liaison choice puts at least a couple of earlier data points in illuminating perspective.  (This is even aside from the likelihood that NSA Director Admiral Michael Rogers' unsanctioned visit to Trump Tower days after the election was a, and perhaps the, major catalyst for the move of the Trump transition team to offices at a separate location.  The premise is obviously that Rogers told Trump his team had been under electronic surveillance: of a kind visible to workers at NSA – i.e., data-mining of the NSA database; numerous unmaskings done by Obama's national security principals – and recognized by Rogers as almost certainly being done without legal justification.)
The data points put in fresh perspective include, first, Robert Mueller's grab of Trump transition team emails from the General Services Administration (GSA) late in 2017.  The transition team used GSA facilities for its office accommodations, and had thousands of emails and other documents still stored on GSA-run servers.
Kory Langhofer, counsel to the Trump transition team, sent a letter to Congress in December 2017 complaining about GSA's compliance with a request for materials whose contents, in many cases, would arguably fall under a privilege exclusion.
Career staff members at the agency "unlawfully produced TFA's [Trump for America's] private materials, including privileged communications, to the Special Counsel's Office," according to the letter, a copy of which was seen by Reuters. It said the materials included "tens of thousands of emails." …

The letter said Mueller's office obtained the emails despite the fact that it was aware the GSA did not own or control the records. It said the special counsel's office has "extensively used the materials in question, including portions that are susceptible to claims of privilege" without notifying the Trump for America team.
And indeed, as of May 2018, counsel for the transition team was reportedly looking into requesting an inspector general probe of the document grab by the Mueller team and GSA.
On the face of it, the transition team counsel's argument clearly has merit.  Yet reportedly – see the Reuters link – the Mueller team basically blew off the concern and criticism expressed about it.
Why would Mueller ignore potentially valid privilege arguments in a back-door document grab?  One reason stands out: he knew he would never need to use those documents in a legal proceeding.
And how would he know that in advance?  It could well be at least partly through monitoring of the transition team, set up by the FBI liaison with expertise in technical surveillance.  From that alternative source of information, Mueller could have known enough for any purpose that would lead to a legal proceeding.  The document grab was a fishing expedition for more.
Keep this next point in mind, as you watch report after report mount up that U.S. agencies had Trump under surveillance.  Human informant(s) on the campaign; electronic surveillance of Paul Manafort and Carter Page (which enabled comprehensive data-mining of their correspondents for years before 2016); unmaskings done by Susan Rice, John Brennan, and Samantha Power; inserting a technical surveillance expert into the Trump transition team.
All of these things were done, at the time, meaning the U.S. agencies knew what Trump and his associates were doing at the time – and yet these measures yielded no information that Trump was colluding with Russia to "meddle" in the 2016 election.
They're never going to.  And there was cause to know that before the Mueller investigation even started.
The other data point put in perspective by the technical-surveillance move is Trump's preference for keeping his own personal security team in place, even during the transition period.  Kenneth P. Vogel had a lengthy article about that for Politico in December 2016, depicting it – naturally – as a freakish Trumpism, and recording the criticism by former Secret Service agents of such an unwieldy situation.
But given the things Trump and his team had to be aware of at that point, it makes plenty of sense that he wanted to be sure exactly who was working the security closest to him and his family.  I can't blame him for that.
Back to that prelude to the nugget: The "names to scrub" and Paul Manafort
This is worth noting, even if it's not clear what to make of it just yet.  The actual correspondence between Strzok and Lisa Page would be needed, to develop it further.  But the wording reconstructed by John Solomon is inherently odd.  It appears to imply something that doesn't make sense.
Here it is again:
"We need ALL of their names to scrub, and we should give them ours for the same purpose," Strzok emailed Page on Nov. 10, 2016, citing a Daily Beast article about some of former Trump campaign chairman Paul Manafort's allegedly unsavory ties overseas.

"Andy didn't get any others," Page wrote back, apparently indicating McCabe didn't have names to add to the "scrub."

"That's what Bill said," Strzok wrote back, apparently referring to then-FBI chief of counterintelligence William Priestap. "I suggested we need to exchange our entire lists as we each have potential derogatory CI info the other doesn't."
This would make the subject of another extended post, but let's look at just two points here.  First, Paul Manafort had been under investigation – including electronic surveillance, apparently justified before the FISA court – since before he joined the Trump campaign at the end of March 2016.
How was it possible that the DOJ and FBI had separate lists of "unsavory ties overseas" that they hadn't shared between them, on an active investigation?
Frankly, the most likely way that could happen is that one or both agencies were receiving unconventional tips that they weren't sharing through normal channels, precisely because the tips were unconventional.  Indeed, from a big-picture perspective, there's an implication here that the whole "investigation" was unconventional.  It certainly bears a "scrub" of its own by the inspector general, at the very least.
The other point, however, is the repeated use – with an instance here – of references to mainstream media articles in Strzok and Page's correspondence about Bureau business.
Why would they need to use media articles as reference points about the subject of one of their ongoing investigations?  Presumably, media articles would in general be a peripheral concern for their investigative and scrub-atory work.
That proposition tests well in this case, because the email exchange occurred on 10 November 2016, but the Daily Beast article was from 19 August 2016, right after Manafort left the Trump campaign.  What cue was it to Lisa Page, that Strzok sent her a link to that article?
And if it wasn't a cue of a particular kind, what possessed Strzok to link to it in his email?
To my eye, allusions to media articles about the subjects of their investigation look strangely frequent in the Strzok-Page correspondence.  It does suggest that contact with the media was playing a larger role in the "Russia" investigation than the DOJ or FBI has ever admitted.  That would include information flow both ways – and would rather obviously be of interest as regards the "lists of unsavory ties overseas" in need of scrubbing.
But the specific instance here is also of interest.  Again, the Daily Beast story was from August of 2016.  Strzok made reference to it in November, two days after the election.  John Solomon describes the article as being "about some of former Trump campaign chairman Paul Manafort's allegedly unsavory ties overseas."
But the article itself contains no names of unsavory ties overseas.  It makes one reference to a New York Times article entitled "Secret Ledger In Ukraine Lists Cash for Donald Trump's Campaign Chief."
The difference between the NYT article (from 14 August) and the Daily Beast article is that Daily Beast's came out after – and was written because – Manafort left the Trump campaign.  Daily Beast thus connected Manafort's departure to the negative blowback from the NYT story.
That's the article that apparently best conveyed whatever mental cue Strzok wanted to invoke with Page on 10 November 2016.
Recall that we know the FBI may have been goosed on this "secret ledger" information by AP reporters in April 2017 – and that it's highly probable the information came originally, in 2016, from Democratic operative Alexandra Chalupa and her "network of sources in Kiev and Washington, including investigative journalists, government officials and private intelligence operatives."
In Solomon's third-hand recounting, at least, the email exchange between Strzok and Page doesn't sound like it's talking about an investigation in which the FBI is doing things the usual way, for usual purposes.  It sounds like a rogue operation navigating from one media-driven narrative point to the next.