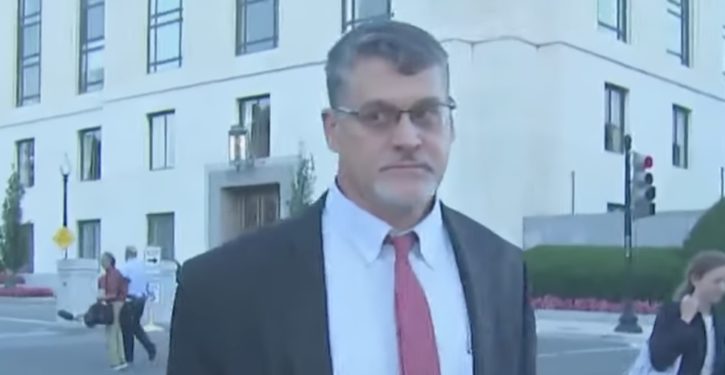 In an odd and potentially telling development on Friday, 29 June, FBI agent Jeff Pfeiffer testified in the Paul Manafort trial, in the U.S. Eastern District of Virginia, that he may have been tipped by AP reporters to the existence of a storage locker the Bureau raided in May 2017 as part of its investigation of Manafort.
Pfeiffer claimed he couldn't remember exactly.  The tip – if that's what it was – came in a meeting on 11 April 2017 between AP reporters and officials from the Justice Department and FBI.  The purpose of the meeting was apparently for the AP reporters to "learn more about the investigation into Manafort," according to a spokeswoman for the Associated Press.
"Associated Press journalists met with representatives from the Department of Justice in an effort to get information on stories they were reporting, as reporters do," AP spokeswoman Lauren Easton said in a statement. "During the course of the meeting, they asked DOJ representatives about a storage locker belonging to Paul Manafort, without sharing its name or location."
This meeting has previously excited concern from Congress because it occurred one day before the publication of an AP story that may have contained leaked information about the Manafort investigation.  Sara Carter had a major article on it in January 2018.
She reported that Andrew Weissmann, then a senior DOJ prosecutor and now a top official on the Mueller team, was present at the meeting.  That fact was confirmed in court on Friday.  Weissmann's involvement in all of the Trump-related proceedings has been viewed with skepticism by some, given his political support for Hillary Clinton and opposition to Trump.  According to Carter's source, Weissmann in fact arranged the meeting, potentially lending credence to the suspicion that it produced leaks.
But at this point, especially after Agent Pfeiffer's testimony, it's another sentence from Sara Carter's January article that stands out:
According to sources familiar with the meeting, the reporters had promised to share documents and other information gleaned from their own investigation with the Justice Department.
Lauren Easton of AP denied any such sharing, prior to the publication of Sara Carter's story.  But it's disingenuous, especially after the Pfeiffer testimony, to acknowledge asking the FBI about Manafort's storage locker, and then claim that that didn't constitute a tip to the FBI about the existence of the storage locker.
And that, more than the possibility of leaks from the DOJ/FBI side to the media, opens up what may be the real story here.
It raises the question whether, as recently as April 2017, media sources – perhaps supplied with information by Fusion GPS – were still seeding the DOJ and FBI with "evidence" or investigative leads.
The concern of Congress (see Sara Carter's article) was that the "explosive" AP story on Manafort may have benefited from leaks by the DOJ and FBI.
But it is equally probable, and perhaps even more so, that the flow of information was the other way around.
And that would be explosive.
Is the hypothesis feasible?
At the outset, it is important to note that the AP reporters need not necessarily have been "conspiring" with Fusion GPS, or another (probably related) source of information on Manafort.  The meeting in April 2017 does strike me as odd: it was apparently solicited by the AP, and it seemed to involve at least one instance of the AP reporters disclosing information about Manafort to the law enforcement officials by "asking them a question."  If that happened once in the meeting, it could have happened more than once.
But a hypothesis about the meeting would be that the AP reporters had indeed gathered information independently, with no leaks from the DOJ or FBI, and in the course of asking questions prompted by their own evidence happened to cue FBI personnel to aspects of evidence they (the FBI) had not been aware of.
We can call that "fair enough," in order to move this along.  The next question that arises is whether the AP reporters could realistically have come across, on their own, the information they put in their report the next day.
The answer appears to me to be yes.  But – significantly – it is a particularly resounding yes because of what we know about Fusion GPS, and the connections of Fusion's one-time employers, the Democratic establishment and Hillary Clinton campaign, to sources in Ukraine.  Without those connections, it wouldn't be especially likely that the reporters who assembled this story would have gotten the evidence they wrote up on 12 April 2017.
But with those connections, we are increasingly justified in considering it not just likely, but inevitable.
What did the AP reporters have on Manafort?  They had gotten hold of a handwritten ledger containing financial records which are alleged to reflect payments to Paul Manafort from a pro-Russian party in Ukraine, the Party of Regions.  The payments are said to have been made in the 2007-2009 timeframe.  An invoice matching one of the payments was reportedly found in Manafort's former office in Kiev by a new tenant.
Although the original claim about the payments was that they were made in cash, the AP story in April 2017 described them as wire transfers, suggesting that one went through an apparent shell company in Belize.
Notably, Manafort never denied receiving payments from Ukrainian clients.  Whether he received these payments is less the issue than why the AP reporters talked to the FBI and DOJ about them the day before filing their story.  The suspicion must intrude that the purpose was more to inform than to seek information.
In the meantime, those who have been following the Fusion GPS drama closely have already detected the red lights flashing all over this.
The Democrat-Fusion-media connections
First of all, we know now that Fusion GPS continued to feed the Russiagate narrative for months after Trump took office.  The firm's "opposition research" continued, well funded, and was underway in April 2017.  A direct link to the 11 April meeting is not proven here, but it is certainly feasible.
The activities of Manafort in Ukraine between 2007 and 2009, meanwhile, were Glenn Simpson's bread and butter before he left the Wall Street Journal to start his "research" firm, and ultimately launched Fusion GPS.  Lee Smith's article from 2017 illuminates Simpson's specialized background in that regard.
Ukraine had unique connections for Hillary Clinton and John Podesta as well; in particular, with relevance to this matter, that of Hillary supporter, former Clinton administration official, and longtime DNC official Alexandra Chalupa, whose ties in Ukraine Politico described thus in a profile on 11 January 2017:
A daughter of Ukrainian immigrants who maintains strong ties to the Ukrainian-American diaspora and the U.S. Embassy in Ukraine, Chalupa, a lawyer by training, in 2014 was doing pro bono work for another client interested in the Ukrainian crisis and began researching Manafort's role in Yanukovych's rise, as well as his ties to the pro-Russian oligarchs who funded Yanukovych's political party.

In an interview this month, Chalupa told Politico she had developed a network of sources in Kiev and Washington, including investigative journalists, government officials and private intelligence operatives. While her consulting work at the DNC this past election cycle centered on mobilizing ethnic communities — including Ukrainian-Americans — she said that, when Trump's unlikely presidential campaign began surging in late 2015, she began focusing more on the research, and expanded it to include Trump's ties to Russia, as well.
If AP reporters "obtained" a handwritten ledger from Ukraine, and corresponding financial records on Paul Manafort, as alleged in the April 2017 story, Alexandra Chalupa and her network of sources in Kiev and Washington would be the first place I'd look.
Chalupa copped to sharing information from her network, after all:
She occasionally shared her findings with officials from the DNC and Clinton's campaign, Chalupa said.
But Chalupa is just one of the links here.  A look at the reporters involved in the April 2017 AP story also indicates a connection, not as much to special sources in Ukraine, necessarily, as to the same stories Glenn Simpson was covering a decade ago, and which he appears to have drawn from to shape the narrative of the Steele dossier (see Lee Smith's analysis).
Veteran reporter Lynn Berry is listed as having contributed to the AP story.  Berry was the editor of the Moscow Times for several years in the early 2000s, and is still a correspondent for AP in Moscow; but just as importantly for our purposes, she covered Russian mob crime, and in particular oligarch and mob boss Semion Mogilevich, at the same time Mogilevich was a prime subject of Glenn Simpson's; i.e., the late 2000s.
A collateral feature of the Russiagate narrative has been the attempt to link Trump to Mogilevich through Felix Sater, an exotic Russian-born real-estate mogul with fingers in syndicate crime and, reportedly, a history as an informant for the CIA.  Both journalists, Simpson and Berry, covered Mogilevich himself when he was involved in Russia's extortion of Ukraine over the natural-gas trade.
For Simpson, tracking Russians was the catalyst for focusing on Manafort, who represented some of them via his lobbying firm Davis Manafort.  Whether Simpson and Berry are well acquainted or not, their professional subject matter a decade ago would have had them developing the same connections and sources.
The "tell": Getting documents about Fusion GPS
From a separate standpoint, another connection among the AP reporters is of interest.  Jack Gillum, with the top byline, had a fascinating scoop for the Washington Post in December 2017 when he reported on "hundreds of documents" obtained on Fusion GPS operations.
That story starts out unpromisingly, as regards what can be learned about the closed-mouthed firm:
Fusion GPS bills itself as a corporate research firm, but in many ways it operates with the secrecy of a spy agency. No sign marks its headquarters above a coffee shop in Northwest Washington. Its website consists of two sentences and an email address. Its client list is closely held.
And indeed, Fusion is notoriously secretive; even after a year and a half of scrutiny, big questions remain about its clients and connections.
But Gillum and coauthor Shawn Boburg go on to disclose the following:
[H]undreds of internal company documents obtained by The Washington Post reveal how Fusion, a firm led by former journalists, has used investigative reporting techniques and media connections to advance the interests of an eclectic range of clients on Wall Street, in Silicon Valley and in the nation's capital. The firm has played an unseen role in stories that dominated headlines in recent years.
There's more than a whiff in this of a high probability that the hundreds of internal documents came from…Fusion GPS.
It's not hard to think of reasons why Fusion would hand over some documents about its own past activities, to light fires, set up baffles, and generate buzz with.  Conversely, it is hard to think of who else would have access to documents so conveniently and precisely focused on the history of Fusion's operations.
It is by no means out of bounds to ask if Jack Gillum, and perhaps some of the other reporters whose names routinely show up on articles about Russiagate, have received other batches of information – about aspects of Russiagate, including Paul Manafort's activities in Ukraine 10 years ago – from the same source that provided the documents on Fusion.
It's also worth noting, in passing, that one of the reporters on the April 2017 article, Chad Day, is a relatively young journalist who from 2009 until December 2015 worked for the Arkansas Democrat-Gazette, headquartered in Little Rock.  As an investigative reporter, he won awards for stories he did on juvenile justice and other local-interest topics.
But his reporting background doesn't seem to really have suited him for the job he took in December 2015: covering the Trump campaign for the Associated Press.  That's quite a leap to make, with no apparent, relevant qualifications.  Day now covers the Mueller investigation for AP, according to his bio blurb (last link) as a lecturer in Georgetown's continuing studies program.
This wasn't a routine meeting
Perhaps all these things are just coincidences.  They keep mounting up, however – and there is one more to mention about the April 2017 meeting in which the storage locker came up.  Andrew Weissmann's overall role in the meeting appears to have been somewhat irregular, according to Sara Carter's sources.  Emphasis added:
Federal prosecutor Andrew Weissmann, now a senior attorney in the special counsel's office, met with AP journalists on April 11 after reporters informed him of their own investigation into Manafort's dealings with Ukrainian officials. The reporters had reached out to Weissman on a different story earlier in the year and it was during that conversation, that the AP team told Weissmann of their investigation into Manafort, stated the sources. …

Sources said Weissmann, had notified his superiors about the arranged meeting with the AP and at the time of the meeting he was not assigned to the Manafort probe and had no knowledge of the state of the investigation. Weissmann didn't have access to grand jury materials, didn't have access to reports and his role was solely to facilitate the meeting because the AP reached out to him, the officials added.
In other words, the AP reporters arranged to meet with Weissmann, and then, with DOJ and FBI personnel there, the topic of the Manafort investigation – with which Weissmann was uninvolved – just "came up."
If it doesn't seem like this is standard DOJ/FBI procedure – well, the FBI didn't think so either.
[T]he Justice Department and FBI have specific guidelines that must be followed when obtaining documents or information from the media, according to the DOJ website. …

And Weissmann's role in arranging the meeting did not go over well with FBI officials, who issued a complaint to the Justice Department suggesting Weissmann didn't follow normal procedures for dealing with journalists. The FBI was concerned the meeting with the journalists could harm the ongoing probe into Russia's involvement in the 2016 presidential election, according to sources with knowledge of the information.
Contrary, therefore, to the statement from the AP spokeswoman, the 11 April 2017 meeting was not something routine.  It has all the aspect of something that had to be set up by subterfuge – because if it had been requested directly, via official channels, for the purpose of discussing what the AP had on Manafort, the FBI wouldn't have shown up for it.  At least not on that day, or without vetting and preparation under the departmental guidelines.
But there's a good chance the meeting did cue Agent Jeff Pfeiffer to the Manafort storage locker.  We are justified in asking what else has been funneled to the FBI through the media since this whole thing started.