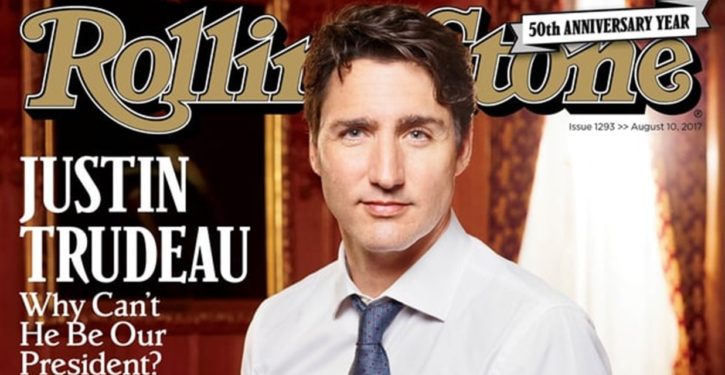 Maybe his hand slipped as he was reaching to borrow one of her fake eyebrows.
An editorial circulating online indicates that Canadian Prime Minister Justin Trudeau was accused of groping a female reporter in 2000 and allegedly apologized over the incident.
The editorial was first printed in the April 14, 2000 edition of the Creston Valley Advance, a publication out of British Columbia.
The column begins simply, with Trudeau's alleged apology to the victim.
"I'm sorry," Trudeau reportedly said to the young woman. "If I had known you were reporting for a national paper, I would never have been so forward."
Because groping small-town reporters is perfectly fine, or something.
The piece moves on to say that those words were the response from Trudeau a day after "inappropriately 'handling' the reporter while she was on assignment" for multiple newspapers.
Here is a slightly better quality image of an editorial in the August 14, 2000 Creston Valley Advance, a local B.C. paper, which claims Justin Trudeau apologized for "inappropriately handling" (or "groping" in the paper's words) a female reporter. pic.twitter.com/fZ748QqWYX

— Sean Craig (@sdbcraig) June 7, 2018
"Shouldn't the son of a former prime minister be aware of the rights and wrongs that go along with public socializing?" the author asks.
"Didn't he learn through his vast experiences in public life, that groping a strange young woman isn't in the handbook of proper etiquette, regardless of who she is, what her business is or where they are?"
Trudeau penned his own op-ed in 2017 declaring that boys need to be raised as feminists as a means to combat our "culture of sexism."
The prime minister also recently indicated that he would continue to refer to himself as a feminist "until it is met with a shrug."
Now that he's been accused of groping a woman, the shrugging might be sooner rather than later.
I am a feminist. I'm proud to be a feminist. #upfordebate

— Justin Trudeau (@JustinTrudeau) September 21, 2015
In a radio interview with CBC, Trudeau also said that women accusing men of sexual misconduct must be supported and believed.
In the interview, he said he was "confident no one will be able to accuse him of the kinds of behavior that have brought down several high-profile politicians."
"I've been very, very careful all my life to be thoughtful, to be respectful of people's space and people's headspace as well," Trudeau said.
Just not this reporter, apparently.
WOW. Prime Minister Justin Trudeau was accused of "groping" a young female reporter on assignment in August 2000. "Like father, like son" reads the editorial. https://t.co/7GiBEd6RIr

— Candice Malcolm (@CandiceMalcolm) June 7, 2018
Trudeau also indicated that should allegations surface against him, the same standards would apply in investigating the incidents.
Let the investigation begin!
Cross posted at the Mental Recession