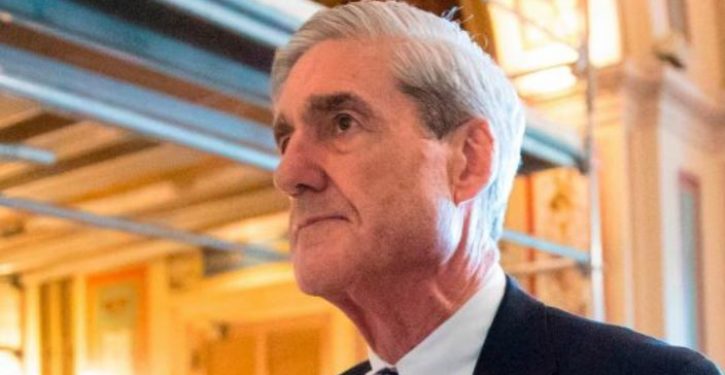 John Solomon writes on Monday about emerging information on a potential conflict of interest for Robert Mueller in his activities as special counsel.  The conflict involves one of the biggest "Russian oligarch" names, Oleg Deripaska.
The issue doesn't seem to be that Mueller had inappropriate dealings with Deripaska — or, at least, it isn't directly about that.
Mueller's FBI may have cooperated with Deripaska in a way it shouldn't have, in the period 2009-2011, and Mueller would have been well aware that was happening.  But the real concern appears to be that Mueller's current indictment of Paul Manafort, on fraud and money-laundering charges going back to 2005, omitted any reference to Deripaska, when such references would have been obvious, and would have made a better case.
The appearance is thus created of a Mueller conflict that doesn't bear examination.  That, in turn, would be an open door for inviting the Deripaska-FBI interlude into the Manafort defense.
John Solomon gives the background on the FBI's cooperation with Deripaska:
In 2009, when Mueller ran the FBI, the bureau asked Russian oligarch Oleg Deripaska to spend millions of his own dollars funding an FBI-supervised operation to rescue a retired FBI agent, Robert Levinson, captured in Iran while working for the CIA in 2007. …

One agent who helped court Deripaska was Andrew McCabe, the recently fired FBI deputy director who played a seminal role starting the Trump-Russia case, multiple sources confirmed.

Deripaska's lawyer said the Russian ultimately spent $25 million assembling a private search and rescue team that worked with Iranian contacts under the FBI's watchful eye. Photos and videos indicating Levinson was alive were uncovered.

Then in fall 2010, the operation secured an offer to free Levinson. The deal was scuttled, however, when the State Department become uncomfortable with Iran's terms, according to Deripaska's lawyer and the Levinson family.
The State Department that was uncomfortable with Iran's terms was Hillary Clinton's.  That may or may not be secondary to our tale here; see Solomon's post as well as mine from 2016 for more details.
At the time, Deripaska "had been banished since 2006 from the United States by State over reports he had ties to organized crime and other nefarious activities. He denies the allegations, and nothing was ever proven in court."
That, per se, wouldn't necessarily make the FBI's dealings with him improper.  But another aspect of U.S. law might make them illegal:
Melanie Sloan, a former Clinton Justice Department lawyer and longtime ethics watchdog, told me [Solomon] a "far more significant issue" is whether the earlier FBI operation was even legal: "It's possible the bureau's arrangement with Mr. Deripaska violated the Antideficiency Act, which prohibits the government from accepting voluntary services."
Both Alan Dershowitz and Jonathan Turley jumped on the appearance of conflict created by leaving Deripaska out of the Manafort indictment.  Said Dershowitz:
Harvard law professor Alan Dershowitz told me he believes Mueller has a conflict of interest because his FBI previously accepted financial help from a Russian that is, at the very least, a witness in the current probe.

"The real question becomes whether it was proper to leave [Deripaska] out of the Manafort indictment, and whether that omission was to avoid the kind of transparency that is really required by the law," Dershowitz said.
The point as framed by Turley, a constitutional law professor at George Washington University:
If the operation with Deripaska contravened federal law, this figure could be viewed as a potential embarrassment for Mueller. The question is whether he could implicate Mueller in an impropriety.
That's the kind of question Manafort's defense would be eager to raise.  In apparently trying to ward off such inspection, Mueller seems to have taken exactly the wrong precaution.
This is the third significant Prosecution 101 error we've seen from Mueller in the last week.  (There may have been more; that's just my count.)
One was Mueller's indictment of a Russian corporate entity that didn't exist at the time of the alleged crime.  That instance involved a catering company that is suspected of fraudulent activities related to funding the Russian troll operations during the 2016 election cycle.
The other was obtaining the Russian indictments in the first place.  Last week, Richard Pollock of the Daily Caller News Foundation spoke for many when he suggested that Mueller never really thought he'd have to try the case against the Russian trolling conspirators.  But now Mueller does have to try it — and the case comes with discovery, which the attorney squad of Concord Management and Consulting, LLC promises it will file for.
Apparently Mueller isn't enthusiastic about the prospect of having to respond to discovery.  He asked for a delay in the Concord case, using a weak pretext, and was promptly denied by the judge.
These errors are in addition to the even more significant blunder of trying to baffle an experienced federal judge with BS about super-secret classification requirements in the Manafort prosecution.
In that case, Mueller doesn't want the judge to see an unredacted version of the scope memo for Mueller's special counsel appointment.  Issued by Rod Rosenstein, as acting attorney general for that task, the memo is what Judge T.S. Ellis III needs to determine if an argument by Manafort's defense has merit: that Mueller exceeded his charter in bringing charges that didn't arise out of the elements of his own investigation's legitimate concerns.  (Instead, the charges were based on information from a previous, unrelated FBI investigation.  Manafort's team suggests, and the judge quickly concluded, that Mueller is just using preexisting but unrelated information to threaten Manafort and get him to "cooperate."  The FBI may do that all the time, but Mueller's not the FBI now.  Attempting it may well violate the actual scope of his much more limited special-counsel charter.)
Mueller's team argued zealously that the redacted portions of the memo couldn't be subject to "public disclosure."  The judge basically said that was a silly argument, since he's a federal judge — not the "public" — and sees highly classified information routinely and knows how to handle it in his courtroom.
You could write a movie script with the prosecutor making all these boneheaded mistakes, and no one would believe it.  As Judge Ellis eloquently put it: "C'mon, man!"