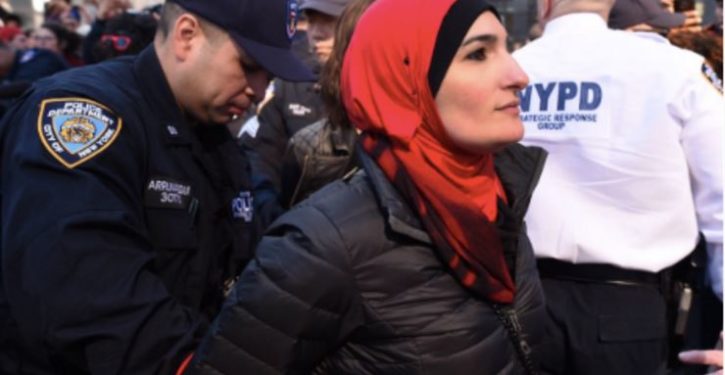 Women's March leader Linda Sarsour, a staunch supporter of Nation of Islam leader Louis Farrakhan, made CNN's list of "25 Influential American Muslims" — which frankly says as much about the cable news outlet as it does about the activist.
"CNN spent a year interviewing more than 100 American Muslims, asking who they think are the most influential Muslims in their fields," states a CNN article introducing the list. "We sought nominees for whom religion is part of their public identity, but other than that, we let American Muslims do most of the talking."
Sarsour made the list despite her support for Farrakhan, a notorious racist and anti-Semite. Sarsour has a history of supporting radical figures like Farrakhan and Palestinian Rasmea Odeh. Sarsour once accused CNN anchor Jake Tapper of "joining the ranks of the alt right."
CNN's profile didn't mention Sarsour's Farrakhan support. "Often outspoken, Sarsour has faced criticism for aligning with questionable characters and sharply denouncing Zionism," the article said. "But many Muslims say she is the kind of uncompromising, unapologetic leader their community needs right now."
Trending: Gas Soars To $7.59 A Gallon In California Town As Prices Hit Multi-Year Highs Nationwide
CNN described the controversial Women's March leader as "Linda Sarsour: The fighter."
Democratic Minnesota Rep. Keith Ellison, deputy chair of the DNC, also made the list. Ellison is a former Nation of Islam member who misled the public for years about his relationship with Farrakhan, although the congressman has since tried to distance himself from the hate group leader.
Also on the list is Amani Al-Khatahtbeh, a liberal writer and YouTuber who described the Sept. 11 terrorist attacks as an "inside job." Al-Khatahtbeh is a fellow in YouTube's multimillion-dollar "Creators for Change" program, despite her history of spreading conspiracy theories.
This report, by Peter Hasson, was cross posted by arrangement with the Daily Caller News Foundation.