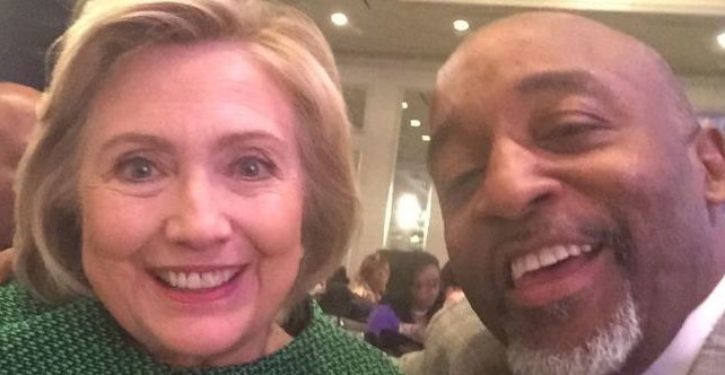 The half-brother of anti-Semitic race huckster Al Sharpton's half-brother was charged with murder in a Sunday shooting death in Alabama after participating in Saturday's anti-gun "March For Our Lives," according to a report.
Kenneth Glasgow, 52, was arrested along with another man after Breunia Jennings, 23, was shot in the head in Dothan, Ala. Authorities said Glasgow, an ex-convict, was the driver of the car linked to Jennings death. The passenger of the car, Jamie Townes, 26, was also arrested and is reportedly the alleged shooter, the Dothan Eagle reported.
Dothan Police Chief Steve Parrish said that Glasgow and Townes were reportedly searching for Jennings because they thought she had stolen Townes's car. When they spotted her, Townes allegedly fired several shots into the vehicle Jennings drove, killing her.
Sharpton and Glasgow have protested together in the past, joining forces to protest the 2013 shooting of Trayvon Martin in Florida. Glasgow also started a ministry called "The Ordinary People Society." His group participated in a Saturday anti-gun march in Dothan, one day before he was charged with murder, The Washington Examiner reported.
Trending: Build Back Better Act will give you $12,000 for purchasing an electric car — but not if it's a Tesla
Glasgow's website shows a picture of him with 2016 presidential candidate Hillary Clinton. The website claims his group, "provides a continuum of unconditional acceptance and care to individuals and their families who suffer the effects of drug addiction, mass-incarceration, homelessness, poverty, unemployment, hunger and illness-without regard to race, sex, creed, color, religion or social status."
"The shooting occurred late Sunday night. I do not know where he was prior to the incident. It has been reported by several local outlets that he attended a similar event on Saturday," a police spokesman said to The Washington Examiner.
This report, by Henry Rodgers, was cross posted by arrangement with the Daily Caller News Foundation.