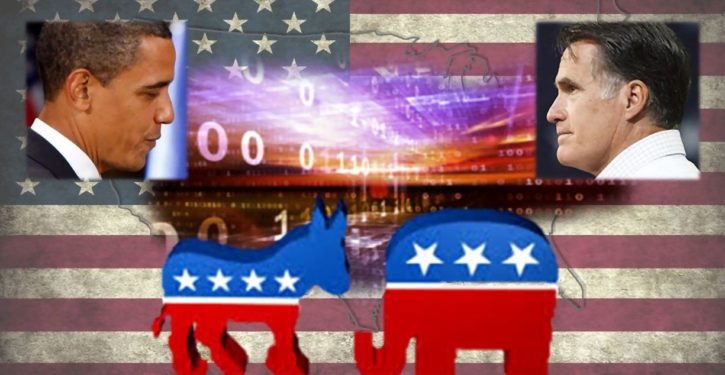 A Sudden Theme has emerged, inviting you to schedule another Two-Minute Hate into your day.
As part of a dark plot to define you psychographically, sinister Republican moneybags Robert Mercer funded a nefarious data-grab done on Facebook for data analytics firm Cambridge Analytica.  The extra-bad thing, besides Mercer being a Republican backer, is that Cambridge Analytica allegedly shadow-funded an academic researcher in the UK to "harvest" the Facebook data, so that it wouldn't look like the intention was to use it for political campaigning.
A "whistleblower" who worked at Cambridge Analytica until late 2014 has come forward to let us know about this.  (Wait – this started before late 2014?  Yes.)
Now, as it happens – with a straight face here – I don't like having anyone out there assembling personal profiles of me for persuasion, marketing, or frankly any other purpose, which is one reason I don't do that much on social media.
Trending: UC Berkeley students pledge money to help the Taliban kill Americans in the U.S.
But the beef with Cambridge Analytica is ultimately no more of a burger than it was when Obama and Romney were basically doing the same thing.  That's the measure of it, as a burger.
With Cambridge Analytica (and its link through Mercer and Steve Bannon to the Trump campaign, which contracted with it for 2016), there are two parts to the NYT profile of evil.  One is the alleged misrepresentation factor, with the academic cut-out doing the actual data trawling, but Cambridge Analytica ending up with the data.
The other is the use of an app by online rote-workers, who in downloading the app basically agreed to have information from their online profiles, including Facebook, sent off to the academic researcher (Aleksandr Kogan of Cambridge University).  By data-mining through their profiles, apparently, Kogan was able to compile usable profile information on some 30 million users.  At its peak, the data-collection operation through the online workers had about 185,000 of them on board.
Note that this doesn't mean the online rote-workers were engaged in mining your data.  It means the app they downloaded was potentially mining your data through their online information (apparently including privileged connections; e.g., "friend" links).  Note: NYT has the separate figure of about 270,000 individuals who "consented" to have their profiles mined, presumably by accepting the terms of the app.
The front for the rote-worker recruiting was an entity called Global Science Research (GSR), which posted tasks at an online marketplace for free-lancers called Mechanical Turk.  (Mechanical Turk is controlled by Amazon.)  In late 2015, after the Guardian published an article that revealed what GSR was doing, it "abruptly" shut down its operation.  (So, this thing shut down in 2015?  Yes.)
In March 2017, The Intercept posted its lengthy article on the GSR data-collection scheme.  (Oh – so this story was packaged for us in the same terms a year ago.  Yes.)
Should we be puzzled about why the New York Times is running a big feature on the story in March 2018?  You tell me.
Points of concern
The point about the alleged misrepresentation of whom and what the data collection was for is a valid one, although Cambridge Analytica disputes it.  You can decide how much the point twists your knickers after we talk Facebook data exposure (below).
NYT also highlights a "foreign involvement in elections" factor.  The corporate entity in the UK for which Aleksandr Kogan undertook his data collection effort was UK-based Strategic Communication Laboratories (SCL).  Robert Mercer helped create Cambridge Analytica as a U.S.-incorporated affiliate to work with SCL on using the data for the 2016 campaign.  (As NYT reports, Steve Bannon – one-time chief political adviser to Mercer – had a professional connection to Cambridge Analytica during that period; i.e., 2014-2015.)
Regarding the "foreign involvement" factor, the bottom line is that much of the data-crunching work reportedly occurred at SCL in the UK.*
It's an unanswered question whether that actually amounts to "foreign involvement" or "foreign influence" in the U.S. election.  How certain are you, for example, that no contracted or in-house operations of data giants like Google, Facebook, Apple, and Amazon, whose corporate activities and data stores figure heavily in the design of modern political campaigns, are being performed by foreigners, whether in data centers in the U.S. or overseas?
That's right.  You have no idea.  But you're probably willing to stipulate that the likelihood of data being managed by foreigners, and analyzed by foreigners for those companies' corporate interests, is not tantamount to there being undue foreign influence exercised in a U.S. election.
After we see how much data-interaction there is by political campaigns with your online profiles, including the ones you have with those companies, you can decide if you feel differently.  But I urge you not to wave a torch and pitchfork on cue, just because the NYT has given you one data point out of context.
Some context
Meanwhile, let's look at this second point as if maybe it does indicate some level of service-providing or campaign-operative involvement by Brits in the U.S. 2016 election.
In evaluating how much of an issue this might be, in principle, for the U.S. political process, we should start by pointing out what else was going on at the same time.
We're talking about the period 2013 (when the "whistleblower," Christopher Wylie – a veteran of Obama's fabled data analytics group for the 2012 election – enjoyed an initial dinner with free-flowing Bordeaux in company with Alexander Nix of SCL) to 2015.  That's the period when Kogan was collecting his data, and the SCL-Cambridge Analytica set-up was arranged.
That's also the period when Obama's national field director from 2012, Jeremy Bird, and his firm 270 Strategies contracted to perform political campaigning services for the Israeli opposition.  Bird campaigned against Benjamin Netanyahu in early 2015, using funds that came partly – via an NGO – from the Obama State Department.  (Soros was another backer.)
That's also the period when Obama campaign operative Jim Messina worked for David Cameron, then the UK Conservative leader, and David Axelrod and Obama operative Larry Grisolano were hired by Labour's Ed Miliband, for the 2015 campaign.
Time observes that these outings were not the first for U.S. politicos:
International consulting is often a favorite — and lucrative — way for American political operatives to spend the time between elections at home. For instance, Bill Clinton's pollster, Stan Greenberg, has a robust international practice that takes him to far off places such as Estonia, South Africa and Honduras — as well as to the U.K. for Miliband.

In the process, though, it often exports America's long, often divisive campaigning abroad. Take Israel's most recent election that shaped up as a proxy campaign of sorts for the United States' ally. Republican Sen. Rand Paul's digital adviser Vincent Harris helped Prime Minister Benjamin Netanyahu's Likud Party, while former Obama get-out-the-vote chief Jeremy Bird advised the Labor Party's failed attempt to topple Netanyahu.
At the tail end of this interesting period, starting in late 2015, Obama campaign aide Mitch Stewart worked for the Brexit Remain campaign.
Then there was the trio of Obama 2012 operatives who went to Australia in 2013 to work on the Kevin Rudd (Labour) campaign: "Matthew McGregor, Tom McMahon, the former head of the Democratic National Committee, and Joon Kim, from consulting firm New Partners."
Matthew McGregor, besides being dubbed Obama's "digital attack dog," is also…a Brit:
Mr McGregor, who has worked on British Labour and union campaigns, reportedly played a leading role in spreading one of Mitt Romney's worst gaffes of the 2012 US presidential campaign, in which the Republican contender questioned London's preparedness to host the Olympics.
So let's get a grip here as we contemplate the sinister implications of user profile data crunched in the UK on behalf of a U.S. political data firm.  Whatever we may think of the data-crunching as a privacy issue, it barely breaks the surface as a "foreign influence" issue, in comparison to things like foreigners working outright for political campaigns.
If such campaign involvement by foreign nationals is a bad thing in principle (e.g., a Brit, like Alexander Nix, being a senior executive with the data analytics firm supporting an American candidate's campaign, or one like Matthew McGregor crafting campaign messaging for Obama), we have more to worry about than data being crunched into a mine-able trove in some office park across the pond.
The data exposure
But what is the data exposure we're being encouraged to worry about?  The NYT article has this:
As the upstart voter-profiling company Cambridge Analytica prepared to wade into the 2014 American midterm elections, it had a problem.

The firm had secured a $15 million investment from Robert Mercer, the wealthy Republican donor, and wooed his political adviser, Stephen K. Bannon, with the promise of tools that could identify the personalities of American voters and influence their behavior.  But it did not have the data to make its new products work. …

Building psychographic profiles on a national scale required data the company could not gather without huge expense. Traditional analytics firms used voting records and consumer purchase histories to try to predict political beliefs and voting behavior.

But those kinds of records were useless for figuring out whether a particular voter was, say, a neurotic introvert, a religious extrovert, a fair-minded liberal or a fan of the occult.
Cambridge Analytica basically sought to harvest what Facebook has on users, on the assumption that more complex profiles could be built on voters using that information.  (Emphasis added.)
The data Cambridge collected from profiles, a portion of which was viewed by The Times, included details on users' identities, friend networks and "likes." Only a tiny fraction of the users had agreed to release their information to a third party. …

The researchers paid users small sums to take a personality quiz and download an app, which would scrape some private information from their profiles and those of their friends, activity that Facebook permitted at the time.
Again, I don't like this either.  But it turns out that Cambridge Analytica was late to the table, and what it seems to have been doing differently from anyone else was scraping information that Facebook users had not consciously made "public."
Why does that matter?  Because it's a distinction that isn't relevant for how effectively you can be probed or targeted.  Its relevance lies in deciding whether Cambridge Analytica, or SCL or GSR, broke any Facebook rules.
Start with one stark, obvious point:
Facebook already has all that data on you.
Your information – your friends, your lists, your likes, your interests, your location – is already exposed.  Facebook promises piously not to sell it, but that's not because Facebook loves you.  It's because if Facebook sold it, Facebook would no longer control the lucrative interface it represents with you for advertising purposes.
Why do you think advertisers, such as PACs and other political actors (including, yes, Russian trolls), pay Facebook to target you intelligently with their content?  Because Facebook can analyze you up one side and down the other, just the way Cambridge Analytica wants to.
Was it sneaky of Aleksandr Kogan and GSR, to glean data through an app that got Facebook users to hand over their information so GSR could hoover in their friends'?  Sure.  Facebook doesn't want GSR doing that.  Facebook pays the costs of hosting the platform.  That data trove belongs to Facebook.
But none of this is really about your privacy.  We know that because nobody raised any real stink about the 2012 election, in which you were targeted in exactly the ways NYT now says you couldn't be, by the Obama and Romney campaigns using your profile data from Google properties, Amazon, Apple, and the slate of social media including…Facebook.
2012
Let's have a look.  First of all, as a general matter, the 2012 campaign was widely and repeatedly reported to be the most data-intensive political campaign ever run, by both the Democrats and the Republicans.  The concept of "microtargeting" voters – literally down to the individual voter – was very much in play, and acted on with intent.
The Obama campaign, in particular, was held to be setting the gold standard.  Romney's campaign was playing catch-up.
None of this is to make nefarious implications about what the Obama campaign was doing.  It is presented, rather, as context for the level of complex data analytics and voter targeting that had started well before Kogan's backdoor research effort and the formation of Cambridge Analytica.  There was nothing crude or rudimentary about it.
A flavor of the precision of microtargeting is conveyed in this Guardian piece from February 2012, which looked at what the Obama campaign was achieving with Facebook user profiles – without the backdooring reported in the Kogan/GSR research.
It's not that the campaigns weren't trying to gather their own data on individual voters either.  Besides the old-school neighborhood-canvassing method, they were doing it proactively online, by tracking voters with cookies.  They were also doing it by trawling for readily available user information on every individual who came their way by one path or another (e.g., volunteer, referral, or just a registered voter).
As the MIT article linked above indicates, data-gathering was the original big point.  The campaigns bought a lot of data.  From browsing histories to social media profile data to shopping information on Google and Amazon to statistically representative information about households exactly like yours and what channels their set-top boxes were tuned to, the campaigns were spending millions of dollars to understand voters and microtarget them.
How well could they achieve that goal?  This well.  Consumer data companies can link virtually all social media profiles to the individual who uses them, and that's what they make their living doing.  It's disingenuous to suggest that the only way to mine someone's Facebook profile information, with accurate association to a live human being, is to sneak through the back door.  Consumer data companies do what the political campaigns are interested in every day:
[S]ome companies record – and then resell – your screen names, web site addresses, interests, hometown and professional history, and how many friends or followers you have.

Some companies also collect and analyze information about users' "tweets, posts, comments, likes, shares, and recommendations," according to Epsilon, a consumer data company. …

Acxiom, one of the nation's largest consumer data companies, said in its letter to lawmakers that it collects information about which social media sites individual people use, and "whether they are a heavy or a light user."

The letter also says Acxiom tracks whether individuals "engage in social media activities such as signing onto fan pages or posting or viewing YouTube videos."
Information comes from more than social media, although social media are prominent sources.
Data companies of course, do not stop with the information on Twitter, Facebook, and LinkedIn. Intelius, which offers everything from a reverse phone number look up to an employee screening service, said it also collects information from Blogspot, WordPress, MySpace, and YouTube.

This information includes individual email addresses and screen names, web site addresses, interests, and professional history, Intelius said. It offers a "Social Network Search" on its website that allows you to enter someone's name and see a record of social media URLs for that person.

Epsilon, a consumer data company that works with catalog and retail companies, said that it may use information about social media users' "names, ages, genders, hometown locations, languages, and a numbers of social connections (e.g., friends or followers)."

It also works with information about "user interactions," like what people tweet, post, share, recommend, or "like."
And the political campaigns were using this data to profile voters individually, and try to motivate them and shape their responses and participation.  According to the NYT (yes, the same NYT) in 2012:
Strategists affiliated with the Obama and Romney campaigns say they have access to information about the personal lives of voters at a scale never before imagined. And they are using that data to try to influence voting habits — in effect, to train voters to go to the polls through subtle cues, rewards and threats in a manner akin to the marketing efforts of credit card companies and big-box retailers.
Sounds a lot like the promise Cambridge Analytica wooed Steve Bannon with, but supposedly couldn't get the data for.
Personality identification?  Interests, motivations, sources of influence?
In interviews…consultants to both campaigns said they had bought demographic data from companies that study details like voters' shopping histories, gambling tendencies, interest in get-rich-quick schemes, dating preferences and financial problems. The campaigns themselves, according to campaign employees, have examined voters' online exchanges and social networks to see what they care about and whom they know. They have also authorized tests to see if, say, a phone call from a distant cousin or a new friend would be more likely to prompt the urge to cast a ballot.

The campaigns have planted software known as cookies on voters' computers to see if they frequent evangelical or erotic Web sites for clues to their moral perspectives. Voters who visit religious Web sites might be greeted with religion-friendly messages when they return to mittromney.com or barackobama.com. The campaigns' consultants have run experiments to determine if embarrassing someone for not voting by sending letters to their neighbors or posting their voting histories online is effective.
Facebook wanted in on this action, and in 2015 rolled out psychographic targeting services of its own in anticipation of the upcoming election cycle.
Facebook makes it ridiculously easy to upload your lists and match the emails and phone numbers to Facebook profiles. That's right – Facebook will tie your list of 10,000 email addresses to whatever Facebook profile that address is associated with. It will take the endless phone lists that power your call center operations and do the same. With a few clicks your supporters are in one spot for you to reach on social media. …

Once you have your emails, phone numbers and retargeting pixels loaded, you can create what Facebook calls a Lookalike Audience. When you create one of these, Facebook will look at the users it found from the lists you uploaded and find other users who appear to have the same interests, behaviors and traits. Think of it as a prospecting list, but for Facebook. It's a list to target with a first-touch or layer in other targeting to hit with a custom message.
But goodness, don't stop there.  Facebook has multiple "data buckets" on users, based on their "life events," that can help you assess and microtarget more of their sources of influence and motivation.  Go to town.
Keep in mind: that 2015 Facebook roll-out came after the success of the Obama and Romney campaigns in 2012 at characterizing voters and coming up with ways to incentivize and persuade them.  NYT again:
Officials at both campaigns say the most insightful data remains the basics: a voter's party affiliation, voting history, basic information like age and race, and preferences gleaned from one-on-one conversations with volunteers. But more subtle data mining has helped the Obama campaign learn that their supporters often eat at Red Lobster, shop at Burlington Coat Factory and listen to smooth jazz. Romney backers are more likely to drink Samuel Adams beer, eat at Olive Garden and watch college football.
Data-mongering as usual
In light of this information, the NYT article from this weekend comes off as a lot less ominous.  Certainly a lot less explosive – and with no special implications at all about the Trump campaign.
It sounds like the enterprise of the SCL-Cambridge Analytica nexus was to gain voter profile data through a cheaper short-cut rather than taking the long way around to get it, and having to spend more.
I'm the first to agree that's tacky.  Presumably, Cambridge Analytica hoped to sift and process the data to even greater effect than other firms had managed to.  We can speculate that their strategists didn't want to be stuck with what Facebook (or other data-storing companies) voluntarily made available.  Perhaps they wanted to get data in rawer form, hoping to do more with it.
I wouldn't defend that motive, by any means, or defend the reported backdoor gathering method.  Nor would I condone misrepresenting the purpose for gathering the data.
But we can at least cut the crap about the intrusiveness of this effort, as it's been outlined for us, compared to how political campaigns have already gathered and used profile data on voters.  In terms of what can be done with the data, it looks like what we have is one firm, Cambridge Analytica, proposing to make state-of-the-art use of data troves in the 2016 election.  We can be certain that Hillary Clinton and the Democrats intended to use the same data the same way – however their contract analytics firms acquired the information.
Now we know enough to begin scoping out a policy discussion on what, if anything, needs to be done about this.
* The UK is also reportedly concerned that Cambridge Analytica crunched data for the Brexit campaign – although not, apparently, because Cambridge Analytica is a U.S. firm.  The Brits' interest is in whether the user data acquisition (on British voters, as applied for use in the Brexit drama) was legal or not.