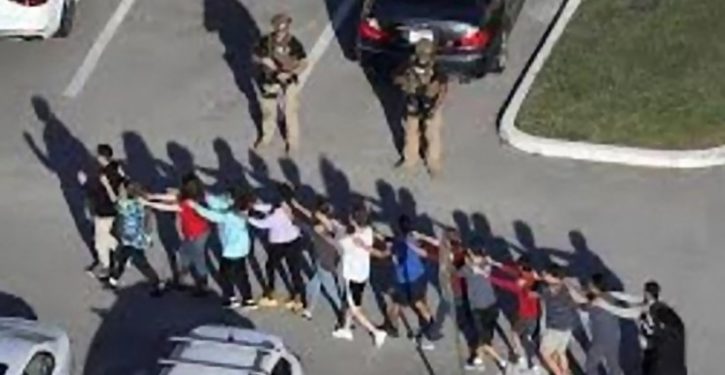 I hope people will take the time to learn what was going on with 19-year-old Nikolas De Jesus Cruz, a teenager with apparently difficult problems who killed at least 17 people in Parkland, Florida on Wednesday, and injured several more.  He was arrested about an hour after the event on a local street near the school, and taken to a hospital with injuries.
As sick as it makes me to see such a terrible event, it makes me equally sick to see so many people marching off immediately to strike the same old political attitudes, as if what we've got here is a mechanical policy failure, and it's all the fault of their political opponents.
There's something to scratch everyone's itch in this group of images from Cruz's Instagram page, so here you go.
As the Fox News and other stories note, Nikolas (also spelled Nicolas; I've seen it both ways, and am going with the spelling in the Sun-Sentinel and from his Instagram page for now) seemed to follow jihadi extremist groups online, among others.  But there's a reason I don't think that explains what he did today.  At least, it's not the main driver.
Trending: Biden daughter's diary spoke of being sexualized at young age, taking 'inappropriate' showers with Joe Biden
However, with the routine itches now scratched, you can see what you think.
The Sun-Sentinel seems to have gone in under the radar and compiled a lot of information I haven't seen elsewhere.  You've probably heard – if you're following this – that Cruz is the adopted son of an older couple, and that both his adoptive parents are dead.  His mother, Lynda, passed away 1 November 2017, at 68.  His father had died years before.
Cruz and his younger brother Zachary found a place to live with family friends in Palm Beach County.  Nikolas Cruz had been expelled from Marjory Stoneman Douglas High School for disciplinary problems.  He is said to have shown violence to his girlfriend, and gotten into a fight with her new boyfriend.  That was last year, before his mother died.
Students at the school who remembered him have differing accounts.  Some say they used to joke that Nikolas would be the guy who'd become a school shooter.
Everyone predicted it and no one did anything about it…
Vic Micolucci WJXT on Twitter: ""Everyone predicted it," a student said about the #Parkland shooting. pic.twitter.com/vxW8NWc9sM". https://t.co/tErgEaJJ6D

— Bob Henry ???????? (@Rmhenry1Henry) February 15, 2018
Others, like a fellow JROTC cadet, had a different view:
Jonathan Guimaraes, 17, said he and Cruz were in JROTC together: "He was normal. He didn't have any issues."

Cruz liked to go hunting a lot but Guimaraes said he thought Cruz only used non-lethal airsoft rifles.
On the other hand, another student who remembered Nikolas as a JROTC cadet had this to recount:
Trevor Hart, 16, who knew Cruz in Spanish class at Marjory Stoneman, said they ate together once in a while in the cafeteria.

"It seemed like he didn't really like school," Hart said.

Cruz participated in Army ROTC at the high school. Cruz had "a bunch of weapons" and talked about shooting lizards, squirrels and frogs, Hart said.

Cruz seemed "a little off," Hart said.
A member of the family (unnamed in the Sun-Sentinel article) said Nikolas had been diagnosed with autism.
Another relative, who spoke on condition of anonymity over the sensitive matter, said Nikolas had been diagnosed with autism.
He had had counseling as a child, and the implication is that it wasn't a one-time thing.
Nikolas' father died from a heart attack, the relative said, and Lynda had sought counseling for Nikolas at a young age: "She did her best getting him any help he needed."
Comments on Nikolas were mixed, from family, neighbors, and schoolmates.  From another family member, Barbara Kumbatovich of New York:
"I know she had been having some issues with them, especially the older one. He was being a problem. I know he did have some issues and he may have been taking medication. [He] did have some kind of emotional or difficulties," Kumbatovich said. "[Lynda] kept a really close handle on both boys. They were not major issues, as far as I know, just things teenagers do like not coming home on time, maybe being disrespectful."
That sounds relatively normal.  The description of Nikolas' unhappiness after his mother died does too:
After their mom died, Cruz and his brother lived with a family friend in Palm Beach County but Cruz wasn't happy. He asked a friend, who he knew from his time at Stoneman Douglas, if he could move in with the friend's family in northwest Broward, said Jim Lewis, an attorney speaking on behalf of that family. The lawyer would not identify the family.

The family let Cruz move in around Thanksgiving, gave him his own room and urged him to attend adult education classes, Lewis said. Cruz also got a job at a local dollar store, he said.
Nikolas' life was no picnic at that point.  That's no excuse for attacking people, but if he was more than mildly autistic, and had recently lost everything that was familiar to him – school, his only surviving parent, his home – erratic behavior and exaggerated affinities (like the ones suggested by the Instagram images) are easier to understand.
Video from @WPTV viewer Mike Quaranta of the moment #Parkland shooting suspect Nikolas Cruz was arrested. pic.twitter.com/SoxLDZpFDQ

— Chris Stewart (@CStewartTheNow) February 15, 2018
At any rate, the Sun-Sentinel gathered more views of Nikolas Cruz:
Janine Kartiganer, who lives two doors down from Cruz's former home, said Cruz looked "very troubled."

"He wore a hoodie and always had his head down," she said. "He looked depressed."

Emily Sucher, 16, a junior who lives in Parkland, was in her TV Production class when an administrator announced over the intercom to evacuate the building.

She had seen the suspect, Cruz, around school last year and remembers him as an "off kid" who would "smile weirdly, make weird comments."
People who had known him earlier in life had additional troubling stories:
Shelby and Richie Speno moved on to the street where the Cruz family lived in 2005.

Shelby Speno said she'd been warned that Nikolas had caused trouble, such as biting a child and stealing neighbors' mail. One time, he threw eggs at Richie's car while he was driving.

"Lynda the mom was always apologetic. She had her hands full," Shelby said.

"They were very much on their own. The kids seem to roam around and come and go as they pleased," Richie Speno said.

Police were called out numerous times, and Shelby said Cruz was seen shooting at a neighbor's chickens.

"I told my husband I was so glad they moved. I'm afraid he was the kind of kid who would do something crazy," Shelby said. "The older he gets, the worse kind of trouble he got into."
There were more such stories:
He used to get into trouble and harass neighbors, the Roxburghs said. The police came to Cruz's house many times, they said

A neighbor across the street kept little pigs as pets.

"He didn't like the pigs and didn't like the neighbors so he sent over his dog over there to try to attack them," Malcolm said.

Christine said one time she saw Nikolas peeking in her window.

"I said what are you doing here? He said he was looking for golf balls. I said 'this isn't the golf course,'" Christine said. …

Christine said when the boy didn't want to go to school, he would bang his head against a cement wall.
And yet a high school teacher remembers Nikolas as being a quiet kid who didn't create problems.
Math teacher James Gard said Cruz, a junior at the time, was in his class last year.

"He was a pretty quiet kid," Gard said. "He was a very well-behaved kid in my class. He was never a behavioral problem in my class."
Nikolas apparently put thought into his rampage on Wednesday;
Sen. Bill Nelson said on MSNBC that Cruz wore a gas mask and had smoke grenades. "He set off the fire alarm so the kids would come out into the hallways and thus he had the opportunity with a crowded hallway to start picking off people."
We'll find out in the coming days where the weapon he used – reported as an AR-15 semiautomatic rifle – was obtained.  Everyone will caterwaul for a while.
But you don't know how to fix this kid's head and his life, and manage his access to guns, in such a way that nothing like this could ever happen.  Neither do I.
#BREAKING: Clear picture of shooting suspect as he was taken down by police. #Parkland pic.twitter.com/GwSmmbclUX

— Jason Martinez (@10NewsJason) February 15, 2018
If you don't believe there is any power higher than us, it may seem like your only option is to look around at your fellow men and berate them over how stupid and recalcitrant they are for not seeing it your way.
But this I do know.  That will never fix this problem.  We will not find any answers until we stop looking for them in condemnation of our fellow men.
I will make just one more point.  We've been raising children to think that's exactly where the answers to our problems lie.  I suspect that has a very great deal to do with why so many teenagers have developed the callousness and seared consciences of the walking dead.  We aren't meant to live that way, constantly condemning and attacking each other, and calling it righteousness or justice.
That's what it looks like to have a heart of stone.  Millions of people have problems, and millions of people have guns, and they never do what Nikolas Cruz did today.  He is one young man, with a set of problems that you don't have the answers to.  You really don't.  I don't either.  That this is something too big to solve on our own human steam isn't my fault, and it's not yours.  For what it's worth, I don't think this will get better until our hearts go before God and acknowledge that.
Nicolas Cruz posted this pictured to his social media sites before today's shooting at a Parkland, Florida Highschool, 17 people are confirmed dead, he's in custody #Parkland pic.twitter.com/hkukC7BWbD

— Mike Gonzalez (@MikeG12News) February 14, 2018