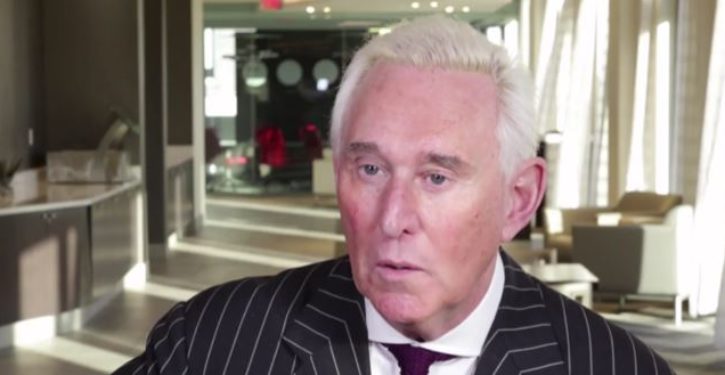 One theory of President Donald Trump's campaign collusion holds that longtime Trump pal Roger Stone worked with WikiLeaks founder Julian Assange to release Democrats' hacked emails during the 2016 presidential campaign.
A new leak of private Assange messages pours cold water on that idea.
In private Twitter messages exchanged in August 2016, Assange referred to Stone as a "bullsh*tter" who falsely implied in public statements that he was communicating with WikiLeaks, The Intercept reported Wednesday. The message was directed to an associate in a private group chat.
"Trying to a) imply that he knows anything b) that he contributed to our hard work," Assange added in response to a news article that quoted Stone claiming he was in contact with Assange.
Trending: Police Officer And 3 Others Die After Authorities Find 12-Year-Old Boy Shot In The Face
"I actually have communicated with Assange," Stone told a group of Florida Republicans on Aug. 8.
Stone, a longtime Republican operative who has known Trump for 40 years, made other cryptic comments suggesting he had foreknowledge of WikiLeaks's release of emails stolen from former Secretary of State Hillary Clinton's campaign manager John Podesta.
WikiLeaks began publishing Podesta's hacked emails in October 2016. In July, the group dumped 20,000 emails that were stolen from the Democratic National Committee. The U.S. intelligence community believes the Russian government orchestrated the hacks and used WikiLeaks as a cut-out.
"Trust me, it will soon the Podesta's time in the barrel," Stone tweeted on Aug. 21, 2016.
The release of Podesta's emails two months later led to allegations that Stone and the Trump campaign cooperated with WikiLeaks and/or Russia.
"I think there's at least a reasonable belief that Mr. Assange may have passed this information onto Mr. Stone," Podesta said after his emails were released.
Stone responded at the time by softening his initial claim that he had direct contact with Assange.
"I had no advance knowledge. They don't tell me who they're hacking, they don't tell me who they're not hacking, and I'm not clearing what they put out. It's an absurdity, it would be funny if it wasn't so outrageous," Stone told The Daily Caller at the time.
He also said that he was "in communications with Assange through an intermediary."
Despite Stone's denials, Democrats have cited his remarks as possible evidence of collusion between the Trump campaign and Russian government. Stone has denied the charge but refused for more than a year to identify his intermediary to Assange.
Stone finally revealed to the House Intelligence Committee in November that his contact was Randy Credico, a New York-based radio host and activist who has visited Assange at the Ecuadorian embassy in London, where the hacker lives under asylum.
Credico was subpoenaed to appear before the House Intelligence Committee in December, but he pleaded the fifth.
Stone also recently visited London where he dropped off his business card at the Ecuadorian embassy. He has also called on Trump to free Assange.
This report, by Chuck Ross, was cross posted by arrangement with the Daily Caller News Foundation.