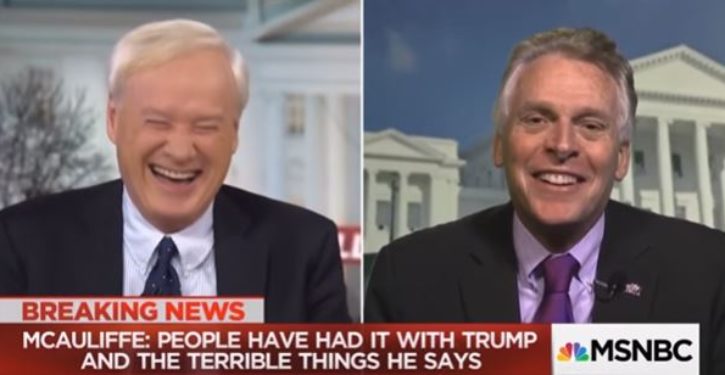 Virginia Gov. Terry McAuliffe (D) shouldn't be surprised if he gets a visit from the Secret Service in the near future. According to 18 U.S. Code § 871, "[A]ny threat to take the life of, to kidnap, or to inflict bodily harm upon the President of the United States … shall be fined under this title or imprisoned not more than five years, or both." Presumably threatening to "deck" the president counts as an example of "inflicting bodily harm" covered by the law.
McAuliffe made the threat, moreover, on more-or-less live TV, which is to say on MSNBC.
The subject came up on Chris Matthews's show on Thursday in the context of what McAuliffe would do if Trump tried to intimidate him as Hillary Clinton said he was trying to do during their 2016 town hall debate. According to the Washington Free Beacon, McAuliffe replied, "You would have to pick him up off the floor."
Matthews, who found this amusing but in need of clarification, asked, "You mean, you'd deck him?"
Here was McAuliffe's answer:
Listen, this guy got in my space, you want to get in my space, I've always said, Chris, you punch me, I'm gonna punch you back twice as hard, and it wouldn't be hard to do. This guy thinks he can intimidate everybody. It's disgraceful and embarrassing, but I tell you, when we take him on, back in his face with the facts, don't take anything from him and hit him back as hard as you possibly can.
He went so far as to imply he would kill the president:
But if he ever came over and leaned on me and got in my space, that would be the last time Donald Trump ever did that, I promise you that.
Who knew McAuliffe saw himself as such a tough guy?
McAuliffe, who is about to leave office, may get his chance to go toe-to-toe with Trump. The Hill reports that the governor is "seriously" considering a 2020 presidential bid, citing "sources." The likelihood of his cinching the Democratic nomination seems remote, but maybe he could improve his chances by challenging the president to go ten actual rounds.
Here's the video of McAuliffe's threat:
For your convenience, you may leave commments below using either the Spot.IM commenting system or the Facebook commenting system. If Spot.IM is not appearing for you, please disable AdBlock to leave a comment.