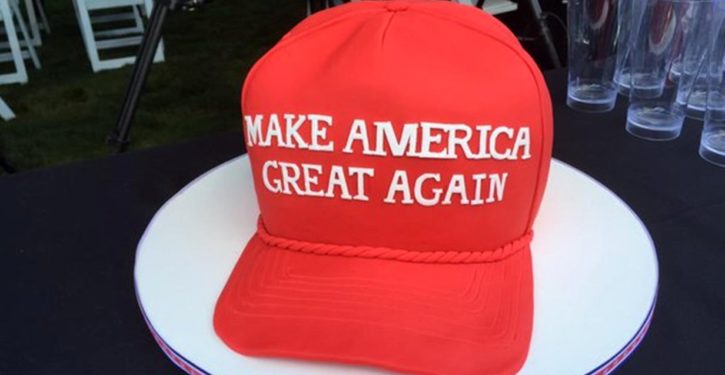 When this story was first reported in September, the name of the foul-mouthed female aggressor was unknown. Since then she has been identified as Edith Macias. That information is found on a criminal complaint against her filed on behalf of Matthew Vitale, the plaintiff.
Both are students at University of California, Riverside. In September, Macias snatched a "Make America Great Again" hat off Vitale's head on the grounds that it offended her. Now she faces a misdemeanor charge of grand theft, which can land her behind bars for up to a year.
In the video of the confrontation, which follows, Macias spews obscenity after obscenity, all in the name of justice as she views it:
"UCR is letting people wear this sh*t on campus? Make American Great Again, really? There were lynchings and genocide and mass deportations. … I f*cking hate this country. … And I am not leaving. … We need to get rid of all ya'll.
Trending: Teen suspended from school for arguing there are only two genders
When Vitale asked for his hat back, she replies, "F*ck your freedom of speech, boy, your freedom of speech is literally killing a lot of people out there, your hats like these that promote laws and legislation that literally kill and murder people of color."
Vitale noted his satisfaction with the district attorney's charge but expressed concern regarding the school's response to the incident.
If, as I suspect, UCR decided not to discipline [Macias] in some way, this decision by the DA's office shows two things: First, that UCR does not protect and shows no respect for speech that does not conform to their ideology. Second, that in this case UCR chose not to discipline a person who committed a crime on campus against another student.

I do want to send a message. I am not vindictive, I am not vengeful, but people especially in my generation need to realize you can't do things like this because you don't like what someone is saying or wearing.
Macias's court date is set for March 2018.
This report, by Rob Shimshock, was cross posted by arrangement with the Daily Caller News Foundation.
For your convenience, you may leave commments below using either the Spot.IM commenting system or the Facebook commenting system. If Spot.IM is not appearing for you, please disable AdBlock to leave a comment.