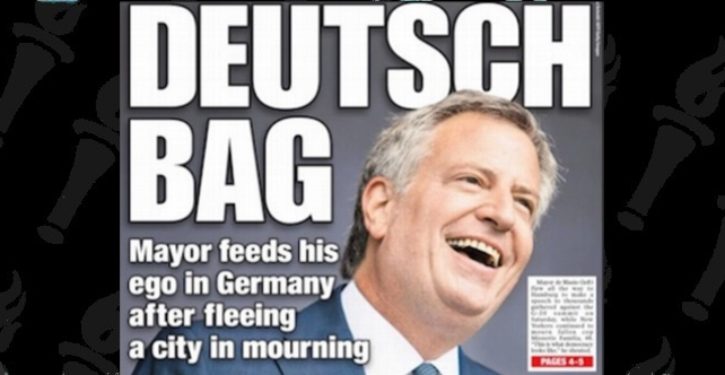 Maybe Mayor Bill de Blasio is looking for a repeat of when members of the NYPD turned their backs on him in reaction to his anti-police comments.
This time it's not New York's Finest that the mayor is betraying but the New York Yankees, who tonight will play game 6 of the American League Championship Series. They lead the series against the heavily favored Houston Astros three games to two.
According to CBS New York:
The mayor, a die-hard Boston Red Sox fan, told the Daily News editorial board, "It is constitutionally impossible to quote unquote root for the New York Yankees."

Trending: Build Back Better Act will give you $12,000 for purchasing an electric car — but not if it's a Tesla

"I'm not going to fake anything. I have my own allegiance. I have my own history. I'm going to be myself," de Blasio said. "If they win the World Series we're going to throw them a great parade, we're gonna roll out the red carpet, we're going to do everything to celebrate them."
I can't say for certain whether he's a Red Sox fan the way Barack Obama is a White Sox fan, which is to say when he was once asked who his favorite player on the team was, the former president drew a conspicuous blank.
But whether de Blasio genuinely roots for another team is immaterial. One of the two major league clubs in the city that elected him is a game away from heading to the World Series. He owes it to New Yorkers to affect Yankees fever, is not in fact lead the cheer.
As one city resident quoted in the article so aptly put it:
You're a New Yorker, you run the city of New York, this is the home team. And look at what they've accomplished. I think there's a lot to say about loyalty but there's a lot to say about respect.
Although he's running largely unopposed for a second term, de Blasio may have given some city residents a good reason to think twice about renewing his contract.