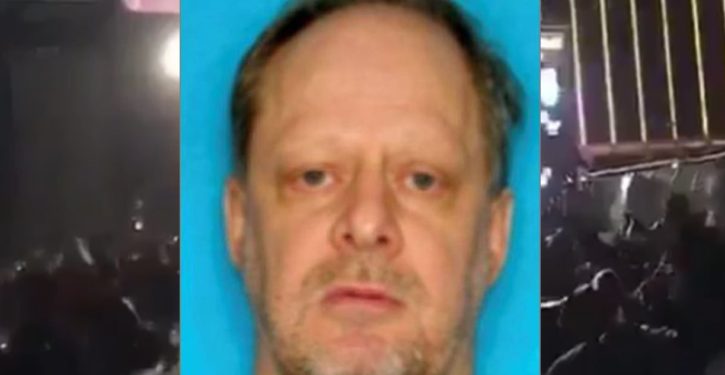 We are far from being able to draw firm or useful conclusions about the massacre in Las Vegas on Sunday night, 1 October, and I won't attempt to in this post.
David French posted on Monday – rather courageously, in fact – that he found the facts as we knew them at the time to be decidedly odd.  The outline of the event, and what we knew about the killer, 64-year-old Stephen Craig Paddock, didn't add up.
Things haven't started adding up better in the days since, at least not as regards motive for this horrific attack.
But Clark County Sheriff Joe Lombardo said something important in the brief to the media this evening (Wednesday 4 October; video below), which implies that law enforcement will be looking for the factors that may eventually give us a better understanding.  Without elaborating on undisclosed information, of which we know there is some (mainly, it seems, with the FBI), Lombardo said this:
You gotta make the assumption he [Paddock] had to have some help here.
In other words, there are aspects of the attack that he could not have brought off all by himself.
That's significant – and a good sign.  I know a lot of people have been looking at this and coming up a need for the same assumption.
Lombardo also stated clearly what had been emerging as likely beforehand: that Paddock had a "secret life," and seems to have had it for quite some time.
One other interesting comment from the sheriff was his statement that Paddock apparently intended to survive the attack.  Lombardo didn't elaborate on that either, but the allusion may indicate Paddock had a plan for departure after the attack.
It will be a while before 2 and 2 start adding up to 4, I imagine.  A caveat that must be entered here is that I do NOT advocate distrusting what we are hearing from law enforcement.  With each brief from Lombardo, we are seeing more progress made toward methodically tracking down the things we don't understand.  It doesn't look like there is any reason to be suspicious of the investigators, whether federal or local.
I suggest waiting for all the information to come out before we start speculating.
Odd similarities between two 2017 massacres
That said, I do want to mention some factors that are oddly similar between the Las Vegas attack and the bizarre "lone wolf" attack in the Philippines on 2 June 2017, in which 37 people were killed and much of a casino resort torched.
Again, I'm not going to develop these at length or try to draw conclusions.  But the similarities strike me as worth looking at.  What's of interest here is not any indication that the two incidents are connected – there is no such indication, as far as I can see – but rather the features of a pattern.
When I was first going over this on Tuesday, it seemed that one of the similarities might be that the two attackers – Stephen Paddock in Las Vegas and Jessie Javier Carlos in Manila – had in common a seeming outward normalcy, and a lack of prior clues that they could perpetrate such appalling massacres.
With today's disclosures about Paddock, it appears that he had a darker and more secret side than Carlos did.  If Carlos had such a history, I find no evidence that it ever came out in the Philippine investigation.
In general, Carlos' situation seems to have borne similarities to Paddock's at a lesser level of intensity or elaborateness.
If we remove the similarity of "secret life" personality profile, or history of doing weird, apparently unbalanced things, these are the remaining ones:
1. ISIS' oddly insistent claim – with no evidence law enforcement can substantiate – that the perpetrators were carrying out attacks for ISIS
In each case, the ISIS media outlet Amaq was quite insistent about the connection.  This is not actually characteristic of ISIS when the local authorities can't find any evidence to back the claim up.  Normally, in such cases, any claim by Amaq is less emphatic, and is not repeated.  In fact, claims about an ISIS connection often come from random jihadis posting silly stuff online, and receive no endorsement from the ISIS leadership.
But with both Jessie Javier Carlos and Stephen Paddock, the claim was made through the ISIS "news service," Amaq, and ISIS gave a "fighter's" name for the perp.
Carlos was called "Abul-Khayr al-Arkhabili" in the ISIS claim in June, and the claim was repeated categorically.  Paddock is being called "Abu Abd El Bar [also Al-Birr] Al-Amriki." Moreover, the claim has now been made for a third time, one of them being a formal announcement from ISIS itself (as opposed to coming from Amaq).
We can't say what this means.  But as a data point with potential meaning, it shouldn't be dismissed.  ISIS is evil, but that doesn't mean it's randomly crazy or lacking in method.  Formal insistence on this matter apparently means something to ISIS.
2. Connection to major gambling venues, and gambling involvement by the perps
Carlos, in the Philippines, had heavy gambling debts, and had gotten himself in trouble with his former government employer over misrepresenting his finances.  He had been cut off from gaming by his family's petition not long before the attack at Resorts World Casino.  Ultimately, that cutoff was taken to be the trigger event that drove him to mount the attack, in which 37 people were killed and much of the casino was torched.
Like Paddock, Carlos took his own life after the attack, as responding police tried to get to him.
As far as we know right now, Paddock didn't have the heavy gambling debts Carlos did.  But Paddock reportedly described himself to a neighbor, when he lived in Florida, as making his living off gambling.
Both men were steeped in gambling as a lifestyle.  That doesn't necessarily mean anything bad.  But it's interesting, in light of everything else, that they shared the intensive-gambling connection.
3. Unusual details regarding guns
We have learned a lot more since Monday morning about Paddock's arsenal.  But let's start with Carlos.
Carlos used an M4 semiautomatic rifle, and it was not clear how he obtained it.  According to the neighbors, he had started making a practice of carrying a gun in his vehicle some time before the attack.  But the type of gun they saw didn't match the M4.  The neighbors said he would bring it out and put it under the front seat whenever he drove somewhere.  Colleagues at work verified that they, too, had seen him with a gun under the seat.
Oddly, meanwhile, Carlos's wife was also said – by him – to be the owner of a gun dealership, Armset Trading, which figured large in the accusation of his government employer (the Department of Finance, or DOF) that he had not properly disclosed all his financial interests during a routine vetting.  Carlos explained that he had not listed Armset Trading because the business never took off, and was defunct at the time he was making financial disclosures.  The DOF wasn't buying it.
If there was ever a publicly acknowledged resolution on the status of Armset Trading, I haven't been able to find it.  But in light of the obscure origin of Carlos's M4, it's an awfully interesting data point.
Paddock, meanwhile, bought most or all of his guns legally, from several dealers in Nevada, Arizona, and Utah.  There's no information so far about whether or where he may have trained.  But gun dealers remember him as a customer.  They say he seemed like "just a guy" to them – the same thing his brother Eric said.
Eric Paddock also said Stephen had only a couple of guns, and wasn't a gun enthusiast.  Out of 47 total guns (the total I've seen most recently), 23 of which were found in the hotel suite, Paddock reportedly bought 33 in the past year.
4. Highly methodical one-man attacks, requiring planning and preparation, committed by men with no known training for such attacks
Carlos bought fuel on the way to the casino to set fires with, and took a taxi to the vicinity of the casino.  He may have killed the taxi driver and a man who was with him (see links above; I haven't seen that that was ever conclusively proven, but it's probable), apparently to eliminate witnesses.  Once inside the casino, he moved from room to room methodically, firing in the air – seemingly to scare the clients out of the gaming rooms – and then setting fires.
Camera footage shows he never rushed anywhere or seemed to be in a panic, even when he knew the security and police personnel were pursuing him.  At one point, he took the time to steal money and chips.  Eventually, under pursuit, he locked himself in a hotel room, where the police found afterward that he had set himself on fire and then shot himself.
American readers will be more familiar with the details of Paddock's preparations, so I won't reiterate them here.  Suffice it to say that his planning appears to have been an order of magnitude more elaborate than Carlos' – although Carlos' planning and deliberate execution were peculiar and noteworthy in their own right.
We're learning that Paddock seemed to intend to provoke explosions from aviation fuel tanks, and possibly ignite 50 pounds of tannerite which he had in his vehicle in valet parking at the hotel.  The scope of what he might have brought off, given all his apparent preparations, was never realized.
5. The fact that there is a connection to the Philippines in each case (although I emphasize that U.S. authorities have NOT said they think Stephen Paddock's housemate, Marilou Danley, had any involvement with the massacre)
The FBI on Wednesday disclosed very little of the information gained in a five-hour interview with Danley, who has just returned from the Philippines.  That thread must remain open for now.
Marilou Danley is said to have left the U.S. on 15 September at Paddock's behest.  Danley's sister thinks Paddock sent her out of the country so that she wouldn't be here during his planned attack.
Marilou Danley was born in the Philippines but became a naturalized Australian citizen when she married an Australian, and lived on the country's "Gold Coast" for a number of years.  After her husband's death, she married an America, Geary Danley, of Arkansas, and has been in the U.S. since at least 1990.  She and Danley divorced in 2015.
Paddock wired $100,000 to Marilou Danley in the Philippines, in the week before his attack, reportedly so she and her family members could buy a house there.
We don't know anything adverse about Ms. Danley.  But it seems oddly coincidental that there would be a Philippines thread in each story, Paddock's and Carlos', along with the other similarities – each one unusual in its own right, and culminating in the peculiar insistence of ISIS on claiming both attacks.
I must agree with Sheriff Lombardo: you have to assume Paddock had some help here, setting up his attack and assembling the assortment of materials now being uncovered.  There's another thing you have to assume: that we don't know enough about Paddock to discount any of the other facts we have as unimportant.  For now, they should all be in play.
Note: See some interesting facts about an airplane once owned by Stephen Paddock here, uncovered by Tim Brown at Freedom Outpost.  It's too soon to say what any of this means, but, again, it's also too soon to dismiss them as irrelevant.