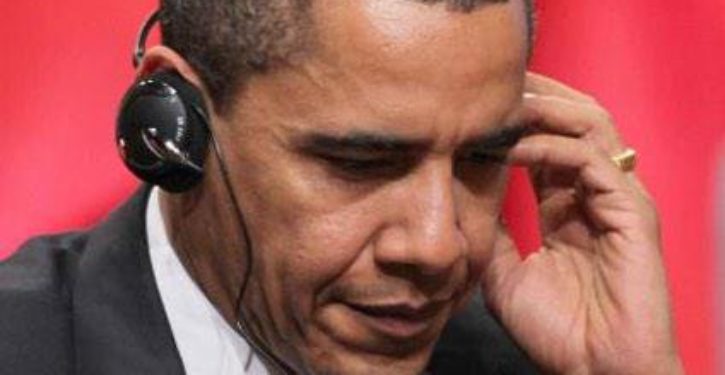 The story reported here yesterday, affirming that the federal government under Barack Obama did in fact "wiretap" Trump campaign aide Paul Manafort, has received broad coverage by the media. CNN, for example, ran the story as an "exclusive" this morning, writing:
The government snooping continued into early this year, including a period when Manafort was known to talk to President Donald Trump.
But there's one thing conspicuously missing from CNN's report. That is any mention of the network's previous repeated denials that the Obama White House was guilty of snooping on the Republican candidate for president.
On March 5, for example, CNN published a denial under the headline "Trump's baseless wiretap claim." Here's the lede, along with the obligatory tweet by the president:
Trending: Recession may occur when people's savings run out

President Donald Trump made a stunning claim Saturday, alleging without offering evidence that his predecessor, Barack Obama, wiretapped his phones at Trump Tower ahead of the 2016 election.

"Terrible! Just found out that Obama had my 'wires tapped' in Trump Tower just before the victory. Nothing found. This is McCarthyism!" Trump tweeted early Saturday morning in one part of a six-tweet tirade that began just after 6:30 a.m.
As recently as Sept. 11, the network published an opinion piece by Editor-at-large Chris Cillizza titled "Donald Trump just flat-out lied about Trump Tower wiretapping."
The article opens with the same earth-shaking tweet as the March piece before declaring that Trump was lying:
On a sleepy Saturday morning back in March, Donald Trump dropped this bombshell on the political world: "Terrible! Just found out that Obama had my "wires tapped" in Trump Tower just before the victory. Nothing found. This is McCarthyism!"

Turns out, he was lying.
CNN wasn't alone. Politifact and ABC News both ran timelines of Trump's unsubstantiated wiretapping claims, while New York's Daily News announced to the world in March that "Trump still hasn't told the truth about his Obama wiretap claims."
The motivation for these stories was as much a refusal to accept that their fair-haired boy would have stooped to something as insidious as listening in on conversations involving a higher-up in the opposition party's campaign as it was an indictment of Trump's veracity.
Now that the truth has emerged, one might reasonable expect a "correction" if not an out-and-out mea culpa. Instead, the new finding is being reported in isolation, as if there were no previous story about another potential Obama scandal.
And these media outlets have the gall to act outraged when they are accused of disseminating false news.