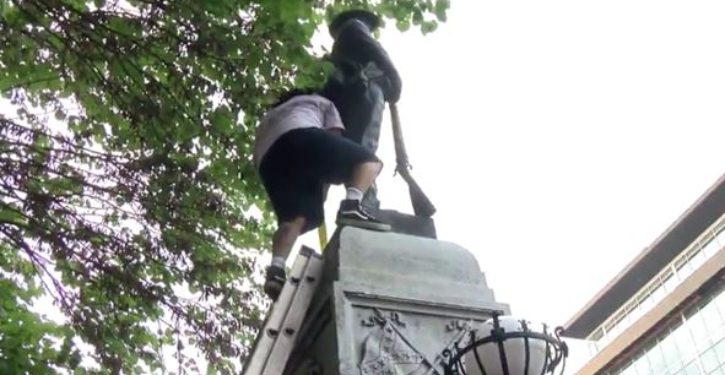 No bad deed goes unrewarded. Takiyah Thompson, the woman pictured above mounting a ladder in preparation for lynching a statue commemorating the Confederate war dead, should be on her way to jail. Instead she may be on her way to Yale.
OK, not Yale actually. Rather it is the not-quite-as-prestigious North Carolina Central University, where she is already enrolled. And what Thompson is possibly on her way to is a scholarship for "her ability to use her political-science education to the benefit of the community."
That's according to The Chronicle of Higher Education, which quotes Yaba Blay, one of her professors, as finding her actions inspirational:
She gave a brilliant interview, was arrested, came out and had a big smile on her face. She is resilient and smart and knows she's done something that has awakened the conversation around race. …

Trending: Fauci is a multimillionaire, yet will get $350,000 pension from taxpayers

It saddens me, it disheartens me, it troubles me that, as a black woman, it feels like a lot of the heat is being placed on a black woman when there were so many people involved.
It's true that others were involved, but it was Blay who placed the rope around the statue's throat. Besides which, all of those who participated in this act of vandalism and desecration deserve to be prosecuted to the full extent of the law.
Thompson was charged last Tuesday with two felonies — participation in a riot and inciting others to riot — and two misdemeanor counts of disorderly conduct and damage to real property.