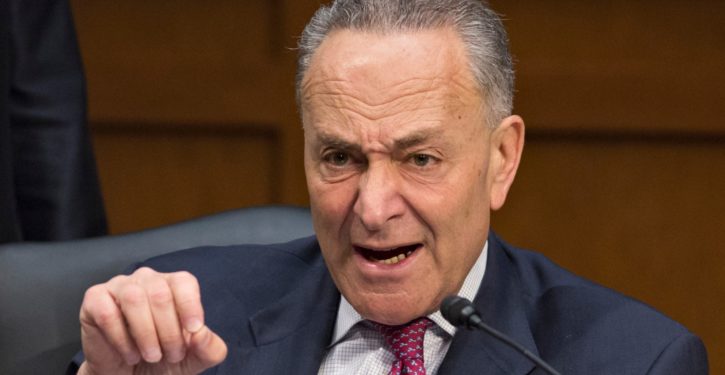 A $15 national minimum wage would eliminate more than 7 million jobs, according to a 2016 report. That didn't stop the Democratic National Convention from endorsing the increase in July 2016 and putting it into the party platform.
Democratic presidential nominee Hillary Clinton admitted in 2015 that a $15 minimum wage would cause "job loss and dislocation." But later, facing a challenge in the Democratic primary from socialist Sen. Bernie Sanders (I-VT), who endorsed the $15 wage, she later played down such job losses, claiming in March 2016 that "there is no evidence that the minimum wage being increased costs jobs."
Now, Democratic leaders such as Senate Minority Leader Chuck Schumer (D-NY) and House Minority Leader Nancy Pelosi (D-Cal.) have included this $15 wage proposal into their "Better Deal" package of proposals for America. This continues the Democratic Party's leftward drift. As the Washington Post notes, the "Better Deal" was designed to "calm a restive left" by adopting what even left-wing media trumpeted as containing "left-wing economic proposals."
Minimum wage increases are bad for workers who lose their jobs as a result, but they are good for overpaid state government employees who are paid a multiple of the minimum wage. Minimum wage increases cost taxpayers money by driving up their wages. Analysts for California's Assembly Appropriations Committee projected in 2016 that increasing the state's minimum wage to $15 an hour would cost taxpayers $3.6 billion more a year in increased government worker pay. A fraction of this increased cost is due to the fact that state government employees sometimes have their pay set as a multiple of the minimum wage, meaning they don't have to be poor to benefit from a minimum wage increase.
Trending: Fauci is a multimillionaire, yet will get $350,000 pension from taxpayers
Even in high-wage areas, a $15 minimum wage can wipe out a substantial number of jobs. A June 2017 study found it was unaffordable for many businesses even in prosperous Seattle, Washington. As the Washington Post noted, those employers "cut their payrolls, putting off new hiring, reducing hours or letting their workers go." The "costs to low-wage workers in Seattle outweighed the benefits by a ratio of three to one, according to the study," which was conducted by economists at the University of Washington. It estimated that "the average low-wage worker in the city lost $125 a month because of the hike in the minimum."
Although the Democratic Party wants to force other employers to pay a $15 minimum wage, it doesn't even comply with existing minimum wage laws that require a lower wage. In 2016, DNC employees and Clinton campaign workers were often underpaid for massive amounts of overtime work. For example, in May 2017, CBS reported on a class action lawsuit filed against the DNC for stiffing dozens of field organizers all over the country for overtime work during the 2016 election even as the DNC gave out a $300,000 bonus to a high-ranking official. Many of the plaintiffs in the class action lawsuit worked 80 to 90 hours a week for Hillary Clinton's campaign yet were paid only $3,000 a month, far below the hourly wage for overtime work.