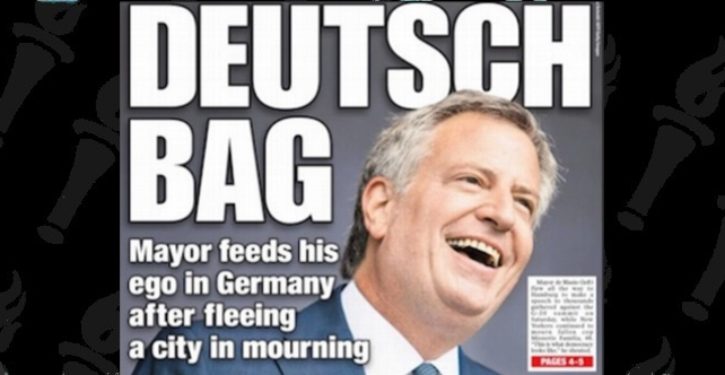 Hundreds of grieving members of the NYPD, family, and neighbors held a candle-light vigil at the 46th precinct in the Bronx Saturday night in memory of assassinated wife, mother of three, and Officer Miosotis Familia. Familia was ambushed and shot the head as she sat in a police vehicle early Wednesday by a cop-hating felon, Alexander Bonds, who was himself shot dead by officers responding to the call.
One individual whose absence at the vigil was conspicuous is Familia's ultimate boss, New York City Mayor Bill de Blasio.
Instead of being in the city when he was needed, New York's socialist mayor decided instead to take an all-expenses paid (by taxpayers!) junket to Hamburg, so he could make two speeches to the anti-capitalism demonstrators at the G-20 summit rather than attend the vigil. According to the mayor's spokesman, de Blasio made the decision to go to Germany on Thursday afternoon, the day after Officer Miosotis was killed and most New Yorkers were still shaken about the news of the murder.
But during his regular radio show, de Blasio inadvertently admitted that his spokesman was lying, saying he received the invite two weeks ago. "The announcement of the trip was going to be a few days earlier … then we had the horrible shooting … and it was important to focus on that."
De Blasio has not been supportive of New York's Finest during his term as mayor, which led members of the force to turn their backs literally on him as he spoke at the funerals of two officers slain in action in December 2014 and January 2015.
Some New Yorkers told CBS affiliate WCBS that the mayor his his priorities misordered.
But it was the Post that ultimately said it best.
Cross-posted at The Lid